In L.A.: Clare Rojas "Pith" @ Prism Gallery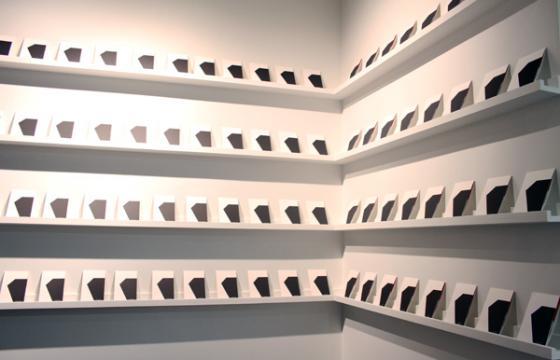 This past weekend Clare Rojas' latest exhibition opened up at Prism gallery in Los Angeles. Entitled Pith, this body of paintings signals a further exploration for Rojas, in respect to both subject and materiality. In this exhibition, we observe the artist's concentration on abstract space and the blurring between architectural dimensionality and geometric flatness. Photos and more after the jump…
PRISM is pleased to announce our forthcoming exhibition by Clare Rojas, the artist's second solo presentation at the gallery. Entitled Pith, this body of paintings signals a further exploration for Rojas, in respect to both subject and materiality. In this exhibition, we observe the artist's concentration on abstract space and the blurring between architectural dimensionality and geometric flatness. Rojas intentionally generates surfaces that describe both an architectural and psychological site of interiority - a pictorial space that is indeterminate enough to operate on an emotive and sensory level.
The removal of the figure from this recent body of work is a purposed decision, as the artist elects to concentrate on the atmospheric possibilities of painting. These works are ambient, spatially open and emotionally drenched - re-directed away from a character-driven narrative, Rojas proposes a psycho-spatial realm. Whereas once her paintings were played out with actors and props, these paintings appear like the sets where the dramatic sequences might occur.
Electing to use oils over acrylic, which she had preferenced for years, Rojas has necessarily altered her strategy towards the interaction of colour and light, while building more saturated surfaces. Rojas' strong and familiar palette, which tends towards saturated yellows, reds and greys, is dominant in the exhibition, while she also invites their interaction with gentler tonal registers.
Following are a few images from the opening reception.
-Amy Duran
Hey, that's Aaron Rose...
Clare Rojas
Pith
Prism Gallery
Los Angeles, California

Through November 3, 2012