Juxtapoz
In L.A.: Chad Muska @ New Image Art
June 06, 2013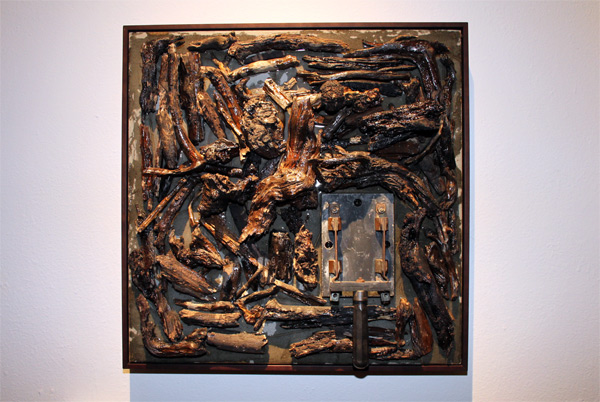 "Chad Muska comes from a long tradition of professional skateboard artists (Mark Gonzales, Ed Templeton, Chris Johanson, Natas Kaupas, and Neil Blender, among others) who have devoted their lives, both on and off the board, to a journey of creativity and discovery. The title of Chad's first show, "Transitions," is a word that not only stems from the curved surfaces skateboarders ride on in pools, parks, and ramps, but it's also a reference to the skateboard lifestyle which is defined by movement from place to place, and from one state of mind to the next.
"The show represents a lot to me," Chad said. "It's about the struggles I've been going through in life and what's next after being a pro skater, something that I've done my whole life. Transition is a universal idea that everyone can relate to whether you skate or not, but it's strongly connected to the roots of skateboarding which is about bending the world to your will and making it ridable—a world without transition is a world that is dull and flat."
It's almost as cliché as the "roller skates nailed to the bottom of a 2×4" story (which somehow manages to come up whenever someone who doesn't skate tries to talk about skateboarding), but skateboarders do indeed see the world differently than non-skaters and they're able to turn a mundane urban setting into a playground of epic proportions—a wheelchair access ramp can launch a skater into a flight, a simple red curb can offer hours of fun, and a 12-stair hand railing becomes one of the most famous skate spots in the world—the urban environment is, in short, the stage for the art of skateboarding. So it's no wonder that the works in "Transitions" offer a similar dismantling and re-appropriation of the "concrete jungle."
Chad's new style appears at first to be a huge departure from the graffiti and wheat paste art he's been known for in skateboarding for years. These new minimal pieces are heavy and stark, constructed from steel, concrete, and other industrial materials, and contain elements that are redolent of Mark Rothko, Richard Serra, and Anselm Keifer. They're serious, yet they retain a playfulness that speaks directly to the mind of a skateboarder—there's a movement and a work-in-progress element throughout the show that echoes the spirit of skateboarding which has always been a lifestyle devoted to the journey, not the destination.
"Skateboarders, look at metal and concrete already as objects of artistic expression," Chad said. "It's like a canvas. And now the mediums that I'm using are metal and concrete. It's so funny, but that's why I think I'm attracted to these materials: because I've spent my entire life looking at the concrete sidewalk that I'm riding down."
Following are a few images from the opening reception. This is a stunning show you should definitely stop by and check out for yourself.
-Amy Duran
Chad Muska
Transitions
New Image Art