In L.A.: Aaron Rose's Fire Sale @ Known Gallery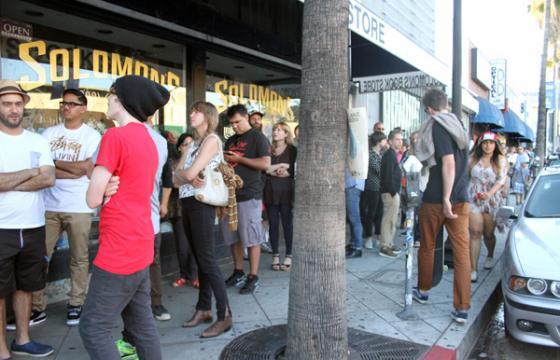 This past weekend we stopped by Known Gallery to check out Aaron Rose's Fire Sale. When Rose moved to Los Angeles from NYC in 2001, the Beautiful Losers curator left a "big black box of 1990?s memories" in storage space in Glendale. Now he is having a gallery style fire sale. Photos and more after the jump…
In September of 2001 I packed up my New York life of over ten years, stuffed it into a U-Haul and moved to Los Angeles. The contents of that truck included all kinds of evidence and ephemera from my time as a gallerist in NYC. There were some really cool original pieces of art in there, but it mostly consisted of things like prints, posters, furniture, extension cords, cassette tapes, magazines, books, skateboards, and thousands of other random things that at the time I just couldn't let go of. After a few months of being on the West Coast, the entire contents of that truck got dumped into an anonymous storage space in Glendale where it has remained now for over ten years. Each month I diligently send a check to pay for this big black box of 1990?s memories…but the time has come to end those shenanigans. The idea of keeping all this evidence of my old life in storage no longer sounds attractive to me. There are some amazing things in there that I'm sure people will like and it makes no sense to keep hoarding. So, ladies and gentleman, my loss is your gain. Starting July 7th, for two weeks only we will be staging a fire sale at Known Gallery. The ark will be opened and its contents placed on glorious display for all to marvel at. Who knows? There might even be something in there you wanna take home!
Featuring: Mike Mills, Ed Templeton, Mark Gonzales, Mister Cartoon, Thomas Campbell, Chris Johanson, Mark Borthwick, Sonic Youth, Beautiful Losers, Raymond Pettibon, Terry Richardson, Fort Thunder, Tommy Guerrero, Tobin Yelland, Aaron Rose, David Aron, Andre Razo, Chris Pastras, Joshua Wild Man, Brian Degraw, Ari Marcopoulos, Cynthia Connelly, Rita Ackermann, Cheryl Dunn, Andrew Jeffrey Wright, Bruce La Bruce, Ivory Serra and more…..
EXAMPLES: Prints, Photographs, Posters, Vintage Skateboards, British?Fashion Magazines from the 80's, Books, T-Shirts, Art Sneakers, Old Skate?Mags, Exhibition Invites, Original Artwork, Vintage Stickers, Skate, Art?and Graffiti Zines, VHS Tapes, Luggage, Cassette Mix Tapes and tons?more.....??Proceeds from the sale will go to support programs for our educational?project MAKE SOMETHING!!, a D.I.Y. art school for teens.? http://www.makesomethingschool.com
-Aaron Rose
Following are a few images from the very packed opening, however the sale is up until the 21st of July and all the proceeds go to such a good cause everyone should definitely stop by and check it out, you're more than likely to find something that'll catch your eye.
-Amy Duran
Aaron Rose
FIRE SALE
Known Gallery
Through July 21, 2012