Juxtapoz
In Conversation with... Meggs
Apr 06, 2013 - Apr 27, 2013Thinkspace Gallery, Culver City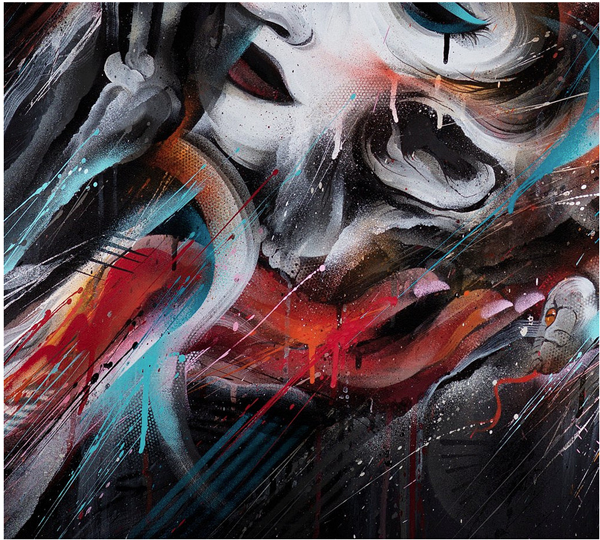 This Saturday, April 6, Thinkspace Gallery will open a new show, Heavenly Creatures, with Australian artist, Meggs. Heavenly Creatures will feature ambitious new works by Meggs ranging from painting, sculpture, and installation. Working across media, the artist will also be creating a large scale thaumatrope as part of the exhibition installation – an antiquated Victorian device used historically to demonstrate the persistence of vision. The thaumatrope in the context of Heavenly Creatures speaks to the stamina of the historical precedent, while also literally demonstrating the recombination of an image as it is optically derived from two distinct parts – an apt metaphor for Meggs' work. The artist's interest in fostering an exchange between historical themes and contemporary culture is apparent. Meggs strives to revitalize the aesthetic encounter and to devise new ways for people to experience and engage with his work, whether it be in the context of the gallery, or on a wall in the urban landscape. In Heavenly Creatures Meggs explores the capacity of myth to reconcile the secular with fantasy, and creates work that speaks forcefully to our shared desire for some existential compass.

Where are you living and working right now?
I'm still living in Melbourne (temporarily), but travelling at least half of the time now, especially to the US.

Least favorite part of making art?
Putting a monetary value on it.

And your favorite part...
The satisfaction of creating something uniquely yours and having others respond to that. Contributing to a culture with meaning and potentially bringing pleasure and inspiration to others as well as yourself.

Favorite medium to work with?
Right now acrylic paints and aerosol (spraypaint), but i want to start experimenting with oils...

Last art show / exhibition you saw:
'Organised Chaos' solo show by Slicer (AWOL Crew), in Melbourne.

If you could collaborate with one artist, living or dead, who would it be?
That's a super hard one to answer but maybe Frank Miller. Would be awesome to re-interpret more of his comic genius and 300 is one of my favourite films - perfect collaboration in bringing comic style to live action!

Artist(s) that inspire you?
There's so many, Salvador Dali, Francis Bacon, Jackson Pollock, Caravaggio, Robert Williams, Frank Miller,Ron English, Greg Simkins, Mars-1, etc, and many more contemporary artists, graffiti writers, peers and friends.

What time of day are you most productive?
In the afternoons and evenings, especially if its painting related.




Currently listening to?
Parkway Drive, †††, August Burns Red, Deftones, Faith no More, Mastodon, Nick Cave, Radiohead/Thom Yorke and some orchestral/film soundtracks and classical.

How do you take your coffee?
Black with one sugar, maybe soy milk, but I rarely drink coffee, more of a tea man myself.

Last meal?
An awesome Japanese spread with a mixed of fried goodness, sushi and sashimi. Accompanied by a lot of dry japanese beer and Saki.

Last three places you have lived?
Melbourne, Sydney (regular visits), San Francisco, 2012.

Last time you traveled? To where?
February 2013 to Hawaii, for Pow Wow Hawaii 2013. (Chee!)

What website(s) do you visit most often?
I don't actually visit any sites regularly enough to say 'often' other than perhaps theage.com, google, booooooom & suicidegirls haha. Plus checking instagram on my phone way too often - does that count?

Website you're most ashamed that you visit daily?
Maybe not technically a 'website', but again with the instagram...

A quote that has stuck with you?
"A man is least himself when he talks in his own person. Give him a mask and he will tell you the truth" – Oscar Wilde




The most trivial thing you know?
A Koala is not a bear, it is a marsupial.

High school GPA?
I'm Australian, we dont have a GPA, we have a TER score which I cant even remember. I just remember finishing high-school with a juvenile design portfolio and a skateboard

Least artistic award you've received?
When I was in Primary School I got a school camp certificate that said "will she, wont she, jilted again". Teacher thought it was hilarious, took me (humiliated), many, many more years to figure that one out...

Oddest job you've done to make rent?
I product tested cigarettes once for extra cash many years ago. Probably not the smartest idea in retrospect.

DIY, Ask yourself a fun question we didn't and answer it.
Q. Do redheads do it better. A. Yes always... almost always...