Illustration
Review: 'The Shroud Opaque' @ Old Crow Tattoo and Gallery in Oakland, CA
November 14, 2012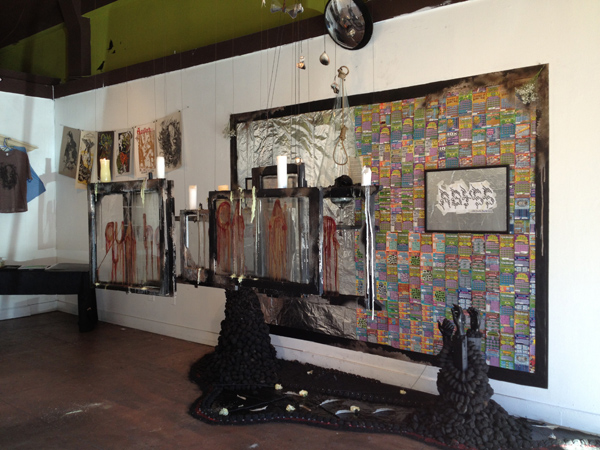 It felt appropriate that Old Crow Tattoo and Gallery's newest show opened on Halloween. Entitled "But the Earth is Dark, the Coffin Thick, and the Shroud Opaque" after the line from Camus, the show's images of desiccated witches, bold autumnal scenes, and a large candle-lit installation seemed hardly an unfit setting for its costumed visitors. With works from Aminah Slor, D.V. D'Andrea, and Hunter de la Ghetto, "The Shroud Opaque" presents a jam-packed show of carefully curated pieces that each merit several minutes of contemplation. Focusing on themes of ritual, religion and superstition, each artist presented a cohesive body of art that worked together at unpacking the show's multifaceted theme.
Tattoo and visual artist Aminah Slor's mind-bogglingly intricate drawings provide a spunky entry into the show, jam packing images of a gruesome births and tattooed, pipe-smoking cyclops witches with a narrative that is carried through to the minutest details. Customizing many of her frames with found objects like old beer cans, rusty bullets, bones, and bits of hair, Slor transforms her drawings into what seem like fetid shrines or ritual objects. One image, of two bare-breasted 3-eyed witched hunched over a fire of burning jewels, wheels, fish bones, and bottles extends the fire theme beyond the paper to the match-encrusted frame. Images incorporating glass and mirrors further engage the eye motif, repeated throughout many of her works.
David D'Andrea's graphic works display a amazing talent for color and camouflage while keeping with the spooky theme of the show. His poster for Lars von Trier's Antichrist features a contorted doe and wolf, carefully disguised in a natural landscape with the words "Nature is Satan's Church." His screen-print "Preacher," appearing twice in the show, depicts a wide-eyed bearded man, his fat, gnarled hand grasping a coiled snake perhaps referencing the Fall of Man. A circle behind his head, revealing a dark forest beside a wooden church and a graveyard, doubles as an ersatz halo. While D'Andrea brilliantly colors the image's snake and moth with brilliant yellow and orange hues and glitter, the preacher remains black and white. (Only in the smaller, colorless version of the print does the viewer notice that the preacher's skin seems to be rotting away.) The cross in the bottom of the print solidifies this preacher's ambiguous relationship with ritual and religion.
Hunter de la Ghetto's installation seamlessly brings the entire show together. With swinging windowpanes, dripping candles, and gem-encrusted hands and faces emerging from piles of coal, the installation—revealing different details at each angle—invites viewers to explore and move around the space, preparing them to search for details in the other works.
De la Ghetto's work, with windows brushed in blood with the words "quahogs and caviar," creates a bizarre and surreal microcosm of false wealth and superstition. Utilizing base materials to create illusions of wealth—silver aluminum foil, gold spray paint, brightly colored scratch-off lottery tickets, plastic gem-shaped constructions, and copper pennies—Hunter de la Ghetto creates a tension between excess, wealth, and ritual that continues in the other artists' works. In fact, the incorporation of coal into his work bridges between the imagery of wealth—after all, coal shares the same chemical structure as a diamond—and death. Between the gem-ecrusted skull, noose, and burning candles, "Ashes to ashes, dust to dust" takes on another meaning within the context of the piece.
All in all, Old Crow's show manages to walk the very fine line between giving each artist's work breathing room, yet still presenting a cohesive theme. Each piece in the show is truly remarkable—even more so in person than in pictures—and with so many fine details and interactive elements, this is a show best seen in person.
- Julia Silverman
Through December 1st. Old Crow Tattoo and Gallery is at 362 Grand Avenue, Oakland, CA. Mondays-Sundays 1-8pm. (510) 834-2769.