Illustration
Preview: Hannah Stouffer's 'Visceral/Visible' @ Kinfolk Studios
July 26, 2012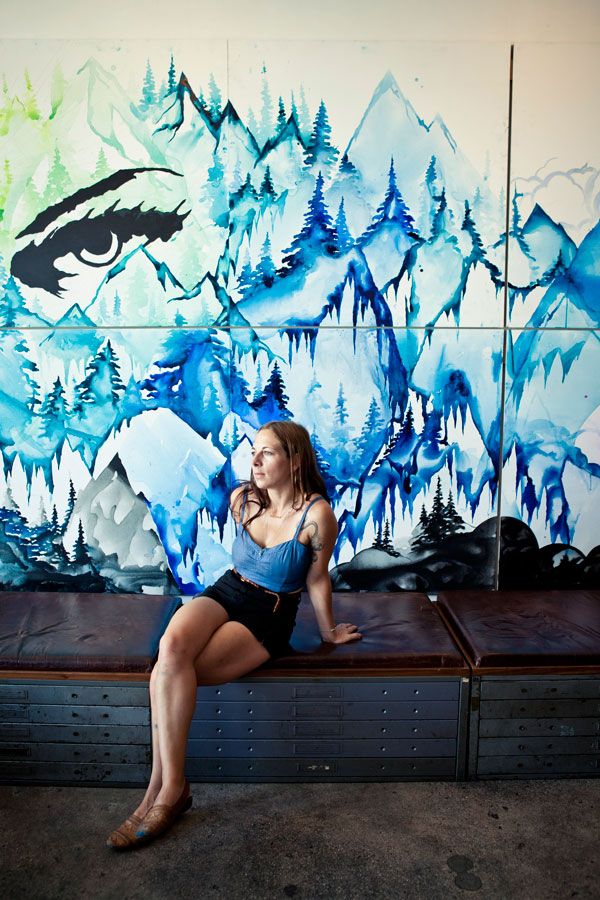 Juxtapoz brings you an exclusive preview of Hannah Stouffer's solo exhibition and installation at Kinfolk Studios, opening this evening in Brooklyn, NY. Exploring the concept of land, escape and nostalgic solitude within a space, Stouffer portrays a post-primeval desire for our natural environment, fully realized through both memory and beingness, executed on a massive 40ft. wall in Kinfolk's project space. Opening reception is tonight, Thursday July 26th from 7-12pm.
Photograpy: Meredith Jenks
Born in Aspen, CO in 1981, San Francisco based illustrator Hannah Stouffer's upbringing was unavoidably nurtured by her constant exposure to wild America and influence from her father, wildlife cinematographer Marty Stouffer. In her never-ending pursuit of illustrating explosive, emotional transcendence, Stouffer is best known for the incongruity of her intricately executed imagery and shadowy and ethereal themes. Stouffer has maintained a strong presence in the illustration world while simultaneously exhibiting her work as a renowned commercial and fine artist.
'Man is inclined to take nature for granted, to accept it without curiosity or question... the earlier the individual comes into contact with experiences of this kind... the deeper and more enduring will be their faculty for perceiving and experiencing nature... We can find our way back to them (the woods) and we can rely on them... Sometimes, in the calmness of a great wood, a stillness overtakes you beneath the spreading branches of the pine.' Max Albert Wyss
Kinfolk Studios is an international design studio formed in 2008. Kinfolk evolved from a desire to create unique handcrafted products and memorable social experiences. Using combined experiences from a variety of disciplines they set out to source the highest quality designers, builders and techniques. Kinfolk Presents offers a unique space for emerging and established artists to create site-specific installations, while collaborating on limited edition featured works.