Illustration
New Work from Jessica Singh
August 06, 2014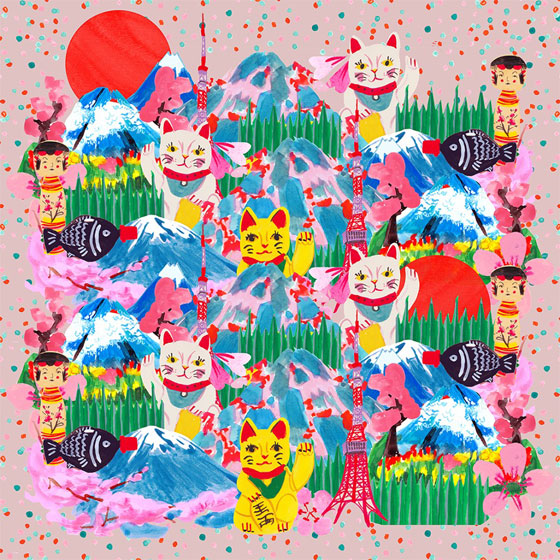 Jessica Singh is a freelance illustrator, & graphic designer currently working out of Berlin, Germany. Now 26 years of age; Jessica originally hails from sleepy, sunny Perth, Western Australia. To pursue her love of drawing Jessica moved to London to study at the prestigious Central Saint Martins College of Art and Design. 2009 saw her graduate with BA of Graphic Design, (Illustration Major) with Upper Second Class Honours.
Jessica then relocated to Melbourne, Australia where she lived making pictures and mess from her studio in the Nicholas Building for 3 years. Obviously suffering from severe wanderlust in 2013 she has moved back to the northern hemisphere, now residing and creating from Berlin, Germany.
Her love for making pictures grew from when she was around 4 years old, drawing on her the walls of her house (still did that when she was 16, sorry mom & dad!). Obsessed that her markers had to be in spectrum order and inventing/constructing compartments for her pencils, stationery lust also took over. Pursuing art throughout primary and high school, Jessica received her first drawing tablet and began posting her work online and never looked back.
Her process is borne of an image popping into her mind, which must be immediately documented or it fades. She doesn't really think consciously when she creates, it just comes. Completely self taught with Photoshop, her methods may not be the most practical - but the system works!
Jessica uses a Wacom Intuos Graphire 4 and heavily relies on scanning textures, patterns and sketches; which she then melds into her artwork. Usually starting with line work the illustrations often end with hundreds of layers in Photoshop. Jessica also employs the use of highly-chromatic gouache paintings to add vibrancy to the work.
Inspiration comes from a complex web of images in Jessica's head. Feeling like a sponge or a hunter-gatherer, several symbols, shapes, colours, textures, patterns and themes connect to each other through object relation. Which cannot be sensically described or explained, just certain things seem to relate to each other. Heavily ornamentation based, Jessica's works are influenced by fashion, pop culture, ceremonial culture (East Asia, Japan & India), esoteric symbols (or feelings, healings), song lyrics and personal experiences.
Often dealing with invented heroines and warrior-esses, Jessica's work is based around the intensity of the female gaze in many instances. These heroines may be internalised fragments of Jessica's personality or just visions that come to her externally. Her work deals with themes of power, feminism, humour, whimsy, altered states of consciousness & obliteration, tension between opposites, feelings of isolation by hyper-decoration and dissociation.