Illustration
Mike Giant's "Notes From The High Ground"
Jun 10, 2017 - Jul 01, 2017ATAK SF, San Francisco
ATAK SF is pleased to present Colorado-based and past Juxtapoz cover artist Mike Giant in his second solo show with the gallery entitled "Notes From the High Ground" including new drawings of various sizes. An opening reception is scheduled for Saturday, June 10th (8pm). Mike Giant will be present.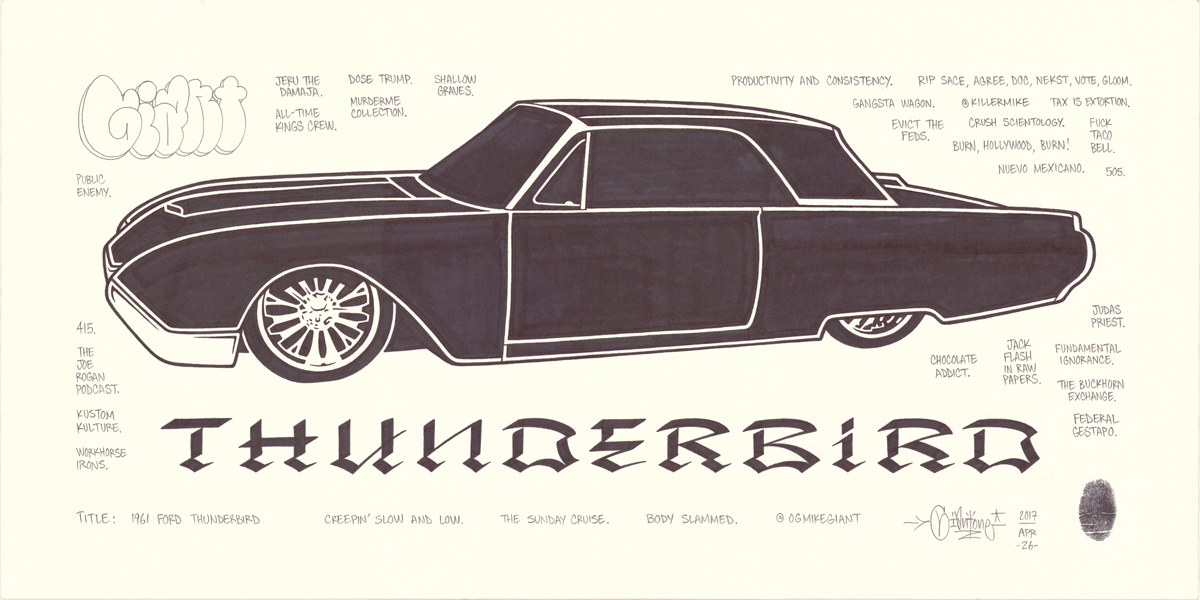 Through his drawings and the extemporaneous notes he inscribes next to them, this body of work allows us a peek into Mike Giant's life living on higher ground. These drawings reference the larger culture of the high plains of the southwest and his inscriptions provide a sort of key into understanding this iconography. Giant has lived and worked in Boulder, Colorado for five years now, drawing continuously and creating community through his Art Nights, hosing a creative space for others working in the area and fully enmeshing himself into many aspects of local culture.
Boulder, Colorado based Mike Giant has achieved fame as a graffiti artist, illustrator and tattooist. Black ink is Giant's specialty and whether his medium is concrete, paper or skin, his signature style - inspired by Mexican folk art and Japanese illustration - is unmistakable. Mike Giant has worked in media covering, graffiti, design, fine art, photography and tattooing, making him one of the most celebrated and versatile artists of his generation. He has shown in galleries around the world including Known Gallery L.A., Jonathan Levine N.Y.C, Black Book Gallery Denver, and many more.
"Notes From the High Ground"
Opening reception: SAT., June 10th (8pm)
Preview inquiries: [email protected].