Hannah Stouffer's 'Magic of the Woods' at Antler Gallery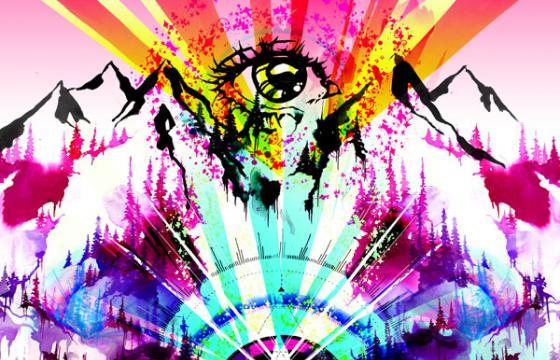 Antler Gallery is proud to present 'Magic of the Woods' by Hannah Stouffer. The San Francisco-based artist is set to open her latest series, a collection of fantastical landscape paintings, on August 30th as part of the Last Thursday event in the Alberta Arts District. Stouffer has worked with a wide array of high profile commercial clients (Christian Dior, Nike, Disney) while simultaneously advancing her fine-art career with gallery shows and installations at many prestigious galleries and spaces throughout the United States.
Working largely in ink on paper her artistic outpourings offer a reflection of new-age viscera. Sprawling and overlapping layers of vibrant color build an unnatural wilderness shrouded in a supernatural effervescence.Throughout her body of work, feminine decorative embellishments are counterbalanced by macabre motifs, the animal kingdom, and the never-ending pursuit of illustrating explosive emotional transcendence. Stouffer is best known for the incongruity of intricately executed imagery and shadowy, ethereal themes.
Hannah Stouffer 'Magic of the Woods' Solo Show
Opening Reception: Thursday, August 30th. 6pm - 10pm
Antler Gallery. 1722 NE Alberta St. Portland, OR. 97211
The show will run from August 30th until September 24th.
Neil Perry & Susannah Kelly
Co-Owners at Antler Gallery