Illustration
Amy Vazquez at La Boutique
March 20, 2012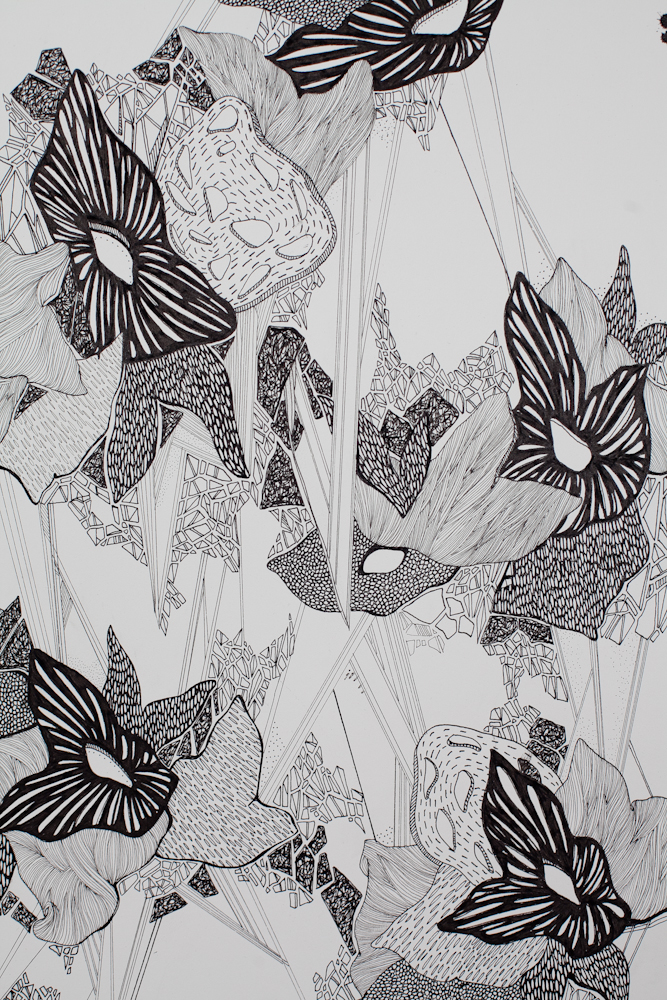 San Francisco-based artist, Amy Vazquez is opening a solo show at La Boutique in San Francisco. For those of you who don't know, La Boutique is a hybrid art gallery and fashion boutique in Jackson Square.
Vazquez will be showing new work in "Continuous and Still" a show that expands on her process-based meditative artwork. Flourishing black and white shapes are interrupted by punctuated bursts of color. With materials including but not limited to acrylic, gouache, india ink, graphite and prismacolor pencils, Vazquez creates overall shapes made up of an intricate world of microcosmic sub-shapes suspended in a void of white expanse. These works are cut from a unique and personal visual language that implies a point, counter-point conversation of vying elements that make the forms appear to constantly contract and expand. They almost seem to breathe.
Amy Vazquez
is a Miami-born San Francisco-based artist. Her work aims to create new landscapes that exist in the threshold of the familiar and the unknown. She received her BA in Studio Art from Scripps College in Claremont, CA.
"La Boutique, l'Art et la Mode" is a multi-disciplinary aesthetic space. Part boutique, part gallery, La Boutique aims to infuse a bit of European culture into San Francisco through fashion and art. La Boutique is dedicated to providing its artists with opportunities to exhibit high-quality, innovative artistic expression. We aim to make art more accessible, while allowing artists to increase their visibility. The gallery exhibits work of exceptional quality by both emerging and more established artists.
Opening Reception: March 23, 2012 6:00 PM – 8:00 PM
Exhibition Dates: March 23 – April 20, 2012
La Boutique | 414 Jackson Street, Suite 101 | San Francisco, CA

www.aopublic.com