Illustration
Airing Her Dirty Laundry in Public: A Conversation with Polly Nor
Oct 12, 2018 - Oct 17, 2018Protein Studios, London
There are few artists balancing our digital and physical worlds quite like London-based illustrator, Polly Nor. Her works on Instagram, metaphors and allusions of the female experience in the digital age, explorations of "identity, sexuality and emotional turmoil" are now juxtaposed by must-see, physical art exhibitions. Since our cover story with Nor in 2017, she has opened the acclaimed It's Called Art Mum, Look It Up, and will now open her third solo show, Airing My Dirty Laundry In Public, on October 12 at Protein Studios in London.
The new exhibition will display a new collection of "digital illustrations featuring a previously unseen 39 part series, plus new ceramic sculpture work, a new immersive installation, as well as a full collection of her original hand drawn illustrations." We sat down with Polly after a summer in NYC to talk about her new show, her rabid following and how to keep a good secret in this digital life.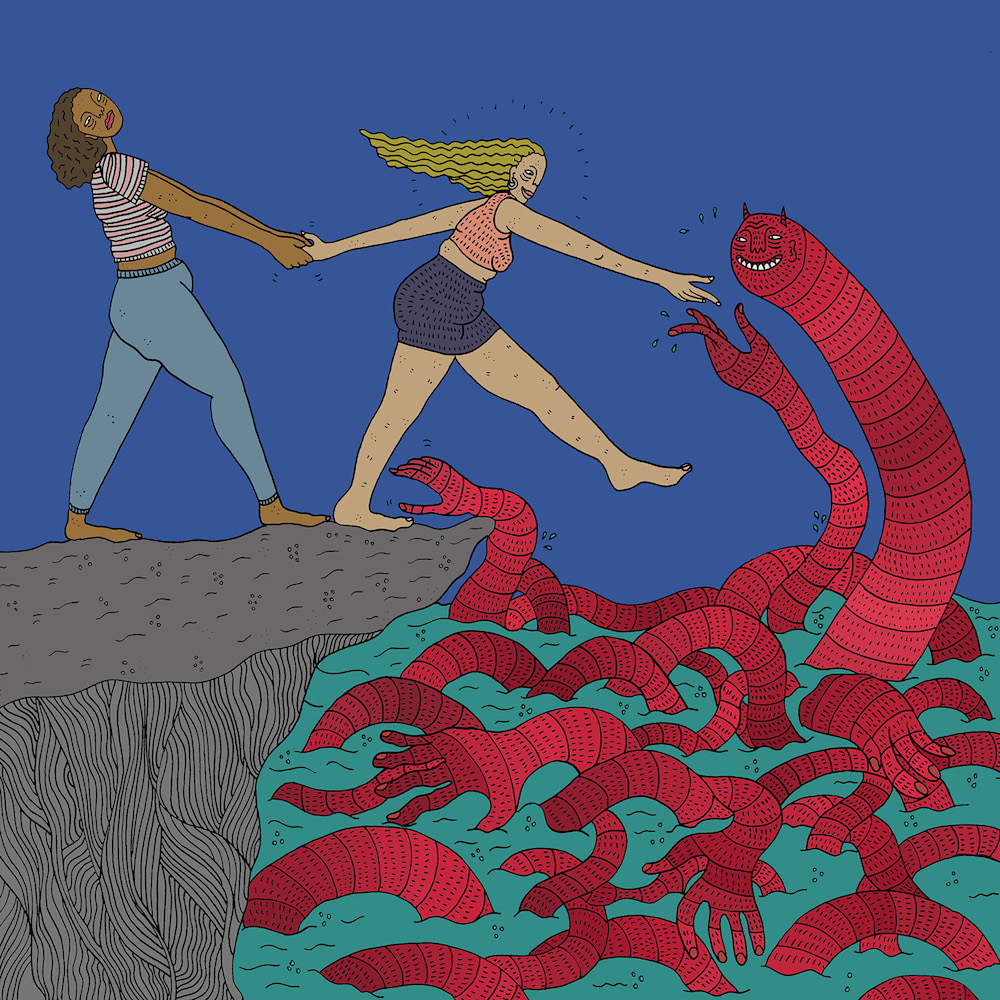 Evan Pricco: How has the summer in NYC been? Have you been working or treating it as a bit of a respite from a crazy few years for you? What is your favorite parts of NYC?
Polly Nor: New York has been good! It's gone too quick... I really needed a change of scenery. My studio back in London is so chaotic at the moment. I've been hoarding loads stuff for this installation room I'm making at my next exhibition and I was finding it so distracting. Whenever I was meant to be getting drawing work done I'd end up moving all my stuff around. I'm very easily distracted so it's been a welcome change having a new routine and new workspace for these few months.
I spend quite a bit of time in NYC, as my dad lives out here with my little brothers. I usually stay with them in Park Slope in Brooklyn, and go and work from a studio in Red Hook. I love spending time in Red Hook because it's so opposite from London, it feels very dystopian to me. I like walking around looking at the metal scrap yards and stuff. This time I've been staying in South-East-ish Williamsburg. It's cool here too, I like being closer to the nightlife and there are so many good food spots. I'm mainly here for the food.
It has been a year since you had an art show, and that one in particular was such a cool idea and mix of interactive components. What is planned for the new show?
The next one will feature a new immersive installation room where I will be bringing my illustration to life for the viewers to explore. I will also be presenting this 39 part illustrative series. It's kind of like a comic I guess but more cryptic. It continues on from of a series of 9 that I uploaded back in March. The underwater ones that started with You Don't Know Him Like I Do, the image of a girl jumping in to the sea after a sea worm/devil creature much to the disapproval of her best friend. It's my favourite series to date and I've really enjoyed developing it for the past few months... I'm looking forward to seeing if my audience will be able to follow the narrative through for 28 more parts - but we will see!
I've also created a load of ceramic sculptures inspired by my illustrations. I've loved working with clay I find it so therapeutic. I just hope I don't drop them and smash them all before the show. That's the kind of thing I have anxiety dreams about in the run up to my exhibitions!


I was thinking that even since your cover story with us back at the end of last summer, your popularity and following just continues to grow and is getting even more rabid. In a good way, it's awesome. It's amazing to watch. Has it been fun to watch the way people interact and react to your work?
I know, I still can't really comprehend how many people are following me and my art. It's mad. My followers are hilarious. I love reading their interpretations of my work. They're usually on the same page as me but some people analyse it in ways I hadn't even thought of. Some people go deeeeeep!
After the initial surprise of it perhaps dies down, what have you learned from your audience?
I have always found life very hard to navigate. I think growing up I had the impression that everyone I knew was holding it together apart from me. I look back now and think that wasn't true but it's definitely how i felt at the time. The fact the so many people reach out to say they find my work relatable has taught me that perhaps it's actually quite normal to not feel that normal. Even with my most abstract, weird pieces I read my followers comments and most people seem to really get it. There's something really comforting in that.


Have you been working on this show for the past year? It feels like you are good at hiding what you are working on! You didn't give too much away on your Instagram or site.
Yeah, I've been working on it on and off since my last show. There's been a lot of shit stuff that has happened in my personal life this past year and I've not been feeling great mentally or physically, but In the back of my mind, I've always had this fear that if I dont keep producing new work for Instagram that people will suddenly lose interest and my career will disappear as quickly as it started. I think that that's a really unhealthy affect that social media has had on artists, the constant pressure to be doing more.
I dont think its a very healthy way to work so I'm trying to exercise a new way of working and behaving online. I've been ignoring the urge to force out a continuous string of online content even if that means months without posting new work. I've been using my time to focus more on experimenting and developing longer stories some of which I've been sharing online and some I've been keeping to myself. I think in the long run it means when I do get round to finishing and releasing my art it's much better, because i've had the time to really think about it. But yeah I'm glad my followers have stuck around during my quieter months and the exhibition will be the first time most of it will be seen which is exciting and kind of scary!


Is there anything in this show that was new to you in terms of technique. Like you mentioned the ceramics component, and that is really fascinating to me.
I have never made anything with clay before so It's been a learning process. Because my illustration style is so wobbly and imperfect that when i am transforming these 2d drawings into 3d pieces sculptures i don't really feel the pressure to make the sculptures particularly perfect works of art either. I like them looking a bit wobbly and imperfect too.
Anything else that you can tell us about the show? Little nuggets of fun?
I think I've rambled on enough and covered most points! But yeah I think this one is going to be the most creepy one yet.

Polly Nor returns to Protein Studios for her third solo show, Airing My Dirty Laundry In Public, which opens October 12th—17th, 2018.