Juxtapoz
How Nosm "Late Confessions" @ 557 West 23rd Street, NYC
Feb 01, 2013 - Feb 23, 2013Jonathan LeVine Gallery, New York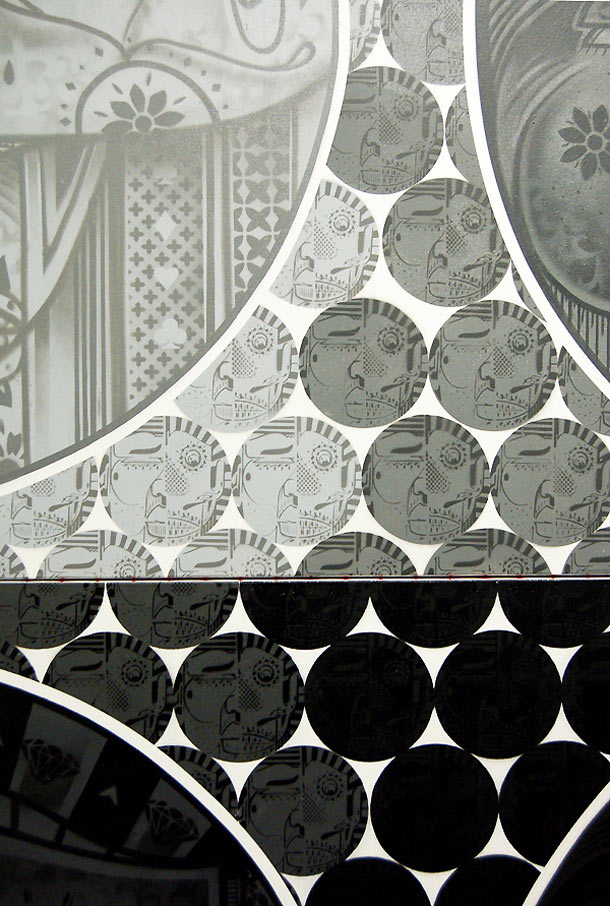 A reminder that How Nosm open their pop-up show tonight, February 1, 2013, from 7—9PM. We got a little sneak peek and some detail shots of Late Confessions, the name of identical twins How & Nosm debut solo exhibition in New York City in a temporary space presented by Jonathan LeVine Gallery located at 557 West 23rd Street in Chelsea. The talented artists are presenting an impressive collection of works and on-site installations that expands their universe into the physical space.
Influenced by their experiences growing up right after Franco's dictatorship in Spain and in a conflictive household of alcoholism and poverty, the artist developed a strong thematic that kindly fuses with their elaborated and harmonious compositions. The rich imagery in their works, patterns and symbolism are inspired by autobiographical stories creating extraordinary universes. How and Nosm share with is not only their distinct dual vision but also their passion and determination while embracing the old school values.
"Their energy and the determination with which they operate is unlike anything I have ever encountered. When How & Nosm are on a mission to accomplish something it is like they are possessed: not only do they meet their goals, they go straight pass them. It is unbelievable the amount of work these guys have produced throughout their careers." BIO, Tats Cru.
Jonathan LeVine Gallery invited us to preview this fantastic exhibition that will open to the public this Friday, February 1st, 2013.
Text and photography by Juxtapoz' NYC correspondent, Varenka Ruiz.






How Nosm
Late Confesssions
FEBRUARY 1—23, 2013
Jonathan LeVine Gallery Temporary Space
557 West 23rd Street
NY, NY