Juxtapoz
Hi-Art mobile Application
June 19, 2014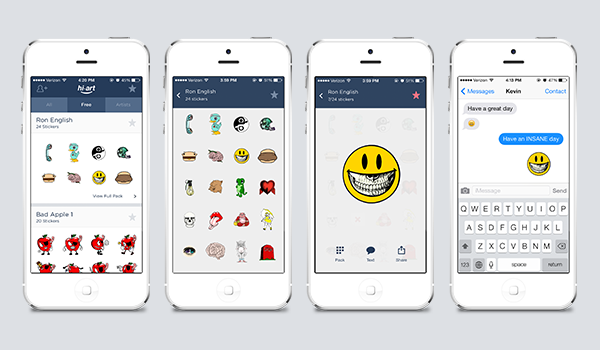 Launching today, Hi-Art is a free mobile digital sticker app that allows friends to browse, save and share emotions, messages, and thoughts in fun detailed images. Most importantly, the digital stickers were illustrated and designed by many of the artists we consistently feature like Vizie, Todd James, Ron English, Dan Santoro, Grotesk and more.
C0-Founder and CEO, Nico Dios describes the app, "Stickers are the most popular way chat users enrich their communication experience. As we began to look through the sticker content that was out there we noticed it did not adequately reflect the culture of the users. Today's youth are not represented properly by cute bears, chickens, or anime cartoons. Having grown up in and around the people and scenes driving cultural trends and movements like music, art, graffiti, and skateboarding, we felt uniquely positioned to add what was lacking in the space. Stickers are the next wave of emojis and emoticons."
Tonight in New York they are having a launch event. Check it out!