Graffiti
ONO'U TAHITI GRAFFITI FESTIVAL - PART 5
May 15, 2014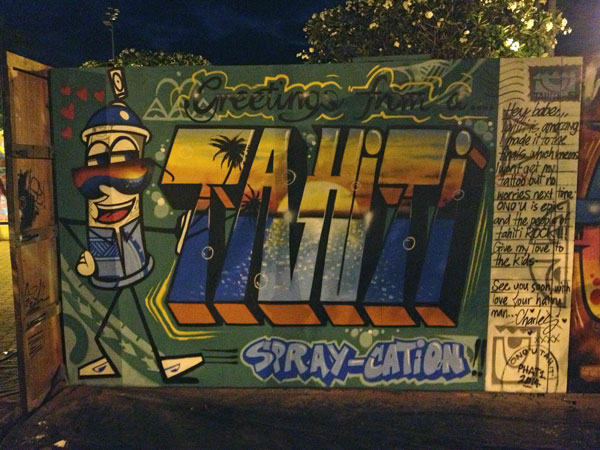 On the second day of the competition for the Ono'u Tahiti Graffiti Festival, the ten final round competitors were each given a word in the Tahitian language to paint and interpret. For five hours the varied styled artists painted it out, each bringing exceptionally strong work to the table. After a lengthy and trying deliberation between the judges the winners were announced. First place was awarded to Mast from Brooklyn, second to Berst from New Zealand and third to Kalouf from Paris, with Jops and Abuz each winning special prizes for Tahitian artists. First prize was a hefty $10,000, so if you see Mast make sure he pays for the food or drinks! Check back tomorrow for our continued coverage.
See part 1, part 2, part 3 and part 4
All photos courtesy of Austin McManus
More information on the festival can be found at their website, Facebook and Youtube.
The festival primarily aims to become a major international rendez-vous for urban contemporary art located in the heart of the South Pacific Ocean.
For its first edition, ONO'U will gather over forty international graffiti writers coming from around world (France, England, Australia, Chile, Denmark, USA, Japan, Netherlands, New Zealand…) alongside local graffiti writers.
Among this group of artists, some of today's living legends of the graffiti worldwide scene will be especially traveling to the mythical island of Tahiti to create amazing wall murals and unique frescoes.
For this week-long celebration of graffiti art, colors and creativity, over 1500 sqm of walls will be installed and painted by day and by night on the iconic site of Place Toata, facing the harbor of Papeete and magical island of Moorea."