Graffiti
Review: "Beyond the Streets" Has a Dense and Varied History on Display in Los Angeles
May 06, 2018 - Jul 06, 20181667 N Main Street, Los Angeles
There was always going to be a lot to take in from Beyond the Streets, whether it be from the curators attempt to not only tell a history, but also portray a future. Or perhaps the fact that the audience navigates nearly 50 years of art in one enormous show. And, of course, this is an art history that is still being written, as graffiti and street art are both venerable and vital art forms that continue to grow and nurture new generations simultaneously. As Beyond the Streets opened in Los Angeles at 1667 N Main Street this past weekend, there was a sense that we may be beginning to see where this movement is headed.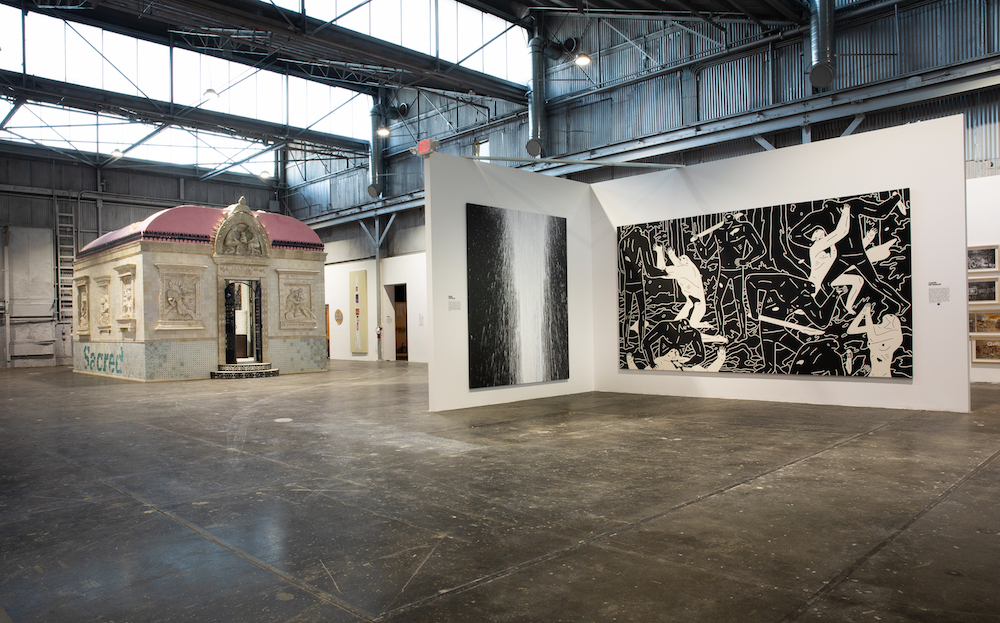 There has been, and will be, a lot of posts, articles, social media, buzz, critiques, whatever, about this show. As one of the curators myself, who wrote in the catalog and worked on the show, I have written and thought about BTS in so many different ways I wonder if it's even needed for me to write more. From the moment you walk into the exhibition, from RETNA on your right and a wonderfully simple Keith Haring drawing staring right back at you, there is a certain immediacy that you are in both a museum setting and a special "event;" and I think this is where the show is actually at its strongest. Its strength is in the dichotomies. It's high art and it's low art. It's a specially curated show by experts in urban art. It's political but silly. It's ambitious, but at times, just a narrative that should be told. It's Los Angeles and NYC. It's Philly and Tokyo. Chicago and Australia. It's music and skate. It's gunshots and galleries. It's Banksy and TAKI183. It's Alicia McCarthy and Maripol.

What organizer and curator Roger Gastman set out to do, perhaps even more so than his co-curation of Art In Streets years before at MOCA, was to re-establish how far reaching this alternative culture was, and how more so, graffiti, street art, punk and hip-hop have transformed the world we live in. And BTS gets that completely right. Again, perhaps I'm biased, but where in 2018 will you see work by Maripol, Takashi Murakami, CR Stecyk III, RETNA and Timothy Curtis in the same room? Or a Banksy and Jenny Holzer and Barry McGee? A tribute to the Venice Pavillion and LEE's iconic handball court? But these seeming disparities is exactly how the world looks at art in 2018. Rules don't really apply anymore. You can go to the Broad Museum and BTS on the same day. You can follow FAILE and Kerry James Marshall on your Instagram at the same time. Juxtapoz and Art Forum. We aren't living in a time where all these old fixations on your background knowledge of art really dictate what you appreciate. We don't have to ask permission anymore.

Mr Gastman has always been very smart in this approach, and his introductory remarks in regards to Beyond the Streets reflected that approach. It's our history, but we needed re-approach it with new care to foster its next move. Whether that is more museums, history books, or murals, this exhibition is a good start to see how broad and expansive it all can be. —Evan Pricco

Beyond the Streets in on view through July 6, 2018 at 1667 N Main Street in Los Angeles. Get tickets here.