Graffiti
"Beyond The Streets" Sneak Peek: HuskMitNavn and The Drawing Room
April 03, 2018
As Beyond the Streets is getting set to open in Los Angeles on May 6 (the 40,000+ square foot, premier exhibition of graffiti, street art and beyond, celebrating the soaring heights to which the world's most recognizable modern art movement has risen) we are catching up with a few of the artists who will be showcased. Today, head curator Roger Gastman sits down with Danish artist, HuskMitNavn, to talk about what the artist will have on display during the exhibition. Tickets are now available at www.beyondthestreets.com ...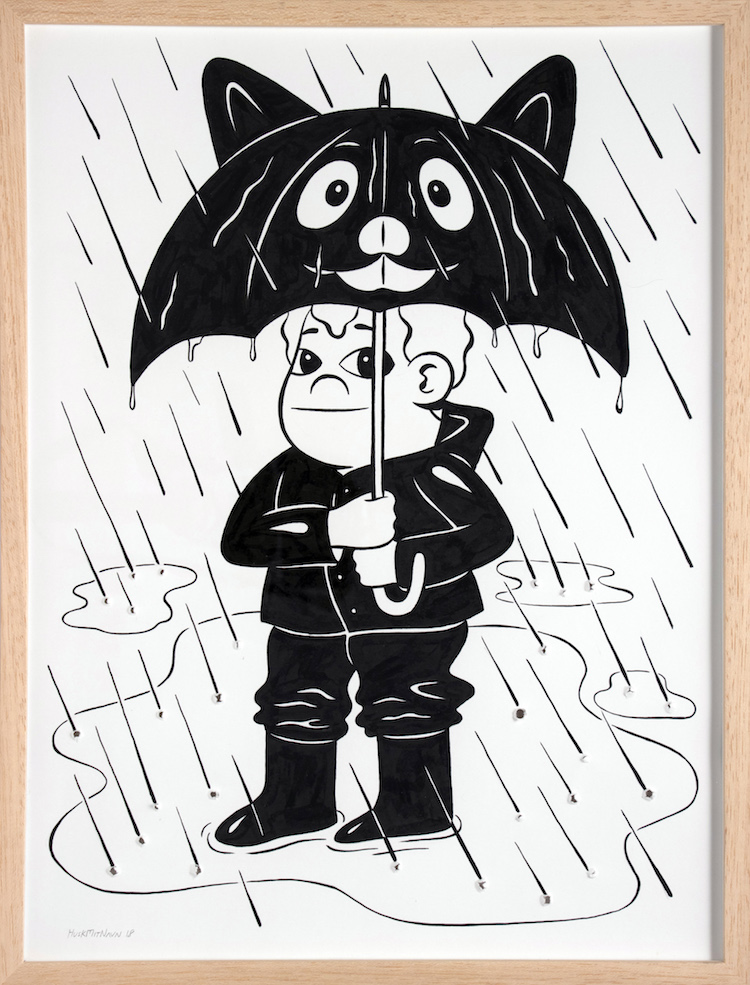 HuskMitNavn's drawing room will be packed with art supplies, instructions and comfortable chairs, giving visitors an opportunity to rest their back and have a go at creating their own 3D paper drawing, HuskMitNavn style.
Roger Gastman: You've always let your artwork speak for itself without any details about you or your life getting in the way - does this directly correlate to your days doing graffiti and letting the work on the streets speak for itself?
HuskMitNavn: Yes, I have remained anonymous. It's a nice way to work. On my way home from my studio, people don't stare at me or approach me on the metro. I also don't post photos of my family and friends on the Internet. If I'm anonymous, they should be also.
When I started out as a graffiti writer in the early 90's one of the most exciting things was not knowing what other graffiti writers looked like, you only saw the stuff they painted on the streets. I'm an ordinary guy but people might imagine that I have green skin or look like Johnny Depp (which is not far from the truth).



I remember one of your early drawings that said "Art Under Pressure!" and on one side was a guy being chased by police while doing graffiti in contrast to the other side where a dad was trying to create a drawing while his toddler is screaming beside him. While you don't share much about your own life, a lot can be assumed through your work and your character's lives. It does seem that being a dad does inspire a lot of your work's playfulness and delightful sarcasm but is it a challenge to constantly push artistic creativity while being a dad?
My daily surroundings are my main source of inspiration. I want people to recognize themselves in my artwork and since I live an ordinary life, people can identify with the everyday situations I draw.
When you have kids there never is enough time for anything, but it quickly teaches you how to work very fast. If I had all the time in the world I wouldn't create more art. It's an exciting (and stressful) challenge to make a drawing and feed your child at the same time.
You have a clear way of communicating your clever ideas in your drawings, seemingly effortlessly. Is it at all difficult to come up with all your narratives?
I'm happy you think my art looks effortlessly. That's my goal, but it takes a lot of work to make it look like it just fell from the sky. I do lots of sketches, working through ideas and every time I run out of ideas I work hard to come up with new ones. I never sit and wait for inspiration. Sometimes I come up with an idea for a drawing in two seconds and sometimes it takes days to come up with something I can use, but I never give up.


Your name translates to "Remember My Name" - what is it that you want us to remember about you and your work?
I want people to remember how fun it is to draw. If a kid or adult starts to draw because they are inspired by my own work, then that's all I want. Drawing materials are cheap and you can draw anywhere you wish. We are surrounded by pictures all around us and if you are good at drawing you become even better at reading the pictures and understanding the world. I also want people to know they are not alone when they see my art. They should know they are not the only fool on the planet and here is an artist who is going though the same everyday situations.
Your interactive drawing room at BEYOND THE STREETS sounds to be very comfortable and a great environment for people explore both physically and mentally - what do you have in store for them?
My drawing room is a place where visitors can sit down and rest their back after having seen a lot of great art at the exhibition. People will definitely be inspired after walking through the entire show and in the drawing room they get a chance at creating something themselves. My folded/3D drawings will be on the walls of the drawing room and if anyone is up for it, they can try creating a 3D drawing of their own.




https://www.beyondthestreets.com/