Juxtapoz
Go See: "The Biker" @ Levi's Flagship, SF
November 20, 2012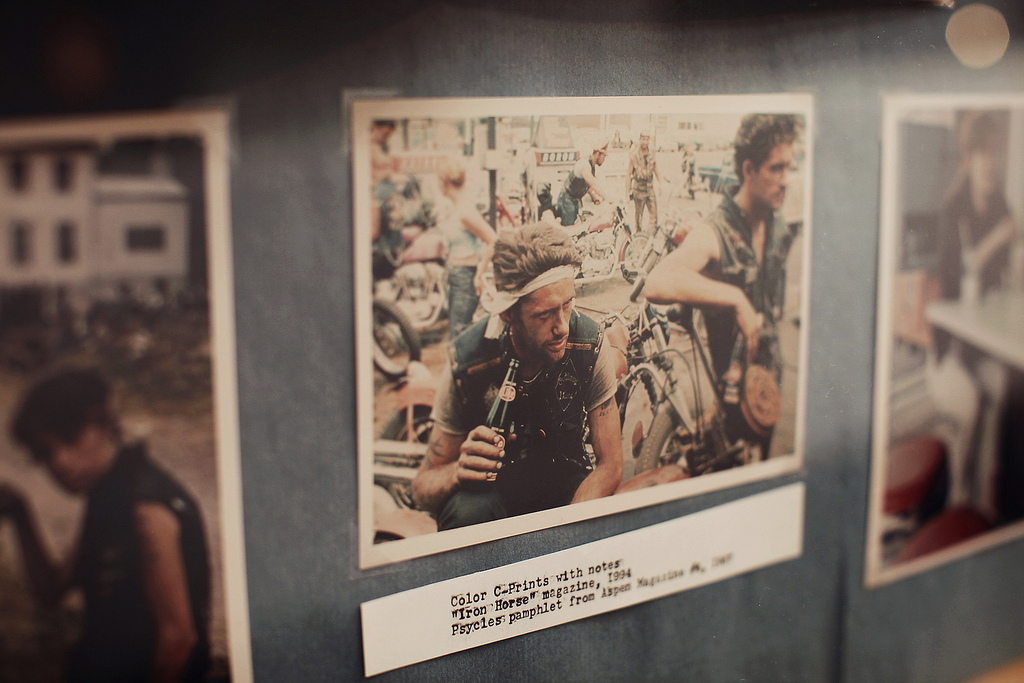 Last week, we attended the
Levi's Vintage Clothing
exhibition called
"The Biker with Oil and Leather & The Bikeriders"

at the flashship store in downtown San Francisco. Featuring 21 painted motorcycle jackets from 13 international artists--many of whom are tattoo artists as well-and documents and photographs from Danny Lyon's "The Bikeriders," the show pays homage to the American biker legacy.
The show is traveling from San Francisco to New York to Tokyo, so be sure to catch it while you can.


"The LVC Fall 2012 collection pays tribute to the rebellious spirit and renegade style of the American biker - white t-shirt, black leather jacket and the classic 501®. To celebrate "The Biker" and this legacy, the brand has invited 13 artists and illustrators from around the world to customize black leather motorcycle jackets using oil paints. Oil and Leather is an exhibition of these jackets and a record of the brand's contribution to the long-standing tradition of hand-painted motorcycle jackets.'

Alongside these contemporary collaborations, LVC traces the cultural impact of Danny Lyon's historic 1968 photo-documentary, The Bikeriders. Through a collection of publications, photographs, outtakes, and private correspondence from Lyon's archive, this exhibition offers an insider's look back to the golden age of motorcycle culture. This unique exhibition dives into Lyon's archive showing rare photographs, outtakes, private correspondence and letters never seen before. It was 1965 when Danny Lyon, legendary American photographer filmmaker, and writer, joined the Chicago Outlaws Motorcycle Club. As part of the club, Lyon captured images and stories, from the scramble track to the club house, that offered rare access to an emerging counterculture. His photographs of the bikerider lifestyle, both dangerous and romantic, helped solidify "The Biker" as a timeless style icon. He has created iconic American images of the civil rights movement, bikers, the destruction of lower Manhahttan, Texas prisons and Native Americans, among many others. "I was a bike rider, a photographer and a history student, probably in that order." - Danny Lyon (On his early years).

The exhibition will be on display in the Union Square store through November 25th. From there, it will travel to New York City for the Pop Up Flea (November 30th to December 2nd), which showcases new and vintage goods and is organized by Michael Williams (A Continuous Lean) and Randy Goldberg (UrbanDaddy). And then to the Levi's store in Shinjuku, Tokyo on December 7th, where the custom jackets will be sold (with all proceeds benefiting charity)."