Juxtapoz
Giveaway: Kenny Scharf x UE Boom Wireless Speaker
May 01, 2014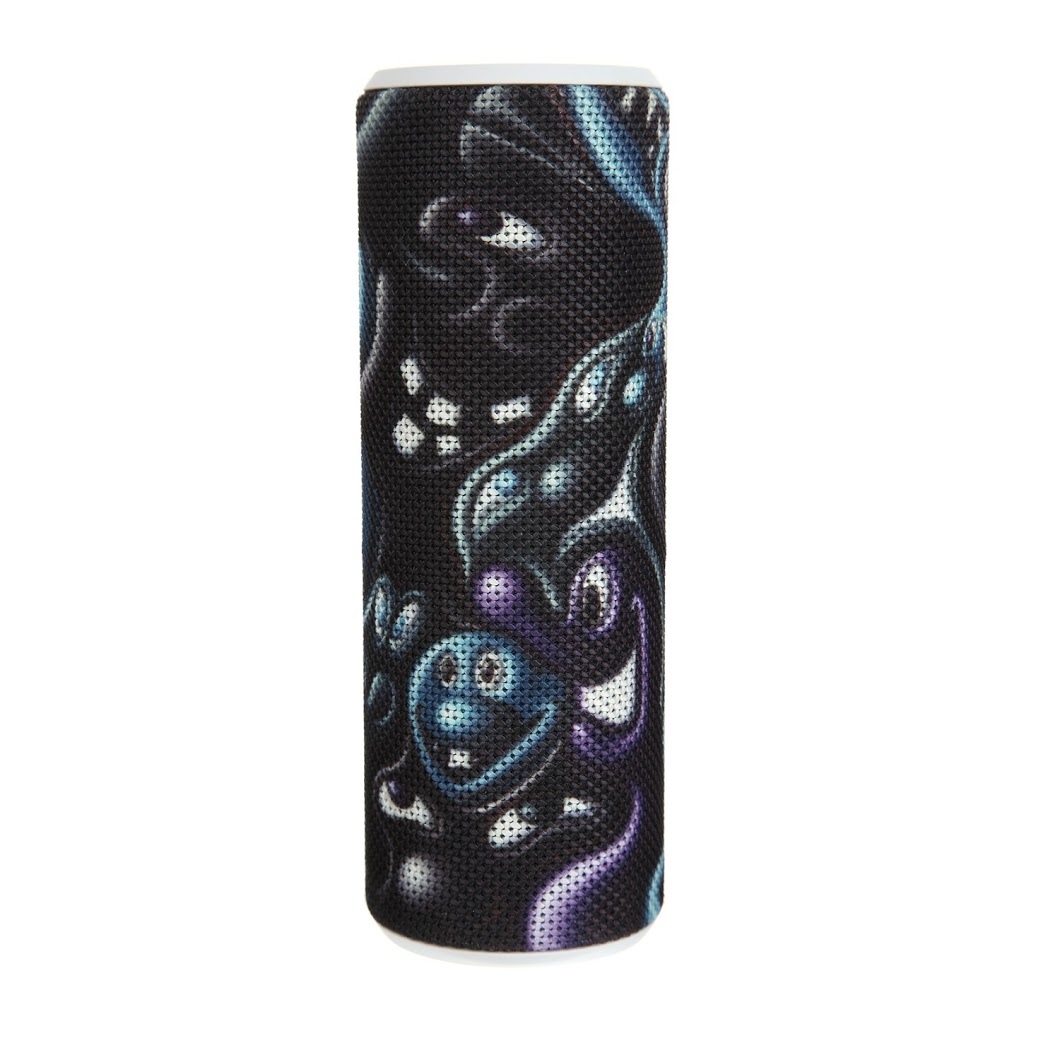 Our friends at Ultimate Ears have sent us a couple of their limited edition UE Boom wireless speakers featuring Kenny Scharf 's (most recently, cover artist of the May 2013 issue of Juxtapoz Magazine) celebrated Blablobs design. The edition is currently sold out but we will be giving two away! Simply follow Juxtapoz and UE Boom on Twitter, share this post and we will select two people at random from the hashtag #JUXBOOM on Twitter this Friday May 2, 2014...
Follow Juxtapoz
Follow @JuxtapozMag
Follow UE Boom
Follow @ultimateears
Share This Post
Tweet #JUXBOOM
This design collaboration is the latest in a series of one-of-a-kind acoustic skins for the UE BOOM, reflecting the vibrant, spontaneous and socially immersive qualities shared by both Scharf and Ultimate Ears. Since the early 1980s, Scharf has revolutionized the New York City art world, bringing a galaxy of colorful characters to the streets. Now, he's bringing his joyful brew of pop abstract surrealism to the smart acoustic skin of the UE BOOM.
"This collaboration with Kenny is also a metaphor for Ultimate Ears' mission," said Rory Dooley, general manager of Ultimate Ears. "In their simplest form, music and art are our personal expressions shared with the world. Bringing Kenny's passion for integrating art into everyday life to the UE BOOM reinforces our commitment to social expression."
Introduced in 2013, UE BOOM features a cylindrical shape that blasts bold 360-degree sound, a water- and stain-resistant acoustic skin and up to 15 hours battery life. Pair all of this with Scharf's urban style and sci-fi flair and you get the perfect combination of art, music and design.
"I want to bring art into people's everyday life, making it approachable and easily connectable," said Scharf. "I believe artists have a responsibility to connect and inspire people across all walks of life. Working with Ultimate Ears, a company that holds the same beliefs, was exciting and fun for me."
A contemporary of Keith Haring and Andy Warhol, Scharf has continued to remain prolific and relevant as he constantly creates and collaborates across a wide range of mediums. Scharf is represented by Beverly Hills based memBrain Licensing.

About Ultimate Ears
Ultimate Ears, a brand of Logitech, revolutionized the way artists perform music on stage with the creation of its custom fit professional earphones in 1995. Today, more touring artists use Ultimate Ears than any other brand, and UE makes critically acclaimed earphones and speakers that are redefining the way people experience the music they love. Ultimate Ears is the leading supplier of custom fitted earphones for professional musicians and an emerging provider of premium speakers and earphones for the consumer market. For more information, please visit www.ultimateears.com.
About Kenny Scharf
Kenny Scharf rose to prominence alongside his friends and contemporaries in the 1980s, most notably, Jean-Michel Basquiat and Keith Haring. Scharf was a pioneer among artists who integrated street culture into the contemporary art mainstream, incorporating pop and comic imagery in his sculpture, installation and paintings. Scharf ultimately established himself as a master of iconic imagery within the field of contemporary art. Scharf's work is included in numerous public and private collections and has been exhibited internationally at museums and institutions including the Whitney Museum of American Art, the Eli Broad Foundation, MOCA Los Angeles and the Stedelijik Museum. Scharf has continued to pioneer unique projects like his Cosmic Cavern – a black light disco installation that was first exhibited at the 1985 Whitney Biennial and inspired his Cosmic Cavern A GoGo disco party, held in the basement of a Brooklyn warehouse from 2008. In 2010, Scharf collaborated with Tony Goldman and The Hole to create an expansive outdoor mural on the corner of Houston Street and the Bowery. He has showcased his unique spray-can paintings on many roll-up storefront shutters throughout Manhattan as part of a public art project by the Mediacy Group's Gatescapes program. In the spring of 2011, his work was featured in Art in the Streets at The Museum of Contemporary Art, Los Angeles. Scharf lives and works in Los Angeles, California.