Juxtapoz
Gallery View: Needles & Pens 10 Year Anniversary Show
May 10, 2013 - Jun 08, 2013Luggage Store Gallery, San Francisco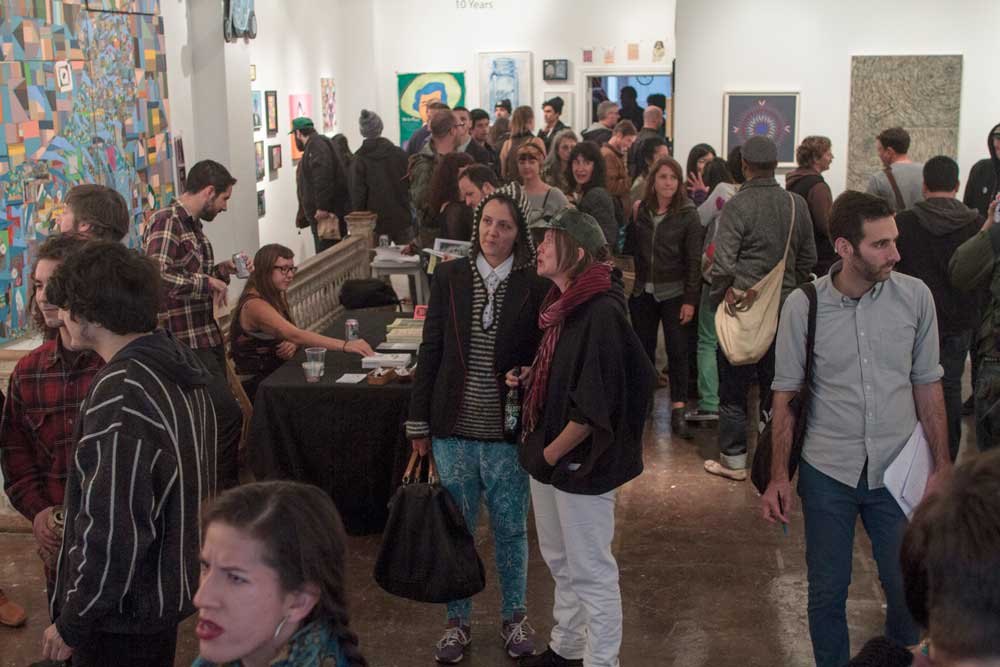 Needles and Pens is currently having their 10-year anniversary show at the Luggage Store Gallery in San Francisco. We stopped by on Friday night for the opening reception of the massive group show, featuring over 70 participating artists, a book release, and live bands! Party! The show will be on display through June 8th so if you are lucky enough to be in the bay area, we recommend you check it out!
The show features works by: Amy Browne, Andrew McKinley, Andrew Schoultz, Austin McManus, Bill Daniel, Brigid Dawson, Chris Duncan, Chris Johanson, Chrissy Piper, Daniel Higgs/Kyle Ranson, David Benzler, Deuce 7, Edie Fake, Griffin McPartland, Hamburger Eyes, Hilary Pecis, Jason Jägel, Jay Howell, Jay Nelson, Jeff Canham, Jeremy Fish, Joey Alone, John Dwyer, Jovi Schnell, Julianna Bright, Kevin Earl Taylor, Know Hope, Kyle Field, Kyle Ranson, Lena Wolff, Maria Forde, Mary Joy Scott, Mat Obrien, Matt Furie, Maya Hayuk, Mike Brodie, Miriam Stahl, Monica Canilao, Nathaniel Russell, Nick Mann, Nigel Peake, Nikki McClure, Oliver Halsman Rosenberg, Orfn, Orion Shepherd, Other, Pacolli, Paul Schiek, Paul Urich, Paul Wackers, Pez, Ray Potes, Richard Coleman, Rich Jacobs, Russ Pope, Sam McPheeters, Serena Mitnik Miller, Stefan Simikich, Tauba Auerbach, Ted Pushinski, Thomas Campbell, Tim Kerr, Xara Thustra.


Reception Photographs by James Pawlish.