Juxtapoz
Feature: Patrick O'Dell @ Known Gallery
April 08, 2013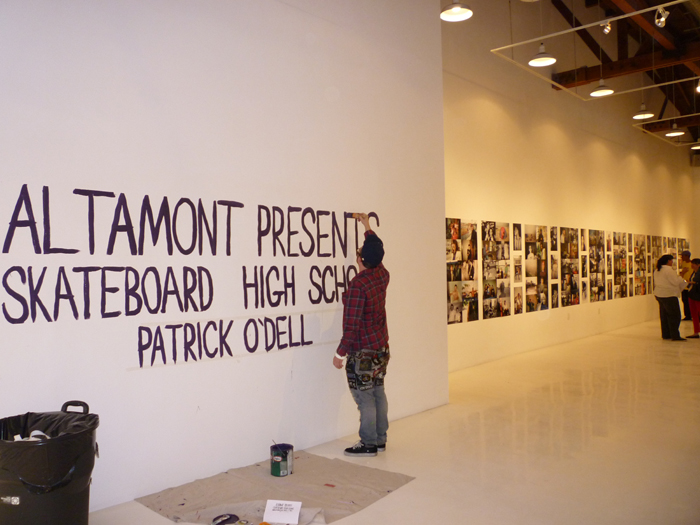 Patrick O'Dell Skateboard High School
By Robin Fleming
Last Thursday Patrick O'Dell's photo exhibit "Skateboard High School" opened at Known Gallery in Los Angeles. On hand to check out the show were skateboarders, actors, models and scenesters. People were playing it cool, until they heard that every print, framed or unframed, was available to purchase for only fifty bucks, at which point the cool became crazed.
O'Dell, whose pedigree includes Vice and Thrasher Magazine, grew up in skateboarding. His formative years were spent lugging his camera bag to skate spots, so naming this show "Skateboard High School" just clicked. O'Dell joked, "We all know that the skateboard industry and the street wear scene, for better or worse, is a high school."
During his early photo career, shooting skaters in San Francisco and New York City, O'Dell's shutter kept snapping away between the tricks, in the van rides, and long after the session had ended. Looking at his work today, the candid and carefree images are a collective memory of skateboarding's recent history.
O'Dell has more than a decade of images, some of which have ended up on his popular blog epiclylaterd.com, which quickly became an online skater look-book when it was launched in 2004. To pull together "Skateboard High School" O'Dell's sister went through boxes of prints and negatives in their parent's basement in Ohio and he specified that she should send anything that "looked like skaters" to him in Los Angeles. With those marching orders, his sister even sent pictures of the photographer himself, as a teenager, skating at his local skatepark in Ohio.
"The earliest photos are from when I was in middle school, and the newest photos are from the last month or so." O'Dell continued, "Almost all the photos are shot on film, so it was mostly digging through negs and trying to find stuff that I wanted to look at big."
Once the show was hung, there were almost a thousand images on the walls. O'Dell reflected, "This is the most pictures I've ever put in one place. On one hand I fear that it looks like I'm over doing it, but on the other, I just wanted to make it fun. I wanted to do a light hearted show and walk away thinking, 'It may not be William Eggleston, but I had fun.'"
"Skateboard High School" included the authentic elements that everyone shares from those awkward years; cool kids, rocking bands, and a bake sale. O'Dell's friends, including Randy Randall of No Age along with local LA bands Protect Me and Froth had couples dancing. Sixteen year-old entrepreneur and O'Dell's favorite baker Clara, of Clara's Cakes, sold her vegan cupcakes and brownies.
O'Dell's "Skateboard High School" at Known Gallery is presented by Altamont Apparel, where he is a creative contributor. The show ran through Sunday, but if you missed it, the show's booklet is available now through Deadbeat Club Press.