Feature: Jason Jagel, Madlib, and Entangled Conversations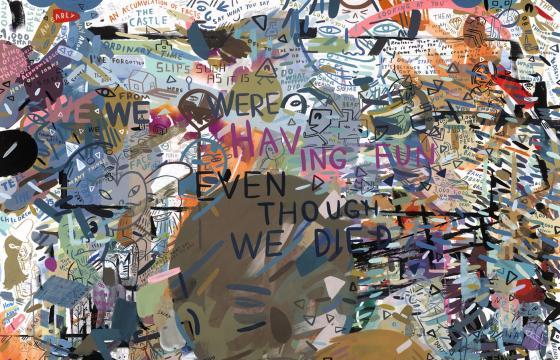 When SF-based visual artist Jason Jagel spent the night on the oversized chair at the Stones Throw house back in 2002 the same night Madlib crashed on the couch directly across from him, Jagel knew right away he had stumbled across a unique individual. "I remember Madlib mumbling in his sleep, sounding uncannily, but not surprisingly like his music," remarks Jagel.
----------------------------------------------------------------------------------------
"The best times are when I'm just playing around in the studio, it's
always different only sometimes there's a pattern ."
–Otis Jackson, Jr. in conversation with Roy Ayers
-----------------------------------------------------------------------------------------

Article by Justin Bolois
Â
"Hey yo, how many know about crate diggin'? What does crate diggin' mean to me? Diggin' for them unordinary soundin' loops even if it's not that clean to thee." This verse from the track "Crate Diggin'" stands as an homage to sampled brethren of the past by the prolific beatmaker Madlib, arguably the cornerstone of the heralded LA-based Stones Throw Records. The last phrase "not that clean to thee" resonates sharply for those aware of Madlib's enduring niche in hip-hop—a niche carved out over the past twelve years with the enigmatic producer buggin' out as the pyscocilibin induced Quasimoto or amassing playlists of German Krautrock. Nothing is off limits.
Â
So when SF-based visual artist Jason Jagel spent the night on the oversized chair at the Stones Throw house back in 2002 the same night Madlib crashed on the couch directly across from him, Jagel knew right away he had stumbled across a unique individual. "I remember Madlib mumbling in his sleep, sounding uncannily, but not surprisingly like his music," remarks Jagel. The more Jagel studied Madlib the more he began to appreciate his intense musical scholarship as well as his fondness for muddying boundaries. Confronted with such a like-minded figure, of one who likes to shake things up and let the components swirl on their own terms, Jagel's logical conclusion was to include Madlib in his own artwork of narrative imagery, to transfer the relationship from flesh to paper.


Â
For Jägel, a story is a series of entangled conversations that intersect, collide, and overlap with one another through various mediums such as paintbrushes or stencils. Jagel's conversations are of another nature however, similar to a full burst explosion: conventions of space and linearity are abandoned, as fictional comic-book-like characters hug the margins of paintings, where linguistic references to song lyrics are splattered throughout the work to create textural densities, while swathes of color simultaneously fracture and reconnect all of these things at once. "It's like writing a novel," explains Jägel. "You can't consume it all in one sitting."
Â
Jägel 's idea of how a story should develop began in the margins of notebook pages during grade school, filling them in with wacky, compulsive doodles that were inspired by countless hours of comic-book consumption. "Comics are an art form where anything can happen at any time," says Jägel. "There's a non-sequitor, plasticity, impossibility potential, and by embodying that potential it seems inevitable [the characters] will do that."


Â
Although as an artist he speaks in what he calls a "comics vernacular", he claims he could not live up to the pressure of consistently producing solid comic material. But he came to realize that the free-form process of doodling was another mode of story telling in and of itself, a method of discovery that displaced the limitations of prefigured sketches; Jagel had found his own niche.
Â
"One of the things I decided about my work is to let it be as complicated as it wants to be. When all the wires are crossed, I'm really happy."


Â
However, intricately wired does not mean a circuitry without reason. His work opens a free-range of possibility and association, halting our normal perceptions of space and beckoning us to dip and dive among new modes of abstraction. You can find yourself lost among his imagery and still navigate with an intuitive sense of direction—at one moment straddling the borders, squirming and wriggling through suspended dimensions of space, and in another instance immediately rushed back into a focal point of new interpretation, gliding between amorphous imagery that seems to continually reproduce new meaning at each glance. This mutability defines his work, as distinct characters overlap to form one body of shape while minute activity on the page, in the form of text or characters, has to be constantly reconciled against the larger framework.
Â
"You see the world in periphery and pin-point vision, so your consciousness takes on multiple valences. Perception is 90 percent memory, which means you're constantly filling in the world," says Jägel.


Â
For Madlib, the world (and outer-world for that matter) is his sound library, providing him with remnant scraps of musical bits to funnel into full-bodied expressions. As in every instance, a narrative is always a matter of relation to surrounding things or people. So, if you're Jason Jägel, how do you penetrate Madlib's world? How do you start a conversation with an elusive shape-shifter, one who constantly re-invents himself through outlets like his fictional jazz-group called Yesterday's New Quintet? For starters, you draw him into your own fictional world; you initiate a dialogue by quoting, sampling and splicing his sonic essence and reshaping it into visual form. In other words, you follow the lead of the master sampler.
Â
Around the year 2000, Jägel began listening to Madlib, MF Doom, and other artists from the Stones Throw roster in heavy rotation, and has since nestled comfortably into their community. After contacting Stones Throw art director Jeff Jank, Jägel was invited to design an unreleased promo copy of the Monk Hughes and the Outer Realm's demo album, Monkin', as well as the published version of MF Doom's MM.. Food.


Â
"I always liked Jason¹s particular mix of drawing, painting, and storytelling with a million visual and word references, all pieced together in this perspective-defying space he fills up," Jank commented via e-mail. "I first saw his pictures at a gallery I wandered into in Santa Monica, CA, and only a couple weeks after that got an email from him out of the blue when he wrote to Stones Throw suggesting that we work together. The first chance to work came when I was asked by MF Doom to do something for his record MM.. Food. I called up Jason, told him the concept, and I get the feeling he was already sketching before we got off the phone. He did that great cover ­ one of my favorites ­ in just about a day."
Â
Along with MM.. Food, Jagel also designed the official release cover for Dudley Perkins' Washed Brain Syndrome and, most recently, contributed to the design and artwork of the MF Doom Dime Box set. It looked as though Jagel was following the foot steps of his father John Jägel, who had created iconic album covers for Atlantic Records in the 60s such as John Coltrane's Ole and Ornette Coleman's Ornette! (the latter playing a role in the design of Madlib's Yesterday's Universe album design as a tribute to the passing of Jagel's father, as Jank revealed).


Â
The responsibility to design Madlib's albums is carefully guarded by Jank, and rightfully so. But Jägel was nonetheless fascinated by such an elusive musical figure, one who invented fictitious virtual-one-man jazz bands, performing under different aliases such as Malik Flavors, Joe McDuphrey, Ahmad Miller—the list goes on—and venturing off into multi-faceted side projects that masked any clarity between imaginative and concrete realities. Jägel saw that Madlib was sculpting his own sonic hemisphere, creating a new jazz universe, and realized an opportunity to add to this world: he could make fictitious album covers to correspond to each side project, designing for the likes of the Young Jazz Rebels and Kamala Walker and the Soul Tribe (whose album artwork—with its abstract-expressionist gesture—stands as a multiple reference to a painting created by Jägel's father as well as classic Blue Note covers). Jägel could now play the role of virtual art director without needing anyone's consent.
Â
Towering over Jagel's workspace are hundreds of LPs, ranging from fusion jazz of the independent Italian label Horo, to the early, old school hip hop of Melle Mel, and from punk to modern soul. Most have been collected through his own digging, while others come recommended by Madlib and the Stones Throw posse. Jägel explains his conceptual approach as one stemming from a musical root, relying on "feeling" and "reaction", as he puts it, to stimulate his own creations. These intuitions work in tandem with his tendency to start multiple projects at once.


Â
"In this moment of newness you have a reaction to [the painting]. In the context of jazz, it's similar to having an emotive experience. There are these wonderful moments within jazz of simultaneous complexity and gutbucket expression—this is what I connect to. The act of listening becomes the act of creating," comments Jägel. "Music is one form of cultural production I can consume and process into my own work at the same time."
Â
The rhythms and time signatures of a Grant Green track, or an abrupt shift or unexpected turnaround, are all qualities embodied in Jägel's selection of elements like color or brushstroke.
Â
"Improvising allows me a fluidity analogous to movements of rhythms and melody," says Jagel. "I try to bring music into more of a central place in my studio practice itself, without a concrete prescription about what form that should take, without any thesis statement to prove. It's a strength and weakness. I'm not making clear concise statement, and I would like to make one. And I admire people who do that. But I might be a little more messed up than that. At the same time, creating something that can take form but has no shape has this lovely moving and connecting quality to it."
Â
As a result of Jägel 's momentary procedures, he is left with a trove of unfinished projects, forcing him into a similar position of the modern crate-digger. With many of his works evolving over the years, while also accumulating partially finished pieces and scraps of ideas, Jagel can create conversations that remain inclusive as he digs not so much for conclusions as for potentiality. "I love starting pieces because in the beginning moments they're so full of vision and desire, feeling and ideas. "
Â
In tangents he sees a moment of emptiness that encourages exploration, a reattachment to a larger story that we all partake in. "We're all connected to something greater than ourselves," offers Jägel. "We're constantly drawing from and adding to this space because to remake the world is intrinsically programmed into us." Jagel's interest in Psychology led him in the direction of memory and perception studies. He explains that while we may be fixated on a focal point, there is much activity transpiring in our peripheral vision, activity that is continually being sifted by our brain to avoid sensory overload. But this peripheral action is subconsciously soaked in; we are aware of it through involuntary processing. And if this same model can be applied to ideas and words, then the origins of ideas and stories seem incomprehensible and non-consequential. Your story becomes my story, mine becomes his; Madlib's becomes Jagel's.


Â
Such flexibility in thought and action leads Jagel to those special moments in which the circuitry forms unexplainable patterns, unintended but full of meaning. "My work is all based around a compulsive form of making. Being compulsive, parts of me can be revealed in its forms," explains Jagel. He began to observe that many of the characters in his work were peeking from the corner of their eyes, a phenomenon he feels is an accurate reflection of his own interactions with the world. "Since it's not polite to stare perhaps it's a furtive gesture. Perhaps I am inclining towards perception in the peripheral sphere. Regardless, all of us make choices without knowing why." In his book Seventy-Three Funshine, Jagel includes a close up image of an Ornette Coleman album cover. Why? It turns out that this was a 1983 repress of early 60's LP "Ornette!" whose cover was designed by Jagel's father. Look carefully enough and you'll see Ornette looking through the corner of his eyes. "Boom, crossed wires," says Jagel. "Multiple meanings at once usually means I have done something right."
Â
One afternoon in his studio, Jägel walked over to a painting that was hanging on his wall and began to speak rhythmically, directing his hand around the page while vocalizing broken, free-floating phrases. His hand movements were tracing an invisible line of dots, a zigzag of a maze that toyed with visual and auditory components. Here was Jagel waxing poetic, creating his own type of song from lost appendages and runaway ideas. Jägel may not always be in face-to-face discourse with Madlib, but this does not necessarily deny a connection. "Imitation is a mode to converse. Through my work I can be in a conversation with Madlib or a musician or author from 40 years ago."


Â
Madlib's force as an artist lies in his ability to carefully glide along the ridge of other music, studying its contours and perspective, soaking in its scenery. But with an instant flip of a switch, or like an emergency ejection launch, he propels himself into a territory distinctly his own. He is a riff connoisseur in the best sense of the word, a title Jagel would certainly have no objection to. "Growing up I couldn't decipher or remember lyrics of a song. All I got were these floating words that stood out in my mind. And in my work I have these stories created by series of hanging chads. The other day I wrote down a word on a piece of paper and heard another word [that stood out] on a record. I ended up joining the two, almost like a Madlib sample style—completely lost from its original source immediately."


Â
Jägel views this process as a type of tribute rather than counterfeit, in taking the original source or sample and letting it flow in you and through you—a phenomenon that inevitably leads to an original voice. A voice of Jagel, a voice of Madlib: both one and the same. What's at stake here is not Jagel's personal relationship with Madlib. There are no instances of phone tag, no e-mail threads left neglected. Madlib is still a distant, shadowy figure; not many are privy to his inner circle, and that's the way it will always be. The relationship that truly matters is the one mapped out in Jagel's artwork, for each decision made on the page channels Madlib into a new form—a derivative form, yet one in which they find each other and themselves.

For more information about Jason Jägel, visit Jasonjagel.com. To read Jägel's interview in Juxtapoz Magazine, refer to January 2010.