Feature: Dabs Myla in Conversation with Askew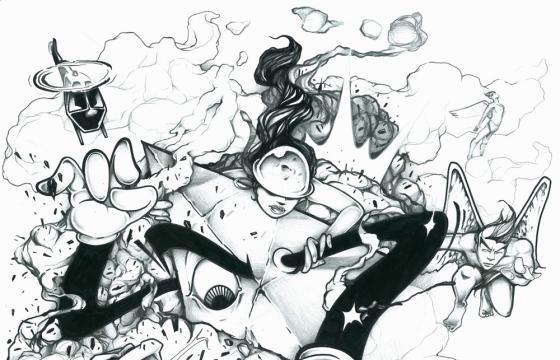 Dabs Myla's big Marvelous Expeditions show is coming up on Sat, Sept. 1st at Thinkspace. The duo have put together a fun lil' set of questions combining some of the favorite questions they've been asked over the past few years as well as a few show specific travel related questions to spice things up. Today, they talk to Askew.
This special exhibit will feature over 20 new works from Dabs Myla, a huge installation with a very special guest artist helping out (details to follow) and a group show they have curated featuring 32 of their friends all creating works on 16x20 cradled wood panels provided by the duo and built by Craola's dad George Simkins.

Thinkspace is pleased to present the highly anticipated 'Marvelous Expeditions' by Dabs Myla and Friends. In the spirit of travel and all things wonderfully itinerant, acclaimed duo Dabs Myla will take over the gallery space and will feature new work and an installation alongside curated selections from 30 of their closest and most inspiring artist friends. The gallery will in effect become a locus of meeting and communal exchange, as artists from all over the world are brought together by Dabs Myla to share their experiences of traveling through its landscapes.
'Marvelous Expeditions' showcases the duo's love of friends, collegiality, exchange, and the proliferation of vision and variety that thrives alongside constant movement and displacement. These are the exploratory impulses of travel that lead to constant revisions, reconstitutions, influences, and to the indelible encounters that change everything.
Featuring 16x20 works from:
123 Klan Aaron, De La Cruz, Askew, Augustine Kofie, Axis, Cat Cult, Dabs Myla, Dscreet, Dvate, EINE, Elliot Francis Stewart, Ephameron, Greg Lamarche, Honkey Kong (aka Adam Hathorn), Johnny 'KMNDZ' Rodriguez, KC Ortiz, KEM5, Logan Hicks, Luke Chueh, Mark Mulroney, Meggs, Misery, NEW2, Pose, Remi Rough, Revok, Rime, Stormie Mills, Tatiana Suarez, Tom Gerrard, Tristan Eaton, Witnes, The Yok.
Askew One (TMD, MSK) is a multi-disciplinary artist mostly renowned for his graffiti art paintings. His indoor canvas works consist of a perfect blend of bold illustrative line work influenced by comic-books, the graphic power of the letter and his cynical yet patriotic slogans. This style is also seen in his current outdoor murals. Widely regarded as one of the New Zealand graffiti scene's driving forces, he has managed to remain at the forefront of the movement (both in New Zealand and throughout the world) whilst working tirelessly behind the scenes in a diverse array of projects.
Last time you traveled? To where?
Just got back from Sion in Switzerland, a beautiful city at the base of the Swiss Alps. Actually where we were staying was a bit higher up so we were literally waking each morning and looking right at the alps, was breathtaking. After that my girlfriend and I went to Paris for 2 days, Berlin for 3 and then a night in Zurich before flying back home to New Zealand.
Favorite country / city you've visited? Place you most want to visit?
I like everywhere I've been in some way or another - I still really enjoy the US a lot. Right now I'm in my US mode, I've seen quite a few cities and last year drove right across the country with some good friends. LA, Detroit and Miami all feel like home away from home for me in some way.
Planes, Trains or Automobiles?
Depends on the journey. I love trains but there's still no service from the arse-end of the planet where I live so I have to catch a plane.
Window seat or isle? Chicken or Fish?
Aisle so I don't need to bother someone every time I need to go to the toilet, plus you get that extra bit of legroom if you sneak your leg out into the aisle. I don't eat Chicken or fish - I'm a vegan.
What is your favorite road trip song / artist or album?
Every trip has a different soundtrack.
What fuels you to keep creating?
A good espresso, a big bottle of sparkling mineral water and some beans on toast.
Please describe your dream project if time and money were not issues.
Ultimately something that combines all the platforms I use to express myself: Graffiti, moving image and the internet in a new and exciting way.
Do you have a favorite item from your studio that you always make sure you take on a trip? For example... reference book, lucky balaclava, favorite brush etc..
Not really, I pack light and be as practical as possible. I'm not really a superstitious person.
Least favorite part of making art? And your favorite part...
Least favorite part is self doubt, creative blocks and wrestling with new approaches or mediums - these are also my favorite aspects of making art too because all the good stuff comes from overcoming these hurdles.
If you could collaborate with one artist, living or dead, who would it be?
I really don't have an answer for this question - there's so many artists I admire for a multitude of reasons but I never dream about collaborating with anyone particularly.
Ever picked up a hitch hiker?... Have you ever been a hitchhiker?
Never really picked many up but as a teenager I hitched everywhere. I didn't get my drivers license until I was like 25 or something so to get beyond the city limits really depended on it. Actually funny story, the first time I went hitchhiking I was 3. My dad thought it would be a good father/son bonding experience and hitched with me from Auckland to Palmerston Nth. I got really car sick after eating bananas and vomited banana spew all over some guy with 3 missing fingers hands. The picture of the banana spew dripping from his nubs still flashes in my mind whenever I eat bananas to this day. It was a bad banana experience.
Something you wish you would have known 5 years ago?
That I still wouldn't be rich and successful from making art for a living. It would've softened the blow and bit!
Dabs Myla & Friends
Marvelous Expeditions
Opening Reception: Sat, Sept. 1st 5-9PM
On view Sept. 1st through Sept. 22nd at Thinkspace
Culver City, California