The Regenerative Plans of Patagonia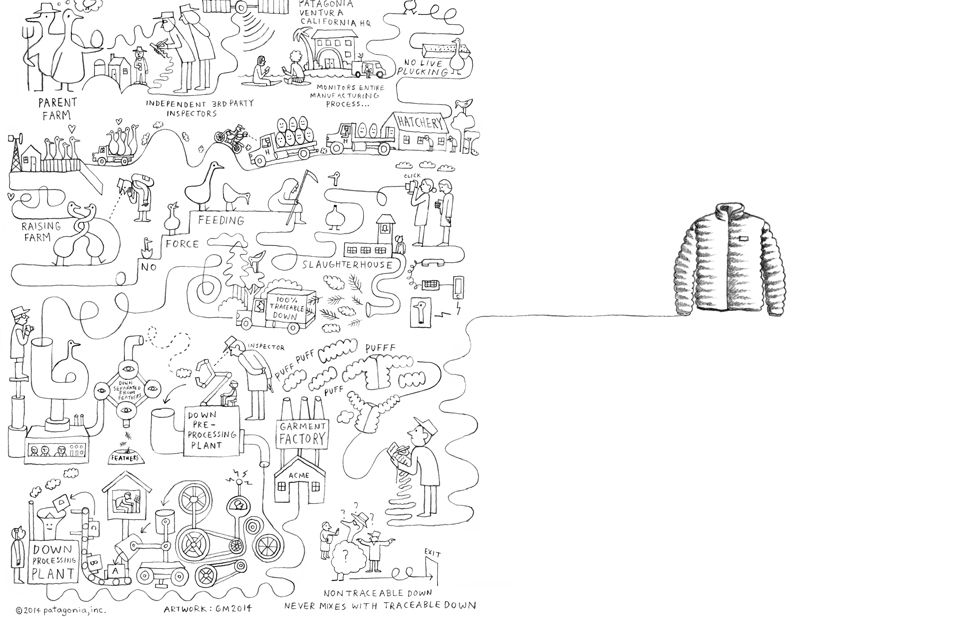 Geoff McFetridge grabs my attention. At the local coffee and surf shop a few months back, a mural of Geoff's work went up, a static mapping of his already brilliant animation about the impressive 100% traceable down standard Patagonia employs for their uber-popular products. The animation got us thinking, not only about the way brands communicate with consumers, but also how the brands we wear everyday wear on the world around us.
We visited Jill Dumain, Director of Environmental Strategy, at Patagonia's Ventura, California headquarters to talk about the perpetual research and development that goes into sustaining a thoughtful and responsible international company. Remember, this isn't just another garment manufacturer: Patagonia represents the exploration of nature with respect for the environment and our footprint on it. They may not have all the answers, but they are leading the industry in demanding that these answers are, indeed, achievable. —Evan Pricco
Evan Pricco: Can you give me an example of a product or process where research allowed you to immediately change the way Patagonia worked?
Jill Dumain: Cotton was a fast one actually, because some farmers had started to grow organic cottons already. This was the early 1990s. We met farmers that were already doing some work with organic cottons in Texas, California and Europe right away; a couple years later we met farmers in Turkey, Israel and Egypt. You have to remember this was before the Internet, and you had to really crack the nut and solve the problem. That's what I always loved about it. Organic cotton came on pretty quickly because we were able to partner with new farmers, but it meant changing a lot of our supply chain, which is not insignificant.
By 1992, we introduced our first organic product, which, to be honest, was not very good quality and didn't last long. We decided to take a different angle. Instead of just creating products that were enviro-products, we started to convert our regular products. It was like, ok, what if our supply chain was switched to organic, and we started making, for example, our pullovers in all organic? What would that look like? That became our strategy and implementation. By the 1996 selling season, we were doing 100% organic cotton lines. Next spring is our 20th anniversary of being 100% organic.





Was it a situation where Patagonia was always trying to think consciously but outgrew those means of production and had to rewrite the playbook? Like, "We are now $100M company, we need to refocus how we make things?"
There's always been an element of that consciousness in the company, back to the climbing company that Patagonia grew out of, Chouinard Equipment. There was a climbing material that they realized was damaging to rock. Then they switched a big swath of their business very quickly to a different kind of climbing tool, which was not damaging the rocks in the same way. I use that as a legacy story because it really was one of the first times a company, although very small, took a significant part of their income to make that shift where they realized that they needed to be thinking about these sorts of impact issues. That was around 1972.

With all of the studies and research that Patagonia does, were there any garments or products that you could no longer make when you began to think about the environment and sustainability?
Yes, we initially lost about a third of our cotton products because we couldn't maintain the quality we wanted. But over the next few years, we were able to build it back up.

Were there things that you were able to introduce?
That's a great question because nobody ever thinks about that. What happened was it forced us to really get to know our supply chain. The typical way garment companies work, ourselves included, is you go from here to an agent that goes to a cutting and sewing factory that goes to a knitting mill that goes to a spinner that goes to a cotton broker that goes to cotton farmers. All of a sudden, when we really dug deep, we realized we had these very committed partners in our supply chain and had these development capabilities we never could have dreamt of. Blending yarns of polyester and cotton for our fishing shirts? Nobody would have done that for us, but because we developed these new relationships within the whole process, we were able to design and engineer a much better product than we could have if we had stayed in the normal conventional business pattern.
Is there something new that you guys are working on that you're proud of that's down the pipeline?
Regenerative wool, which isn't really new, per se, but it's one of the coolest projects ever. I've been doing this job now since the early 1990s, and when you're in these roles at Patagonia, everybody assumes you have all the answers, like you can predict the future of the environment. But I started interviewing some environmental experts, wanting to hear their perspectives on what we were doing amongst other things, and one of the questions I kept asking was, "do you think a company can be regenerative? Do you think they can actually make a place better by bringing their business there?" And nobody gave me a positive response. They all kind of hemmed and hawed about it . . .





And that's just because of volume and impact?
Just day-to-day realities. At best, you're going to sustain something or restore it to what it was. But are you really going to regenerate it? Are you really going to make it better? I'm really happy to say in the last five to six years that's really shifted, and for me, this wool project in the Patagonia region is working (Editor's note: Patagonia was the first company, in their namesake region, to buy wool from ranchers who mimic natural grazing patterns for wildlife). You go down there and you can see the shift in the grasslands, the farmers are starting to see their lands come back to life and it's reversing some of the desertification that's happened. I really truly didn't think I'd see in my career that we would get to that point.

Doesn't this all go back to consumers, though?
The thing that I would love to get across is to never underestimate the immense power people have as consumers. And I truly believe consumption is at the root of the majority of our environmental issues: just the sheer quantity of stuff going through the supply chains puts unparalleled pressure on people who are trying to make it and unparalleled pressure on the earth to get that much moving around. We move more rock and sediment as humans than nature does annually now, and that's nuts. So consumers have a lot of power to say, "I'm not going to buy things unless a company is doing something better."
Who are the brands that you shop from? Write them letters, write them emails, make your voice heard, I don't think consumers actually realize how much companies do listen. And, hopefully, that is empowering because so many problems are so big, and you wonder what can you do? Responsible purchasing is one thing. Buy less, buy better, buy thoughtfully.
For more information about Patagonia, visit patagonia.com
----
Originally published in the August, 2015 issue of Juxtapoz Magazine.