Fashion
Interview: Shepard Fairey on His Newest Collaboration with Hublot Watches and Beyond the Streets
May 20, 2018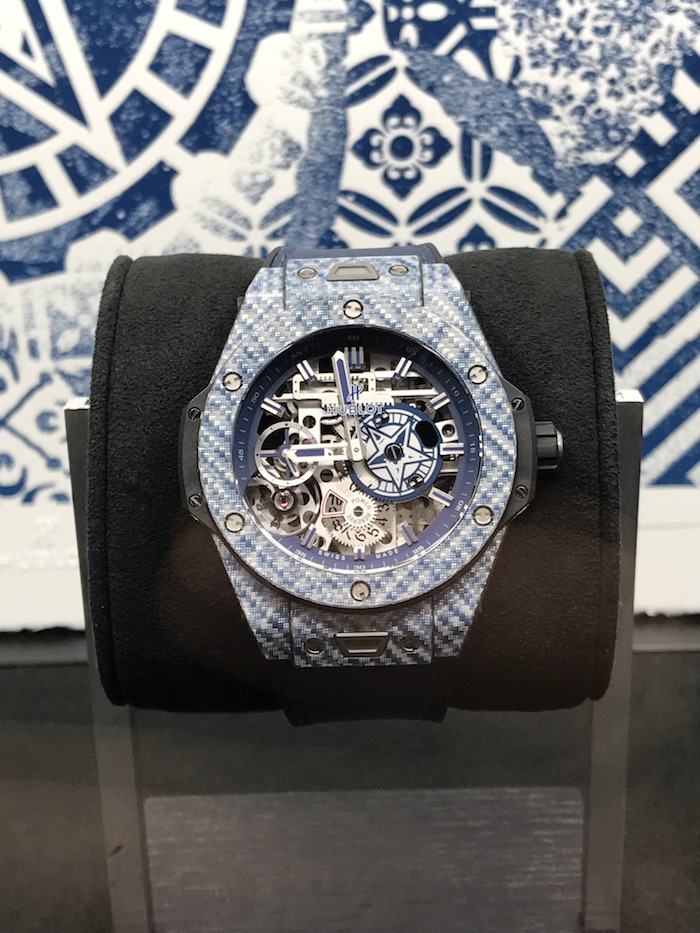 Constructed with over 223 separate parts, featuring Shepard's iconic Andre the Giant logo, the watch comes in colorways of black and navy blue, and punctuates Shepard's career as an internationally renowned graphic designer. "Hublot is about craftsmanship and a very refined execution, and that, to me, is what my art is about," Fairey says, "doing whatever it takes to create a visual that I think is important to create."

We also got a chance to ask Shepard about his work in Beyond the Streets, and how re-inventing his classic Andre sticker gave him a newfound love of the original design.




Evan Pricco: I think one of the really underrated things about your work, that to me kind of goes unnoticed unless you see it in person, is the attention to detail that you've always put into a fine art piece. The layers and the colors. And it feels like people always focus on maybe the person that's in the piece or the subject matter, but the actual detail of what you do is so ... I think it really is under-appreciated. So when you do a project like this, with a watch company that presumably seems to be on the same wavelength in terms of detail and craftsmanship, ss that how you feel comfortable doing a project like this?
Shepard Fairey: Well, yeah. Tristan Eaton did a project with Hublot and he was really inspired by how willing they were to push techniques, materials. And so when I met with Jean Francois from Hublot he was like, "Hey, we've done things that were engraved, we've done things, we've got this new material where there's going to be printed silk that's basically embedded in resin with an alloy." This thing's called texalium. 

"And we can customize a lot of the mechanical parts of the watch," which normally you do something and maybe there's a flat plate behind. You can customize the numbers in the area behind the hands. But with this watch, because the mechanics are so beautiful, you don't want to obscure that.
That's part of the inherent appeal of it. So looking at other ways to deal very precisely with a small working area for art, that was exciting. And also, when you look at my work, a lot of it's really to be accessible to the masses. And I make paintings that are very expensive, and to me it's not a one or the other approach.This is a cool collaboration because it actually makes sense with my aesthetic sensibilities and my appreciation for good design and nice things, but that I'm not flashy.



You've, whether it's the studio or you, or actually putting your Obey stamp on things, you've worked with these, I don't want to say venerable brands, but these brands that have a history. And a history of not only luxury but Hennessy or Levi's, for example. So is that an important part of it, too?
Yeah, in a way, sure. If it's a brand I respect, that I think has got a great legacy, then to be associated with that is cool. And I'm not saying this out of ego, but really I'm now my own brand so I don't need the validation of brands so much anymore. But it's exciting to have the opportunity to do something that really feels like a creative collaboration where we're cross pollinating our audiences.
And it's a new challenge for me. When you're talking about ... The reason I wanted to use the collage textures in this is for exactly the reason that you're talking about, that it's subtle but it's very important in my fine art. It's subtle but it's very important to the richness of the end pieces. The experience, even if you think that 80% of the experience comes from the iconography, the colors, the composition, that last 20% counts for a lot I think, that comes from the texture, the collage, all the subtleties in the surface. And, with a watch, I don't want it to be super loud. I want it to have a bit of my personality in it, but that was a perfect side of the character of my art that made sense to apply to the watch.


Yeah. One of the things that I was asking the CEO of Hublot earlier was that did you go in with the expectation that, "I want to be more hands-on than perhaps you realize." Or do you set the stage pretty early on like, "I really want to design this," as opposed to just be passive about a collaboration?
It's important to me to be very involved. And a lot of times I work with people and they might mock something up, and it's not that it's bad, but it's me five years ago or whatever. And I, believe it or not, because there are images and motifs that repeat in my work, that's for continuity, it's not because I'm lazy and want to recycle my greatest hits. And I think that anybody that really looks at what I'm doing can see that, that there's a balance between continuity and evolution from the beginning to now.


Because this is happening at the same time as this release, and I wanted to ask you this anyway, separate. The other night when we were at Beyond the Streets, I think the Andre stickers that you did are one of my favorite things in the entire show; there's such a history with those. And the way you evolved them there is such a cool thing. You revisited the originals.
Well, it was super exciting because I looked at what Beyond the Streets was aiming to do. And it was aiming to be historically rigorous and present how this genre has evolved to such a broad spectrum, broad palette of things. And some of it's new, some of the evolution's from newer artists and some of it's from artists that were there at the beginning, that their work has changed over the years and they're still doing exciting things. I liked the idea of these stickers that I made basically as things to stab people in the eyes with, these hideous Andre stickers. I always saw the Andre sticker as goofy and not that visually appealing, other than it had a Dada charm. But then putting these psychedelic backgrounds and leopard skin and wood grain and gold foil, all these things, it was like, yeah, that just adds insult to injury when you have to look at the Andre sticker. You know what I mean?


Right, yes.
But then to think about how, over the years, those are some of the most coveted things, sticker-wise, that I've ever made. People want those. And I think that my appreciation has grown for how, even when I was trying to be obnoxious, there are aesthetic problems I was tackling that I actually really like the result now. And, as my techniques have evolved, to show those in a larger scale that they've never been presented with the stickers, the old, the OG stickers in the case.