Fashion
Gucci Channels Game of Thrones in Post-Human Fashion Show
February 28, 2018
At Milan Fashion Week, Gucci was serving Game of Thrones realness in its Fall/Winter show. One model carried a baby dragon down the runway à la Daenerys Targaryen, and models also wielded severed heads as part of their aesthetics.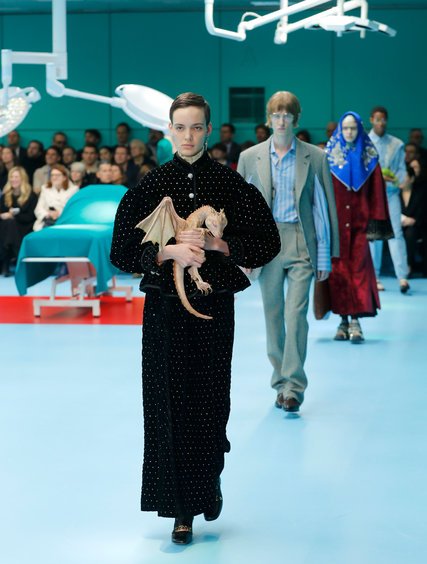 "Well, fashion is always something of a poser, in every sense of the word. The designer Alessandro Michele was simply serving notice that this time, he was making it real. Not just in his show manifesto, which name-checked the philosophers Michel Foucault and Donna J. Haraway — especially her 1984 essay "A Cyborg Manifesto" — but on his runway.
And he did, with showgirl sparkle and kimono flowers; nerdy plaids and rhinestone pasties; pagoda hats and Joan Crawford velvet gowns. A scrim of plain tulle covered some looks, shielding them from the elements, and they were branded with a Gucci logo over the breast. One suit referenced the Yankees and Major League Baseball; on a cherry-red sweater, Paramount Pictures was embroidered on the chest next to giant feathered sleeves. Men's wear, women's wear, no matter."
Via NYTimes