Fashion
Frida Kahlo: Fashion Victor at the V&A
Jun 16, 2018Victoria & Albert Museum, London
A low hairline betraying ethnic heritage that necessitated electrolysis, skin lightening that changed olive skin to porcelain, and dark hair dyed to red transformed Carmen Cansino into screen siren Rita Hayworth. At the same time, Frida Kahlo defiantly wore her unibrow like a badge of bravery and plaited her tresses in traditional braids. She would have scorned a stylist and, in fact, actually commented about her time in New York that "I dislike the 'high society'… and feel a little rage against all these fat cats."
Returning to Mexico, she worked on her painting, "My Dress Hangs There," not restrained by clothing, but empowered by it. Though childhood polio withered her right leg and a bus accident in her twenties necessitated back braces and surgical corsets, she did not recede in basic black, but reveled in color and pattern. No wonder lines still wrap around the block as fans queue up for retrospectives of her work. On June 16, 2018, London's Victoria and Albert Museum opens an exhibit of clothing, jewelry and accessories which had been shuttered away in the Blue House where Kahlo lived and loved. Co-curators Circe Fenestra and Claire Wilcox open the door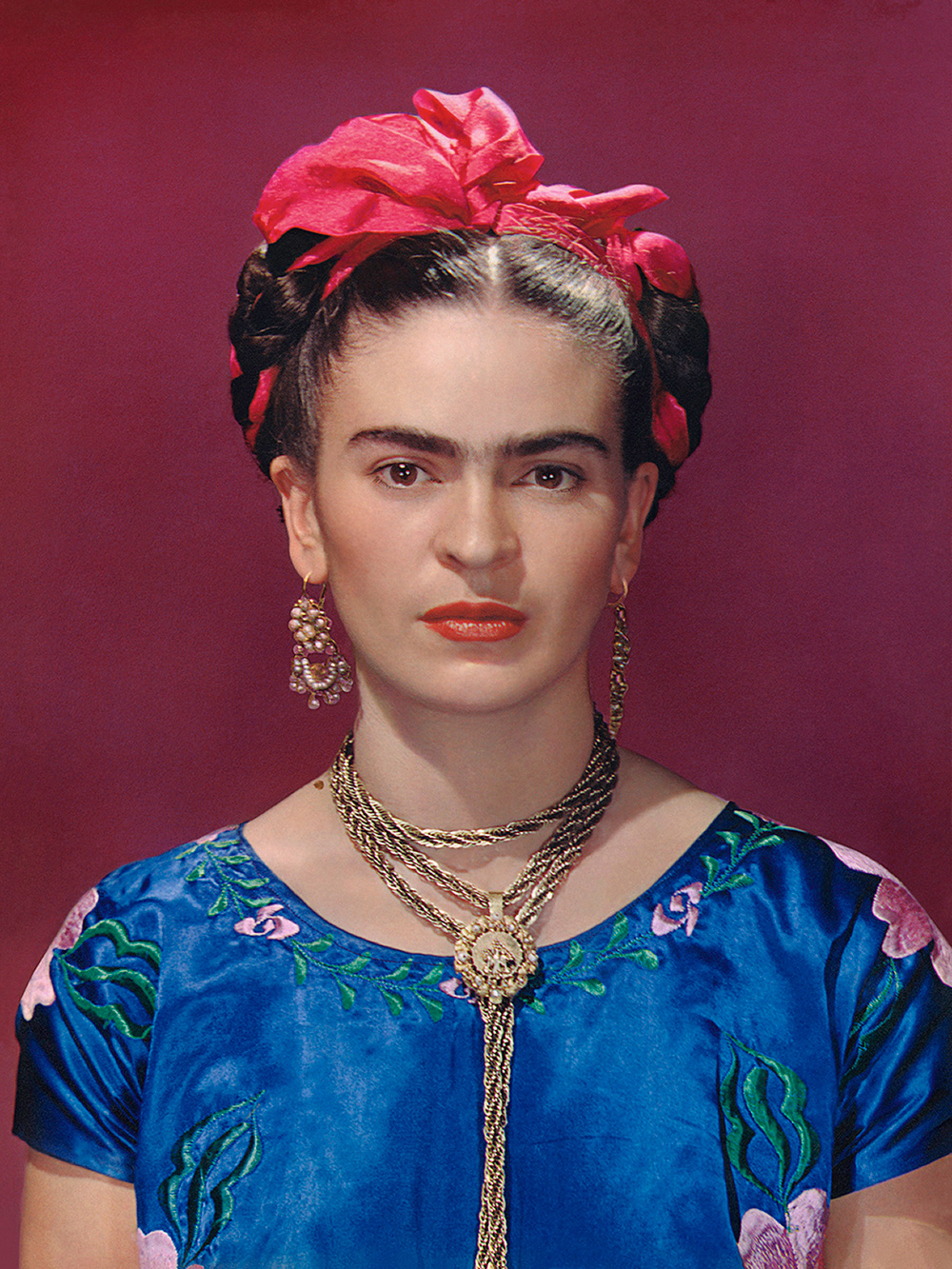 Gwynned Vitello: The Blue House is intriguing just by its very name. Why did Diego Rivera insist that her belongings be sealed away, and why did they remain hidden?
Circe Fenestra and Claire Wilcox: It was as if Diego Rivera knew he was going to die three years after Frida Kahlo passed away in 1954. In 1957, Rivera died, but before that, he had set up an irrevocable trust in the Bank of Mexico, ceding their estate, including the Blue House (today, the Museo Frida Kahlo) to the Mexican people. Rivera left his friend and patron, Dolores Olmedo, in charge of the Frida Kahlo and Anahuacalli Museums, and the terms stated that all objects stored in one of the bathrooms in the Blue House be concealed for a period of 15 years. Another bathroom, a cellar and several trunks, wardrobes, cupboards and boxes remained sealed. At that point, the clock stopped ticking. In 2003, the Director General of the Comite Tecnico del Fideicomiso gave authorization for the sealed rooms to be unlocked and assessed, including all the treasures we will see in the exhibition.
What significance did the home have for her, and will the exhibit recreate any of the rooms?
KM: The Blue House is where Frida lived as a child and later with Rivera and also where she eventually died. It was also where her artistic career began, as her father encouraged her to paint as a young girl. She paid tribute to the Blue House, depicting her bed, studio and other elements in her oil paintings and pencil drawings. The exhibition will use photographs, video, and the exhibition design to reimagine the Blue House in the show.
How will the exhibition be set up? What kind of backgrounds and tableaux are you using to show the colorful pieces, and how big is it?
KM: This version developed from my original research for the first exhibition in Mexico, which addressed Frida's construction of her identity through disability and ethnicity. Frida Kahlo Making Her Self Up is derived from long conversations with my co-curator, Claire. An obvious example is that, in London, we don't have the Blue House, now the Frida Kahlo Museum. Claire loves photography and brought that context to the show. She felt she needed to signpost our audience here and contextualize more of Frida's life through her photographic archive, for example. I am Mexican and very familiar with a lot of the materials, so Claire gave me different points of view on how others would view the materials and perceive the objects here. Each object plays a pivotal role, and we have included many of her paintings, as well.
Did the Mexican Renaissance take place primarily in the cities, and how did the atmosphere influence Frida?
KM: The Mexican Renaissance refers to a period in the 1920s and '30s when the country flourished as a destination for foreign writers, artists, photographers and documentary filmmakers searching for authenticity and artistic freedom. Kahlo and Rivera's social circle in Mexico was at the heart of this liberal and artistic culture, and many of the members held communist leanings. There was a desire at this time to foster a new national identity based on the history of Mexico's indigenous people. Kahlo reflected this in her life and art.
Very much a champion of her Mexican culture, Frida was also very close to her German father, right? Did that in any way influence her clothes and painting in any way?
KM: Kahlo's father was a great influence on her life. He first encouraged her to paint and also to pose for the camera, as he himself was a photographer.
Besides her love of color and ornamentation, much of her fashion was born of function. Give us a couple examples of how she embellished upon necessity to create a unique style.
KM: Clothes became part of her armor, to deflect, conceal, and distract from her injuries. Kahlo endured multiple operations in both Mexico and the United States and had to wear orthopedic corsets made of leather and plaster. Her corsets were necessary for medical reasons, but she also decorated them elaborately. The traditional indigenous dress style she adapted allowed her to conceal these items under long skirts and geometrically cut blouses.
Did she buy her clothes, have them made, or make them herself? What were favorite fabrics and colors?
KM: She would get them from friends and in the markets. Her favorite colors were red, green, black, white and blue.
She seemed to love the clashing prints and patterns. Was her way of dressing considered bold, or even ostentatious for the time? Did she create her own jewelry, and what was some of the most symbolic?
KM: Frida Kahlo was an incredibly glamorous and sophisticated woman. She was ahead of her time, and that's why she continues to be so relevant today. Her style was very personal, unique, hybrid and contemporary. She created her own style to form a mélange of politics and personal circumstances due to her body impairments and mixed heritage. Through use of traditional Mexican dresses to style herself, Kahlo dealt with her life, her political views, health struggles, her accident, a turbulent marriage and the inability to have children. She built her own style, a hybrid, that was unique and very personal.

Jewelry was incredibly important to Kahlo. She was able to recognize exceptional pieces, regardless of convention. She was often drawn to irregular stone beads that connected her with Mexico's pre-Columbian past. She also wore more delicate regional jewelry to accompany her traditional Mexican dress as well as innovative Mexican silver jewelry from contemporary designers of the day.
Would you say her self-portraiture was more about expressing her own depth of experience than mere re-invention?
KM: I think, mainly because she did self-portraits, we all remember her through her self-image. By means of her use of self-portraits and the use of traditional Mexican dresses to style herself, Kahlo dealt with her life's challenges.
How did she use her clothing as a political statement?
KM: There will be traditional Mexican garments on display, such as rebozos, a traditional Mexican shawl, and a resplendor, a lace headdress worn by women of the matriarchal society. Her dress and the way she and Rivera styled the Blue House are reflections of her cultural pride, along with their shared political ideologies. Kahlo used her striking appearance as a political statement, crafting her identity to reflect her own mestizo identity and allegiance to Mexican identity.
Frida Kahlo: Making Her Self Up, sponsored by Grosvenor Britain and Ireland and GRoW @ Annenberg, will be on view at the Victoria and Albert Museum in London from June 16–November 4, 2018
vam.ac.uk