Fashion
Ari Marcopoulos x adidas Skateboarding Limited Edition Capsule
March 01, 2017
Ari Marcopoulos and adidas Skateboarding have teamed up for a special collaborative collection, with two tees, jacket, six-panel cap, and a special adidas Seeley sneaker. Like most things related to Ari's photography, the look is understated and classic. Today, we have a look at the collection, plus some shots Ari took around NYC with the adidas Skate team.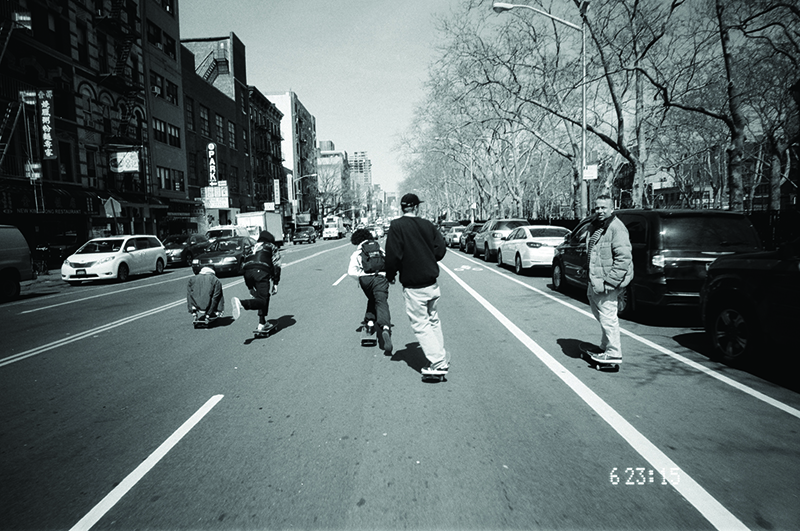 The limited edition capsule collection is set to release on adidas Skateboarding's website on March 3, 2017.
Ari's been there, seen that, and documented it. What is it, exactly? It's skate and street culture, emblematic fashion iconography and music, and a subversive American experience rarely caught with such elegance and command. It's all art, really. In 2010, when Ari Marcopoulos's mid-career survey, Within Arms Reach, opened at the UC Berkeley Art Museum, it was absolutely clear that this was how subcultures and their emerging identity as major movements in American history should look: gritty but poetic, alive but yet perfectly captured in time. From the Beastie Boys to Supreme, Matthew Barney to Jay Z, Ari was documenting our collective memory.
Ari's photos and unique vision for skateboard photography is part of this spring's capsule collection with adidas Skateboarding. "I have always been fascinated by people who become a tribe, so to speak, by their shared obsession," Ari explains when describing his affinity with skateboarding culture. When asked what made his early days shooting skate scenes at landmark NYC spots like Brooklyn Banks, scenes that have helped shape a special history, Ari notes, "I felt in the moment it was special, but not in a historical way. It was just a special place and I was able to do portraits of a wide array of people." As a pivotal figure in transforming skate culture into a fashion mainstay, Ari's perspective of the transformation is crucial. "The fashion world is voracious. Ready to take on anything in their unending hunger to try something new," he says. "It was only logical that something that takes so much passion and dedication to do well would become something bigger than it originally was."
For the adidas collaboration, Ari returned to his roots in NYC. "We went around with the team, cruised around NYC, interpreting the city and it's architecture to express their talent and myself observing and using my talent to just chill and document. It was a great time really bridging generations, with Mark Gonzales there, but also Tyshawn Jones, and then bumping into Franky Spears, I was able to capture iconic images that were really not planned. And that spontaneity is the beauty of skating and it's community."