Juxtapoz
Escif Channels the Tlatelolco Massacre @ All City Canvas, Mexico City
May 07, 2012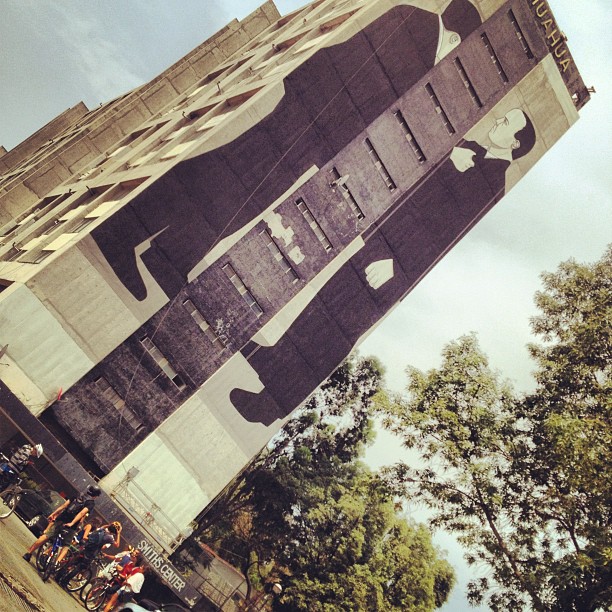 There is no question that Valencia, Spain-based Escif (
our February 2011 cover artist)
has some of the most politically aware and intelligent street work being produced today. Each piece, even his simple sentences, have a backstory that pertains to the space and place in which he does the public work. This is case with his brilliant piece at
All City Canvas
in Mexico City, where Escif painted a huge mural on the side of the politically historic Chihuahua apartment building.
In 1968, prior to the Olympics beginning in Mexico City, the city was in the midst of major political unrest, and like most of the world at that time, student's were leading major protests in Mexico City. On October 2, 1968, Mexico's government was preparing a crackdown on student rallies, one of which was taking place outside and inside the Chihuahua building and surrounding Tlatelolco's Plaza de las Tres Culturas. "On Wednesday October 2, 1968, around 10,000 university and high school students gathered in the Plaza de las Tres Culturas to protest the government's actions and listen peacefully to speeches.[15] Along with the CNH members, many men and women not associated with the CNH gathered in the plaza as spectators of the demonstration, including -but not limited to- neighbors of the Residential complex, bystanders and children. The students had congregated outside the Chihuahua Building, a three-moduled thirteen stories tall apartment complex in the Plaza de las Tres Culturas in Tlatelolco, for what was supposed to be a peaceful rally. Among their chants were ¡No queremos olimpiadas, queremos revolución! ('We don't want Olympics, we want revolution!'". (
source
)
Of course, there are conflicting reports as to who fired first, the army or someone from the surrounding apartments, but in the end, the official death toll was put at 32, but other reports suggest as many as 300 people died in the shooting. The Chihuahua is a symbol of student protest, of civil unrest, of revolution. Having Escif paint this incredible mural, on the side of the famed building, overlooking the plaza, is a sublte but powerful message of anti-authority. We are pleased that we were at All City Canvas and able to get a bit of a backstory from Escif himself.