Erotica
Wet Nuns: An Interview with Shaun Berke
February 04, 2014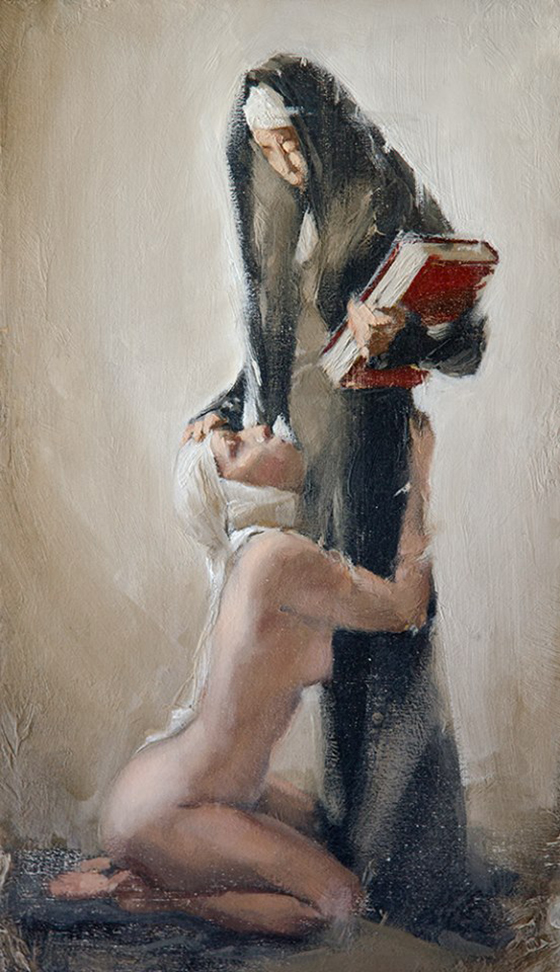 Shaun Berke's classical inclinations are undeniable, but his subject matter is far from conventional. Don't mind our pun--conventional, ha--because Berke's stunning series of figurative paintings feature nuns engaging in erotically-charged scenes of "baptism," a concept which Berke calls a "clash between reason and spirituality." The combination of Berke's traditional technical chops with this contemporary erotic content creates a cognitive dissonance that just plain feels great. In this interview we were fortunate to get a closer look at Berke's ideological influences and painting process--also, doom and pizza.
Your series of paintings entitled "Wet Nuns" envisions these religious figures in sexually-charged positions. What inspired these paintings?
Hell, there's no short answer to that. It's a clash between reason and spirituality. I was very keen on science back when my community college hosted a year of science and religion, where harmony was the only item on the table. I got all bullheaded about it, plastered posters up, and delivered an essay to every faculty member. They mistook the letter as coming from a science teacher, which was funny because I was, and always will be, a layman to the sciences. Anyhow, the notion of ideological violation took root, and before long this nuns deviation took hold. It's not too novel to black metals, occultists, devil children and the like. It's fun.
You worked in Venice in the past--are there Renaissance painters who have influenced your work with particular force?
Yeah, and Venice was inspiring beyond the museums and churches - it was great to explore a maze of canals with some history in mind. Casanova was particularly scandalous, boasting about all of these Jesus-wives that he had seduced. I was surrounded by water and churches and gelato, so it was all pretty illuminating. Mostly the water and nuns combination.
As for historical influences, I was taken by the gothic paintings at Academia Gallery, rather than all of the excellent Tiepolos or the giant dinner-party of Veronese's. For renaissance painting, I'd take Ghirlandaio over Michelangelo. Giorgione and Raphael are exquisite –simply exquisite– though it is further back than the renaissance that I really take inspiration. Memling, Bouts, Master of the Avignon, and Grünewald are like sources of energy to stand in front of. Giotto, Martini, Duccio -even more so.
Are your paintings meant to express a particular viewpoint on religion?
Not necessarily. I have my own path to walk. Although my perspective is imbued into the work, I want the pictures to be accessible and communicative to the faithful and the secularist alike. In my paintings, Catholicism is a symbol. My intentions with the work could be adapted to a number of different vehicles. I hope to make that more and more clear with each successive body of work.
If you could hang out with one person, living or dead, who would that be? What would you do?
Wladislaus Dragwlya! Vlad Tepes of 15th century Romania! The reason cannot be disclosed at this time.
Are there any rituals you have when you do art?
Yeah, there are processes like preparing panels, ingredients, palettes, and frames that have a degree of satisfaction in their careful routine. But I am finding that the odd things that I am compelled to do somehow aid my discipline. I never read a book that said to stack rocks, burn sage, salt bones, or [deleted]. Amidst disorder, order arises, right? And my cat, is the very spirit of Chaos. That's my ritual – I put ducks in a row.
What are you working on next?
I am wrapping up a self-portrait for a book; a piece for a show at bG Gallery in Santa Monica; a painting for a group show in Brazil. I'm being sent by Art Center College of Design to The Representational Art Conference to see if this norseman, Odd Nerdrum, is actually the king of Norway. Mainly, I'm getting back to work on a series for a solo exhibition at La Luz de Jesus in November. I have been developing ideas about how precious water is, how broad nuns can be, and how simple we hominids are. It is shaping up as wet nuns on mars and the cro-magnon who date them.
How will the world end?
I like this question. I don't know. But I would wager on a pandemic decimating a great majority of our population, and an unkempt environment making adaptation such a steep curve that the debilitated civilization would be unable to withstand a giant space rock or the assault of very clever apes. And so, our descendants –who never made it to mars, or to the final frontier– see their planet become a biblical hell as the sun god gets bigger and fatter on its way to an explosive death. Or else, maybe all of our particles will just fly apart. No pizza parties, no virgin paradises, no weirdo-heaven-planets. Just doom.
Anything else you'd like us to know?
Pizza is great. But also, it turns out that salads are actually pretty great too (depending on who is making them). Oh, and hoppy, artisan beers suck. Pilsner wins. And I'd like to thank Gawd, my family, and thaenk yo Jeezuus! Insta, Face-gram to stay tuned.
Interview by Lauren YS