Erotica
Stanley Borack's Classic American Pin-Ups
July 16, 2014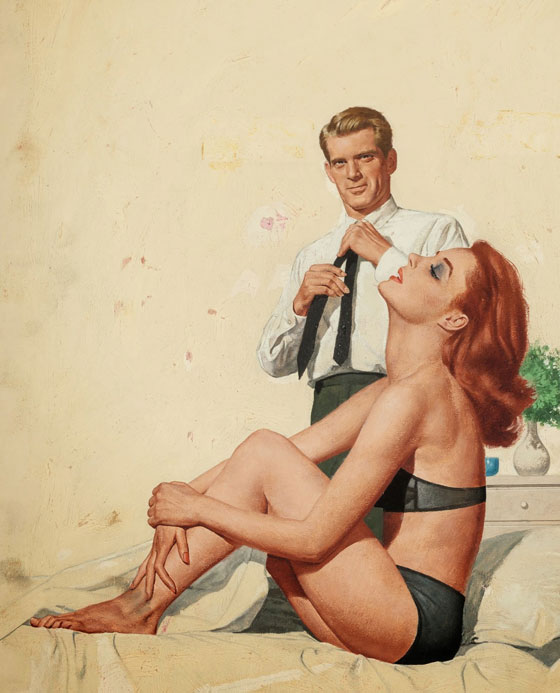 Stanley Borack was born January 23, 1927 in Brooklyn, NY and painted covers for pulp magazines and sold freelance illustrations to pulp magazine covers Best Western, Complete Western Book, Western Novels & Short Stories, and Western Short Stories, all of which were produced by Stadium Publishing Corporation, which was owned by Martin Goodman.
He later painted freelance covers and story illustrations for men's adventure magazines, such as Adventure Life, Adventure For Men, Argosy, Battlefield, Cavalcade, Climax, For Men Only, Man's Illustrated, Man's World, Male, Men True Adventure, Saga, True Action, and True War Stories. In the 1960s and 1970s he returned to painting paperback covers for Avon Books, which produced several successful series with his covers, such asThe Callahan Garrity Mysteries, and The Man From Avon.
In his final years Borack moved to 905 166th Street in the Whitestone section of Queens, NY, where he made paintings of the Old West for fine art gallery sales. According to the artist, "I always loved a good Western movie. The Old West was a classical era in American history, with its unique clothing, colorful Indian costumes, and wagon trains. Who doesn't like to look at a handsome horse in movement? When the Western art market took off, I got into it and left everything else behind! I have been painting for thirty years, and I never tire of the high that painting gives me."
Stanley Borack died at the age of sixty-six on December 27, 1993.