Erotica
Serene & Stoic: Ruben Ireland
September 09, 2014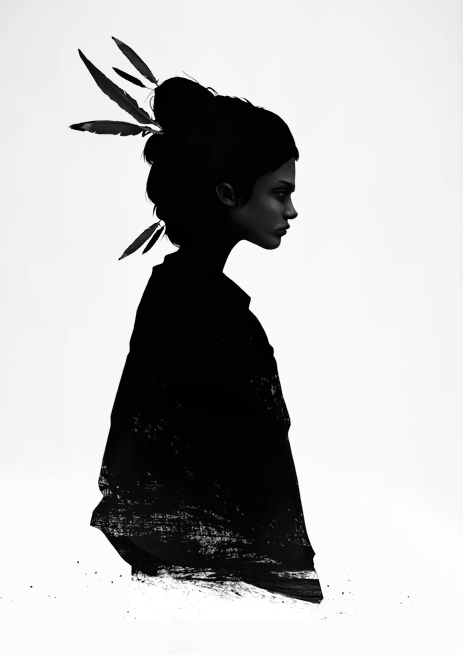 'The portraits of artist Ruben Ireland hang like depictions of unknown saints. Heroes from a forgotten folklore. Ireland shows women as mystics — clean and crisp in an epic state of calm. His subjects stand stoic, unknowing of the stranger with the paint brush. These are characters of fantasy, warriors fresh off of a battlefield, strangely in the artist's studio. Ireland's compositions are direct, full of an invented iconography of his own design. His canvases shift in texture, from slick digital color to slate and stone, felt and leather. In taking in the extent of his work as a whole, you see an artist aware and in full control of his skills. There are no missteps. Ireland's work is simply graceful.' - Evil Tender
Evil Tener: I responded right away to the distinct portrait aspect of your work – the women you capture have this mysteriously stoic quality to them. They remind me of the first photographs of the Eskimos in Alaska that were taken in the early 1900s. Totally alien to the modern world. 'Hold On' is an absolutely stunning piece – you have this way of creating these beautifully bold portraits of these young women, girls, that have a sense of both maturity and innocence. There's a stark beauty to your women – like strange warriors pulled from the field for a portrait. Ritualistic headdresses specific to some unknown fantasy you've created. Were portraits always the main focus of your work? What drew you that subject?
Ruben Ireland: Portraiture was actually something I tried to avoid during College and University, for hope of trying to explore a more narrative and stylized form of illustration. But as I began working with people just as a bit of fun on the side, I found I could find much more interesting descriptions of the 'when, where and why', through loaded expressions and symbolic adornments. We can't choose the bodies we're in but how we choose to decorate those bodies begins to describe the world we live in, the ideas we have about ourselves, our history and our surroundings and ultimately how we feel emotionally. I enjoy playing with those elements, drawing parallels mostly back to cultures older than our own, where I believe this type of expression might still exists in a form more connected to the universe.
ET: You keep a very simple and powerful color palette. You get a lot out of black, white, and only a few touches of color. There's also an interesting use of texture in your paintings. In something like 'This City' there's the feeling of leather or felt, slate. Stone. It's an inspired way of incorporating a natural feel to digital work. Some of your early work appears to be straight traditional paintings. What was your progression from traditional to digital painting? Are paints and pencils still a part of your process?
RI: It was a very gradual transition from wholly analog to the analog/digital hybrid that my work is now. I first became interested in the digital medium whilst scanning in handmade pictures to clean up ready for reprinting. As I learned new techniques in Photoshop it started to shape the way I created the physical work and so a conversation between the two mediums began, which still goes on today I guess. One important thing for me is to almost always treat any digital work I do in the same way I would anything created by hand, so there's always a human touch present. I think this might be key in the rise in popularity and validity of the digital medium as a whole, as people are avoiding the shortcuts and special effects that became so popular a decade or more ago, when people were making art about the medium itself in a way, and instead are now putting the creative focus back on themselves, allowing for more openness towards 'traditional' processes in their digital work.
Read the rest of the interview online at Evil Tender