Erotica
Evil Tender in Conversation with Keith P. Rein
September 08, 2014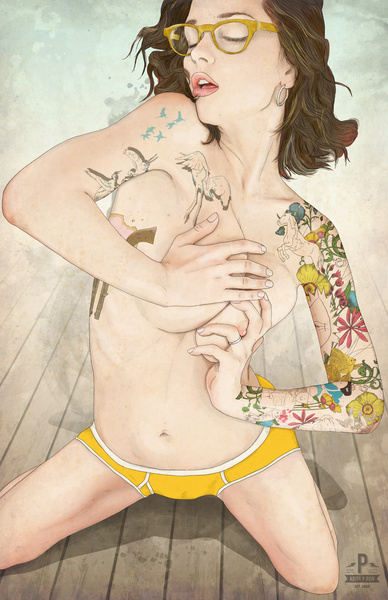 'Artist Keith P. Rein manipulates the viewers expectations of sex and nudity. Some of his compositions could be pornographic. Women with mouths full, faces glazed in bliss. But instead of the expected — in their face is a hotdog. An ice cream cone. His beautiful ladies bold, colored with the patina of summer cheer. What you find in Rein's work are delightful fables of summer barbecues and candy treats. Sex is implied, of course — the hardcore sort. But there is a playfulness to it all, a healthy dose of whimsy and humor that keeps the viewer smiling.
'Keith P. Rein is an artist out of Athens, GA and with his work through the P is for penis he's stepped into the territory of R. Crumb, wonderfully obsessed with the female form, dousing it in food and candy. His digitally painted pieces are sugar-coated drops of eroticism.
I was happy to be able to have a few minutes of Keith's time to talk about his work, both with the P is for penis as well as his more mainstream work with Paper Thin Design.' —EVIL TENDER
Evil Tender: The sexuality in your work is quite playful. There's a classic Playboy pin-up quality to it that I love. Even your more 'hardcore' designs like 'Life's a Picnic, Bring Your Friend' and 'Bombs Away' have a sense of fun to it. It's a great balance of the erotic and the whimsical. How aware are you of keeping that balance?
Keith P. Rein: Oh, completely. That is the essential thought between every piece of mine, whimsical erotica. Sexuality should be playful and sex should be as well. It gives each flavor balance, like salty and sweet. Which happens to be my favorite flavor combination as well.
One of my favorite pieces of yours is 'Self Portrait as a Lady, Revisited.' It's just a great design that's both funny and interesting. From the title it puts the image in my head of what happened moments before this event took place – you became a lady and immediately struck this pose. Like that's what you would do if you were a woman. In that, there's a liberating quality to it too. A man confident to explore a feminine sexuality from a woman's perspective. How true of a self-portrait is it? Is it just a title?
It's close enough to true that my close friends jokingly tell me I drew my sister… Which, for the record, I didn't, and she was furthest from my mind when I made this. I've always enjoyed artists' self portraits, and for a moment you can see from their eyes and perspective on themselves. So I wanted to make one as well with my own take on it. The glasses, tattoos, and underwear are all mine. I use humor, beauty, and sexuality to draw the viewer in closer to my artwork, but there is almost always a subtext. You are spot on with your description. Confidence is very much a part of my work – that is why most of my subjects are staring back at the viewer....
Read the rest of the interview on EVIL TENDER