Erotica
Erin M. Riley: Sex and Weaving
September 12, 2014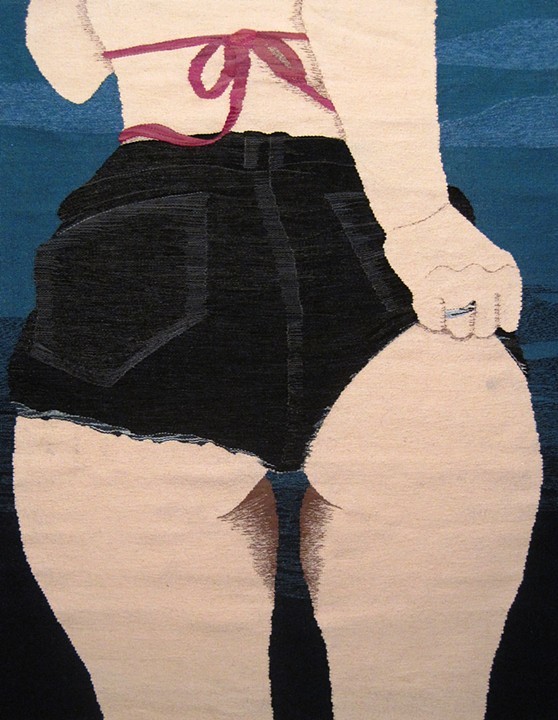 As your typical, curious being, I can certainly side with some of the interesting spectator commentary and possible benefits that may go along with this influx. Artist Erin M. Riley, who directly pulls from some of these images, has taken advantage of our current state of disrobed selfies in her often explicit, woven textiles. Mainstream social media has benefited her provocative weavings, as the voyeuristic are now able to express themselves as frequently and freely as they see fit to an array of anonymous witnesses in a sea of bandwidth. I imagine, that in the near cyber-future, all of these party-snaps and skin-shots will either end up stored on an enormous pornographic server in space, or on our walls in the form of Riley's hand-woven tapestries, like rare archeological uncoverings, marking this profoundly definitive era of our existence. - Lust After
Lust After: Hey Erin! Tell me the truth, how many nude selfies have you taken in the mirror??
Erin M. Riley: I haven't kept track of the amount of selfies I have taken in the mirror, too many to count! I took a few while I was an artist in residence at Bemis Center for Contemporary Art to make pieces for a show and every now and then I will come across a great bathroom mirror so I will take some for future projects. I don't have a habit of taking selfies these days for sharing purposes. I live with my boyfriend in New York now, and we share a studio so there is not much of a need for mirrored selfies because we hang out in real life.
Amen to that. What were you like as a teenager? I'm curious at what point of your adolescent antics you chose this path.
I was a weird kid as a teenager, shaved head Chelsea sort of haircut, heavy eye makeup, I made all of my clothing, lots of bleach and patch worked denim. I was basically a punk kid but was never allowed to go to parties or anything so I got really into in going to hardcore shows and hanging out with straight edge kids. As soon as I could get a job I spent most of my time serving coffee, running registers or working in kitchens so I could buy a car, save for art school and move out on my own.
Was there something about your upbringing that influenced you to use the subject matter that you do in your work?
A lot of my work is expressing a freedom and comfort in sexuality that I never had growing up and that has really only blossomed in the last 4-5 years. Having two sisters didn't make girls easier to relate to it actually made it harder, and I rarely had female friends who I felt comfortable to talk with and express these feelings with. Sex was an off limits topic in my family, and as the middle child I kind of had to figure out how to date, set guidelines with guys and comfort levels for myself. As is pretty common with girls the fear of getting pregnant was instilled in me very early so I was hyper careful above all else. My work is less rebellion and more reveling in the comfort you get when you're 28 and finally feel safe expressing yourself. We all go through such similar scenarios I want to be open with my experiences so people don't think they are alone.
I was going to ask if your work is part nostalgic, but it seems to be more expressive at this point, correct?
I think there is nostalgia for the moments in life when dating is still the unknown, when relationships are not so predictable and still quite exciting. I had some pretty tumultuous years in college dating guys in bands who didn't exactly treat me great so seeing the young girls taking these pictures wanting and being capable of being loved is so endearing. It's sweet still.
Read the rest of the interview at Lust-After from Juxtapoz Magazine.