Erotica
Betty Tompkins' "Fuck" Paintings
April 30, 2015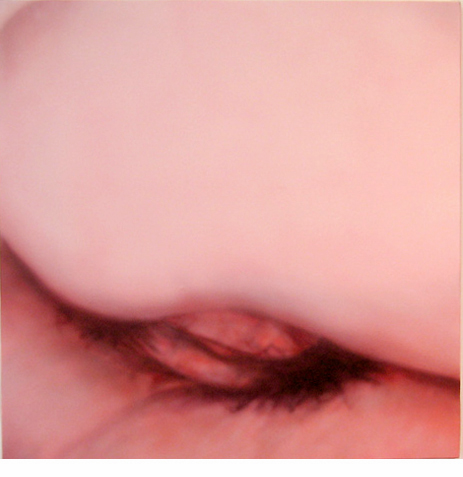 For the last forty years, Betty Tompkins has based her paintings on the tension of intimacy and representation of sexuality, rendering explicit scenes in monochromatic tones. Her radicalism in the late 60s led to the unfortunate censoring of her work and later a spotlight on her role in the American and European art scene. Her large-scale, hyper-realistic figure paintings are made from erotic photographs and built layer by layer, using two airbrush nozzles to apply black and white acrylic. Her work is not meant to arouse fantasy but to transpose light and shade, the effect of the process enveloping the scene in sfumato. Text and language play a large role in Tompkins work, often driving the subject matter and concept of the piece.
For Art Brussels this year, Artsy brought together the work of Betty Tompkins and Lucas Jardin—for the seventh edition of #ArtsyTakeover, a project series for which Artsy invites contemporary artists to reimagine spaces onsite at art fairs. The installation, curated by Elena Soboleva, paired the two artists whose works address similar themes of appropriation, censorship, and the examination of beauty but are from different generations and places (New York and Brussels, respectively) and have no prior connection.
Titled "A Sight For Sore Eyes," the installation comprised site-specific wallpaper created by Tompkins for the project as well as printed wallpaper by Jardin; twenty-five new works on paper from Tompkins, shown for the first time; and several other pieces by each artist. Juxtaposing Tompkins' large-scale, erotic paintings that transpose light and shade with Jardin's atmospheric abstractions of manipulated found advertising, the installation showcases disparate approaches to painting by two artists who both appropriate images produced to induce desire.
Discover more on 'Betty Tompkins on Her "Fuck" Paintings, Art Talk, and Being Discovered by Jerry Saltz' by Tess Thackara originally on Artsy.