Juxtapoz
Eric Beltz "DREVERIEM" @ Koplin del Rio, Culver City
Apr 11, 2015 - May 23, 2015Koplin del Rio Gallery, Culver City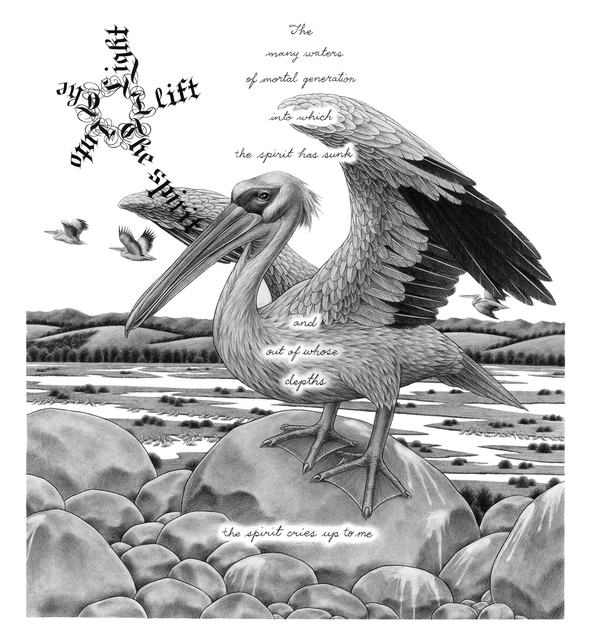 Koplin Del Rio is pleased to announce its second solo exhibition of drawings by Santa Barbara-based artist Eric Beltz (who had a lovely feature in the print edition of Juxtapoz in November, 2013). The exhibition, entitled DREVERIEM, opens April 11 in Los Angeles and runs through May 23, 2015.
DREVERIEM is a collection of hypnotically detailed graphite on Bristol drawings that expand Beltz's decade-long work inspired by his in-depth research of history, religion, shamanism, and ethnobotany. The exhibition consists of two distinct yet inter-related series (DREVERIEM and Elementary Forces) that utilize both narrative, representational imagery as well as complex pattern fields to push the illusory, optical boundaries and the precise, visual clarity of the humble pencil.
Regarding the title, Beltz explains: "DREVERIEM is a word I invented twenty years ago that was the title of a series of poems that explored hallucinogenic and dreamlike worlds. It is a composite word created by slipping 'reverie' inside of 'dream'. Phonetically it is more elegant than either of its parents. DREVERIEM is a word that languishes around its velvety round syllables and indulges a slower, prolonged pronunciation. But this word also crosses the divide between day and night, from daydreams to somnambulist visions. It is a word that plays host to the uncertainty between solid states."
In his figurative works, Beltz depicts solitary figures captured in transcendent moments surrounded by elements of nature, wild and domestic animals, and very often medicinal, poisonous, or psychedelic plants. The drawings are conceptually layered with loaded symbolism and accented with elegantly scripted text some of which is Beltz's own writing merged with quotes from mythological texts, books on witchcraft, Lao Tzu, Apocryphal Gospels, and even the poetry of a deceased uncle.
In his pattern-based work, there is an equal wealth of embedded knowledge and symbolism. These drawings are meticulously constructed of tonal grids referencing Colonial American cross-stitch samplers and quilting. Under close observation, the black and white drawings vibrate and create phantom colors that play with optical perception. "I have not used color in my work for 10 years but have stumbled across a method to make my grayscale palette bleed chromatic hallucinations," says Beltz.
Even though the drawings of DREVERIEM shift from abstraction to representation they all swirl around the visionary experience, either as an observer watching another, or as a percipient whose eyes are enlivened by an amazement of blacks, grays, and whites.
Beltz received his MFA from UC Santa Barbara where he currently teaches drawing in the Department of Art. His work has been featured in Art in America, Juxtapoz, Flaunt Magazine, and others. His work has been shown in galleries and museums across the United States and is held in the permanent collections of the Nerman Museum (KS), the Progressive Collection (OH), and the Santa Barbara Museum of Art (CA). Eric Beltz is the current Artist in Residence at the Art Design & Architecture Museum at the University of Santa Barbara. The residency includes an exhibition up now through May 1, 2015 titled "The Cave of Treasures" and the show has received critical attention with coverage in the Santa Barbara independent and the Santa Barbara Newspress. Please visit the museum website for more information www.museum.uscb.edu