Juxtapoz
Eelus "Horrorshow" @ Ink_d Gallery, Brighton
Oct 18, 2013 - Nov 17, 2013InkD Gallery, Brighton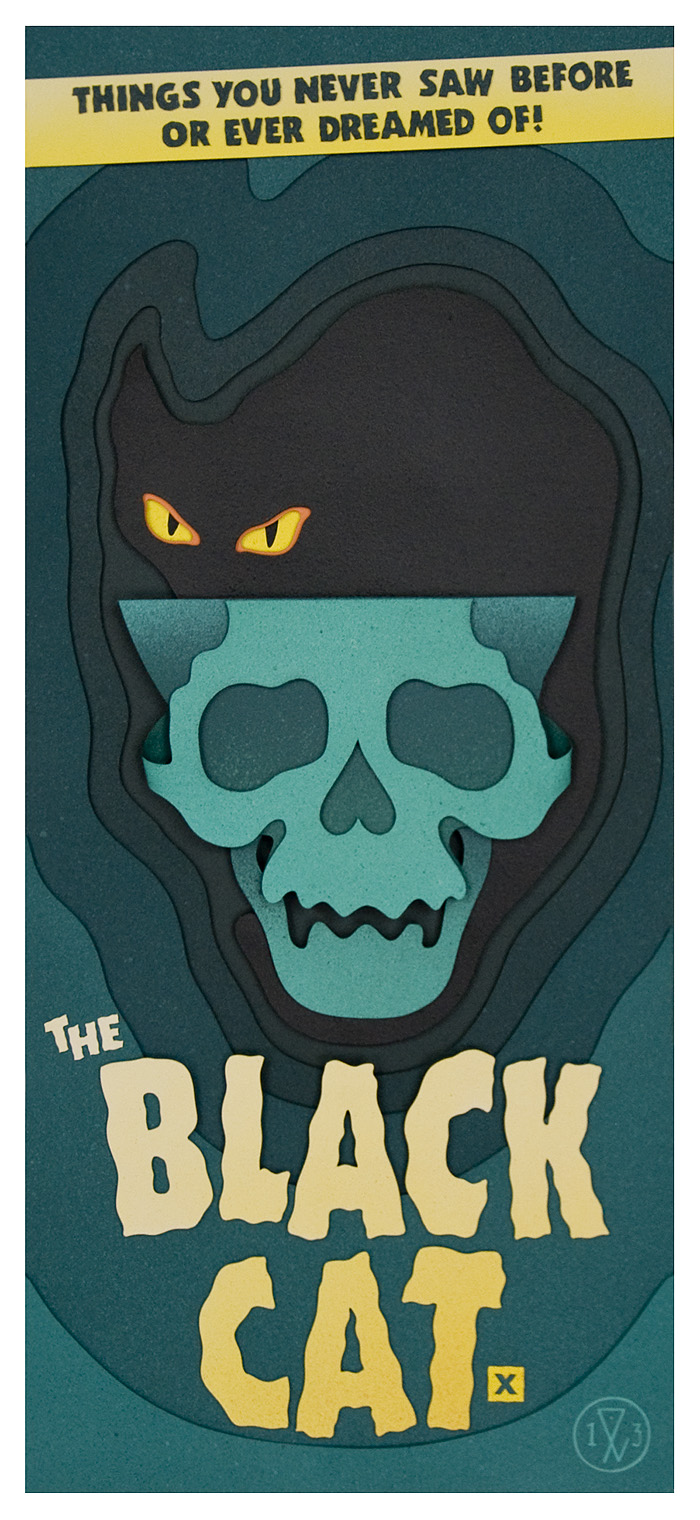 Just in time for Halloween.Wigan born Eelus entered the world of street art after moving to London in 2000. He was almost instantly snatched up by master printmakers Pictures On Walls after street legends Banksy and Eine noticed his work on the grimy walls of East London. His first ever screen print edition sold out almost instantly (temporarily knocking raining champion Banksy off the top spot for the fastest selling print award) and pretty soon he was finally in a position where he could kiss goodbye to his day job and attempt to live his lifelong dream of turning his art into a full time profession.
For the first solo show, at Ink_D Gallery, in his new home town of Brighton, he's decided to step away from the child friendly, rainbow like images he's had so much success with over the last couple of years and return to his darker roots. Horrorshow will feature a brand new body of work made from hand-cut paper that focuses entirely on his number 1 love of horror imagery from the silver-screen, pulp comics and classic literature.
His romance started when he was around 8 years old, and like many other romances it began in the dark, in secret and in silence. It was all down to a rare and puzzling artifact that had recently entered his family house. An object of such unspeakable mystery and excitement it just had to be his. He lay awake for hours, waiting for the dead of night before taking it from it's hiding place, sliding it into the VHS player and pressing play.
The light from the TV fell across the tattered and ancient looking label attached to the cassette, strange words in faded blue biro, 'The Texas Chainsaw Massacre + The Exorcist'. Sitting alone in the dark, headphones over his ears, the calm and deathly silence of the room couldn't be further from the horrific cacophony that was raging in his ears. His mind alive and gorging itself on the bloody banquet contained within that small square screen. He watched both films back to back before creeping back to bed in a daze, delirious after his first kiss. He vowed there and then to give his beating heart over to the world of horror, and this show is a love letter to the stories and characters that have captured his imagination over the last 26 years.
The show is timed perfectly for Halloween and so horror fancy dress is encouraged, there may be a little gruesome gift for all those who make the effort.
Eelus
Horrorshow
October 18—November 17, 2013
Ink_D Gallery
Brighton, England