"Edge Effect" SFAI's MFA Exhibition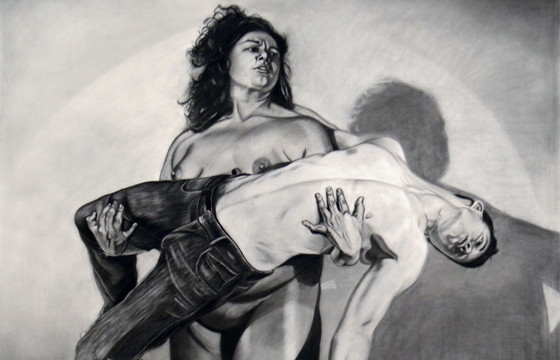 Whether on the cutting edge or even double–edged, the word literally cuts through to the point, and Edge Effect, the San Francisco Art Institute's MFA Exhibition at the May 14 through 17, 2015, showcases incisive new talent at the Herbst Pavillion. More than 100 graduating students will present work, the largest collection of its kind, at the signature waterfront location. The following four students offer slices of art that go over the edge to incite and surprise.
Aaron Kissman "Goodluck … Miss You, Too"

Aaron Kissman "Goodluck … Miss You, Too"
Aaron Kissman's "Goodluck … Miss You, Too" is deceivingly beautiful, SFAI's landmark building ablaze with two lights in metered flashing, atop the tower, a regular reminder to awake from apathy and recognize that the rate that HIV infection never left the landscape.
Turkish born Ozlem Ayse Ozgur chose SFAI because of its encouragement for acting on unbridled imagination. She fully embraces the critical role of the artist as social activist, choosing to forge, in her words, "an environment of critique." Her piece, "When Children Die They Do Not Grow," consists of 504 ceramic shoes that represent 504 children that died in Gaza the summer of 2014. The shoes are on sale to raise funds to rebuild the schools that were bombed.


Ileana Tejada "Pieta"
Ileana Tejada, a former NCAA Division ll Athlete, immediately knew SFAI was where she belonged, "Students were willing to try anything; they stepped out of their comfort zone and weren't scared to do it – and it was encouraged." That which is so personal to each of us and often a mystery, the body, she explores, considering the physicality and confronting the pop aesthetics of beauty. "I offer my strengths and my vulnerabilities."


Rachelle Bussieres "Ciel Aérien"
Rachelle Bussieres is a French-Canadian artist who whose experiments with darkroom photography incorporate painting and sculpture. Manipulating the chemical and printing components of the actual printing process, she arrives at thought provoking scenarios and considers the boundaries of human perceptions. But her time at SFAI was never questioned, especially the "thoughtful professors who made me discover who I was am what was important for me"

For more information, visit sfai.edu
Edge Effect
San Francisco Art Institute
Herbst Pavillion
San Francisco, CA

On view: May 14th - 17th, 2015