Juxtapoz
Ed Ruscha "Prints and Photographs" @ Gagosian Gallery, Madison Avenue, NYC
May 08, 2014 - Jun 14, 2014Gagosian Gallery, New York City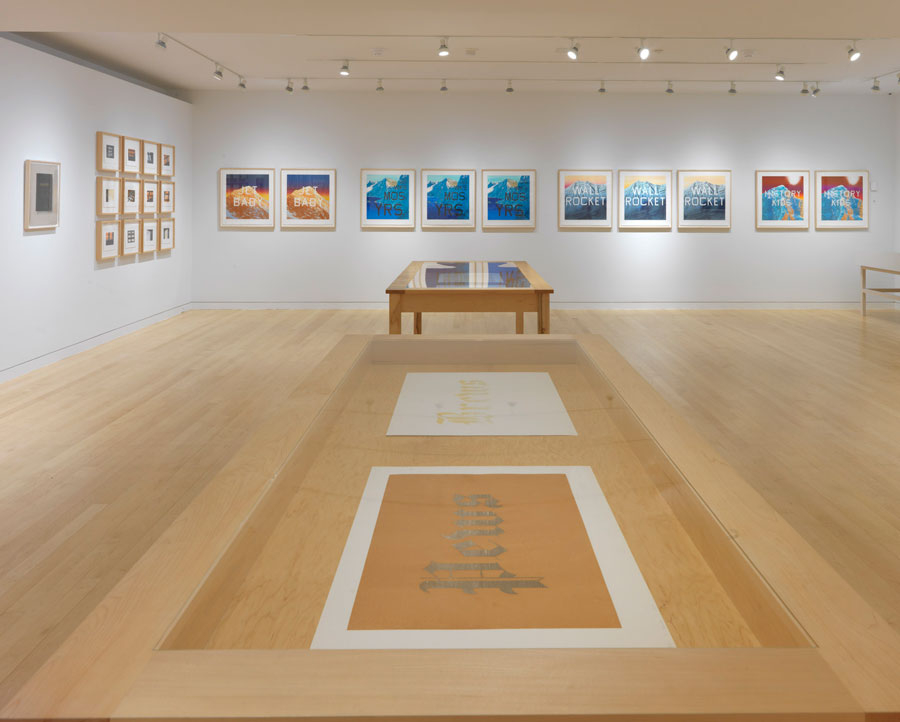 Gagosian Gallery on Madison Avenue is spending the month of May 2014 (and beyond) with three separate exhibitions and projects with Ed Ruscha in New York, including his participation in Frieze New York two weeks ago, along with an exhibition of a series of recent paintings, "Prints and Photographs." And on May 6, Gagosian and Ruscha unveielve a mural adjacent to the High Line on West 22nd Street and 10th Avenue.
From the outset of his career, Ruscha has employed unconventional materials in his work, sometimes replacing graphite and paint with gunpowder, fruit juice, coffee, or syrup. In the 1990s, he began making small paintings using bleach on binder's linen, stretched over board, like found books. The paintings, which he referred to informally as "threats and revenges," were based on ransom notes, both real and made-up. Using bleach, he removed his own words, one by one, leaving a series of cryptic blank blocks where they once appeared. Thus by suppressing content, he gave each painting its own indecipherable secret. Following these initial experiments, he continued to work with bleach on actual book covers, probing the relationship between image and word to the point of obscurity; abbreviating titles, and sometimes occluding their subjects entirely to create new word plays and allusions.
A series of new small-scale bleach on linen paintings display typically cryptic snatches of language—CRYSTAL SKIES, SERVICE CLOWN, SOUR TWIST. Picked out against somber grey, blue, and maroon linen, ghostly letters loom against dark grounds. On closer scrutiny, incidental sprays, spots, and spatters appear, mapping the random gestures and uncontrollable incursions during the working process. Exchanging paint and canvas for bleach and bookcloth, Ruscha continues to mine the relationship between image and word, original and readymade—revealing them to be ever more slippery and mysterious. A catalogue of the recent works, with a cover designed by Ruscha himself, will be published by Karma and Gagosian Gallery.
On May 6, Ruscha's first ever public commission in New York City will be unveiled. The pastel drawing Honey, I Twisted Through More Damn Traffic Today (1977) will be reconceived as a huge mural painted onto an apartment building adjacent to the High Line on West 22nd Street and 10th Avenue. High Line Art is presented by Friends of the High Line and the New York City Department of Parks & Recreation.
Through June 14, Gagosian will present "Ed Ruscha: Prints and Photographs" at 980 Madison Avenue, a major survey of prints produced over the past forty years, and a selection of photographs taken in the 1960s and printed in 2003, as well as color trial proofs.
Ruscha's photography, drawing, painting, and artist books record the shifting emblems of American life during the last half century. His deadpan representations of Hollywood logos, stylized gas stations, and archetypal landscapes distill the imagery of popular culture into a language of cinematic and typographical codes as accessible as they are profound. His wry choice of words and phrases, which feature heavily in his work, draw upon the moments of incidental ambiguity implicit in the interplay between the linguistic signifier and the concept signified.
Captions for images in gallery, in order of appearence:
ED RUSCHA
That Was Then This Is Now, 2014
Lithograph
35 1/2 x 46 inches (87.5 x 116.8 cm)
©Ed Ruscha. Courtesy Gagosian Gallery. Photography by Robert McKeever.

ED RUSCHA
Periods, 2013
Lithograph
28 ¾ x 28 inches
73 x 71.1 cm
©Ed Ruscha. Courtesy Gagosian Gallery. Photography by Robert McKeever.

ED RUSCHA Cold Beer Beautiful Girls, 2009
Three color lithograph
40 ½ x 30 ½ inches
102.9 x 77.5 cm
Edition of 60
©Ed Ruscha. Courtesy Gagosian Gallery. Photography by Robert McKeever.