Juxtapoz
Drinking Water Running Through the Streets
March 12, 2012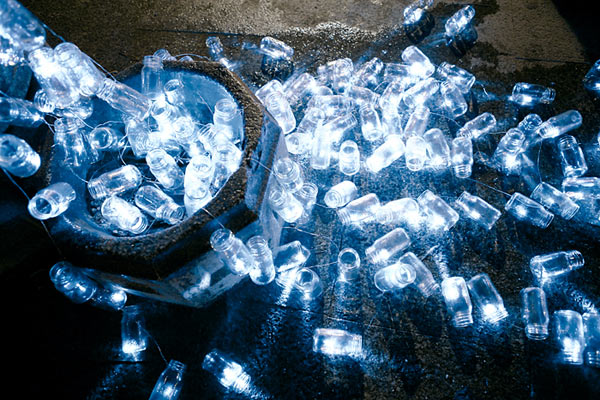 Interesting bit of information: Over the last 30 years, over 50% of the public water fountains in Madrid have been dismantled, broken, or not safe to drink. Spanish collective,
Luzinterruptus
, created this beautiful street art project where they transformed four non-functioning water fountains into light installations to mimic running water.
From the artists:
"We have spent more than 4 months collecting the glass containers of the multiple vitamin supplement Infatrini, prescribed for little Alicia, who is now 1 year old, and whose father Fernando has been saving them for us with all the patience in the world.
"In total they have donated more than 200 vials to us that we have thoroughly cleaned and used to create our individual and luminous streams of water.
"On a cold night at the end of January, we went out into the street and took control of 4 unused public fountains in the city center, bringing them back to life for a few hours.
"We wanted to say that water is necessary for life and that the fountains that are used for drinking and refreshing ourselves seem much more necessary and beautiful to us than those which are merely ornamental, which the citizens cannot normally get close if not for some football event of 'national interest'."