Juxtapoz
Dr. Seuss's WWII Political Cartoons
June 12, 2012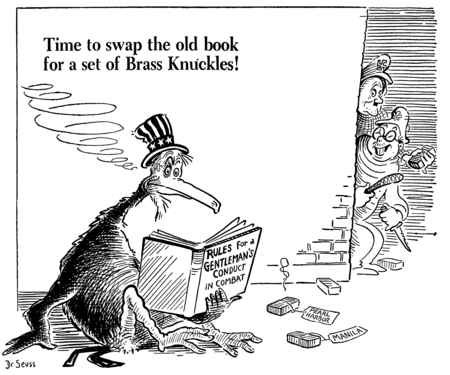 Although renowned for his children's books, Dr. Seuss had many practices that ranged from 
"unorthodox taxidermy"
to the political cartoons you see here. Theodor Seuss Geisel, a.k.a. Dr. Seuss, (one of the main contributors to the funding of UCSD's Geisel Library) has had a long career in cartooning spanning from high school in Springfield, Massachusetts to college at Dartmouth to his two year stint (1941-1943) at the leftist New York magazine
PM
(where he drew over 400 political cartoons)
.
Here UCSD's Mandeville Special Collections Library offers a glimpse at several scans of original drawings and newspaper clippings depicting Dr. Seuss's less known career as a prolific political cartoonist during World War II. His stylized hand is evident, but his trademark children's book subject matter has yielded to the troubles of modern warfare, a non-canonical Dr. Seuss terrain. See the rest of the collection 
here
.
(via
)