Juxtapoz
Devin Troy Strother "They Should've Never Given You Niggas Money"
Oct 24, 2015 - Dec 19, 2015Richard Heller Gallery, Los Angeles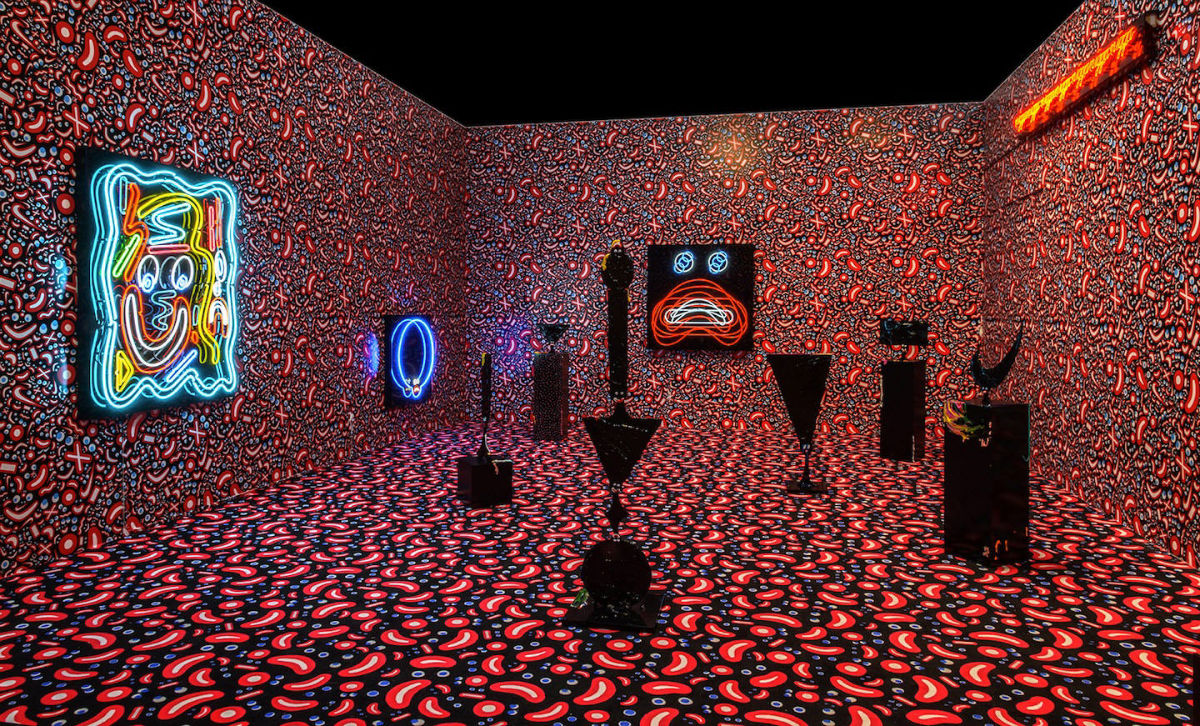 This weekend Devin Troy Strother opened up a brand new exhibition, "They Should've Never Given You Niggas Money," at Richard Heller Gallery in Los Angeles. The exhibition takes its name from a line in a comedy sketch about Rick James by the great comedian Dave Chappelle.
From the artist:
Behind any work that I do there's always an element of humor. The current works revisit some previous motifs, such as the aluminum painted sculptures, but also go in a new direction with installation and neon. Neon, wallpaper and carpet are all areas that I'm interested in exploring more, as well as how to do a show that may have a lot going on in a room while, at the same time, have the room not feel overbearing with works.
The paintings in the show come from a traditional sense of my practice while the sculptural and installation pieces are trying to simultaneously combine the thinking of the viewer, the title of the work, and the work itself all as one object.
The banana is a reoccurring image in a lot of the paintings. The image of a banana has certain cultural ties in contemporary art and among certain ethnic groups. The banana also has sexual undertones that I'm interested in exploring more. The banana is a heavy fruit in my opinion.
I feel that this show talks about a trope that's quite common within the world of black youth today. Sometimes, young African Americans go the stereotypical route of becoming a rapper, an athlete, or some type entertainer. Basically going the traditional route of being a performer in some capacity. Not all, of course, but some do take this path, become very successful at it, and subsequently attain massive amounts of wealth. However, once their fortune is attained, they still don't know how to spend their money wisely or invest it properly. It's a common problem for a lot of black youths from today's younger generation, as well as my own, of not knowing what to do with a large sum of money once it's been earned.
The main focus of the show is to further the conversation. From the complete disconnect of doing a painting show to doing work that is more relational. Like my last show in New York, transforming the gallery is something that I'm heavily interested in implementing into my ongoing practice. Installation is the route that I'm looking to move toward in the future. I'm not sure what the outcome will be at the end of my exploration, but this show is a marker in the evolution from painting to installation. I feel that it's a natural progression toward expanding the visual aesthetic that I commonly use in a more relational way.