Tidal Roots: Paddleboards Made in Maine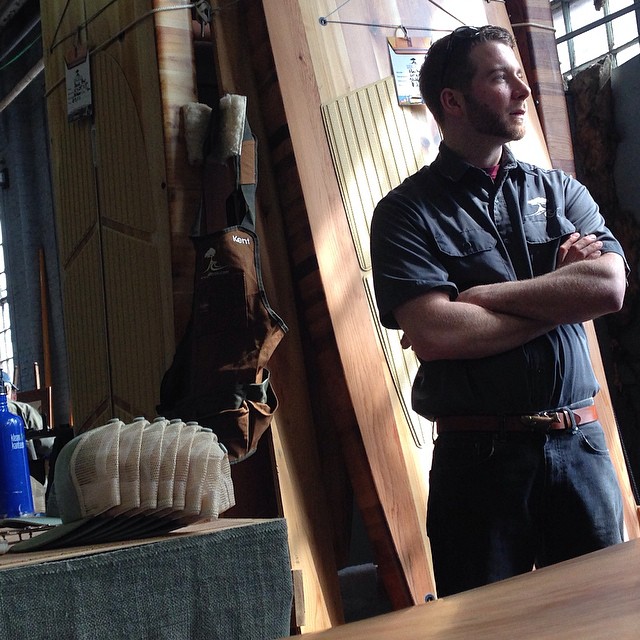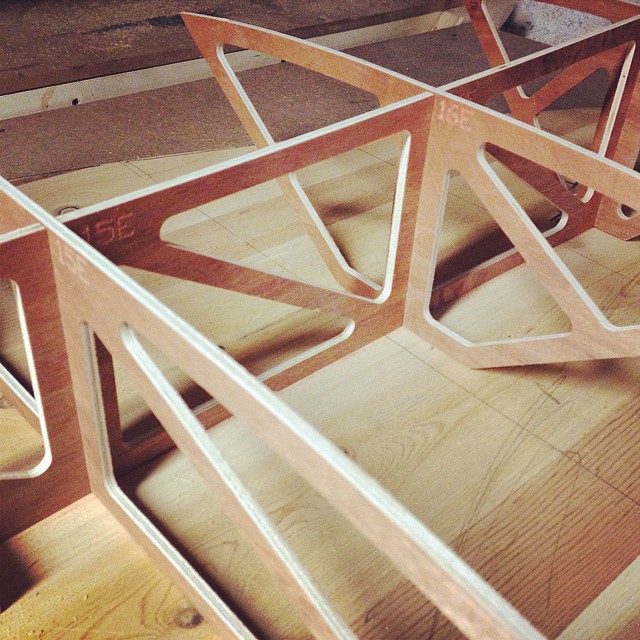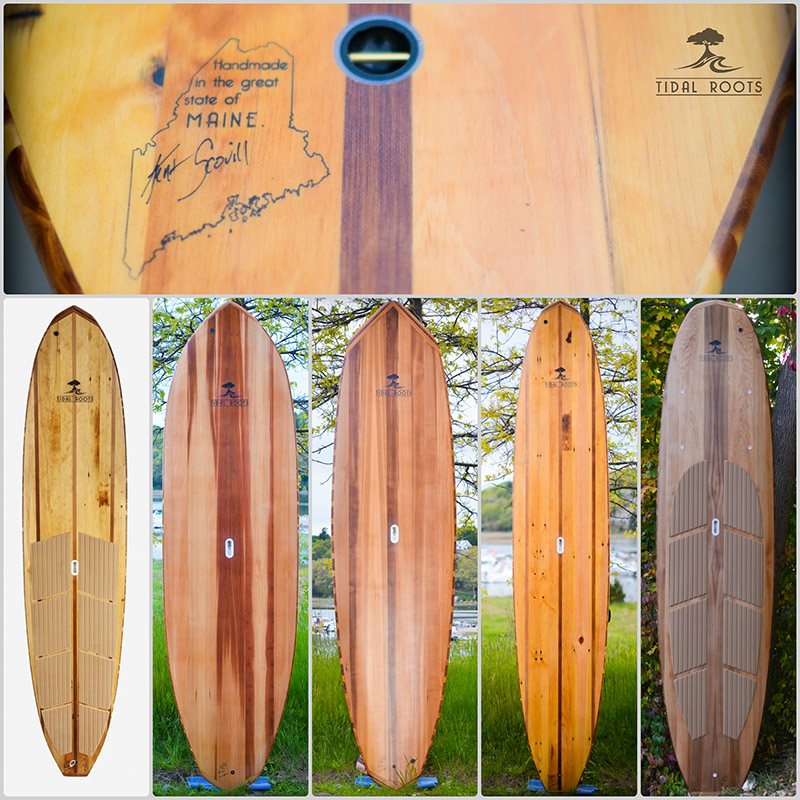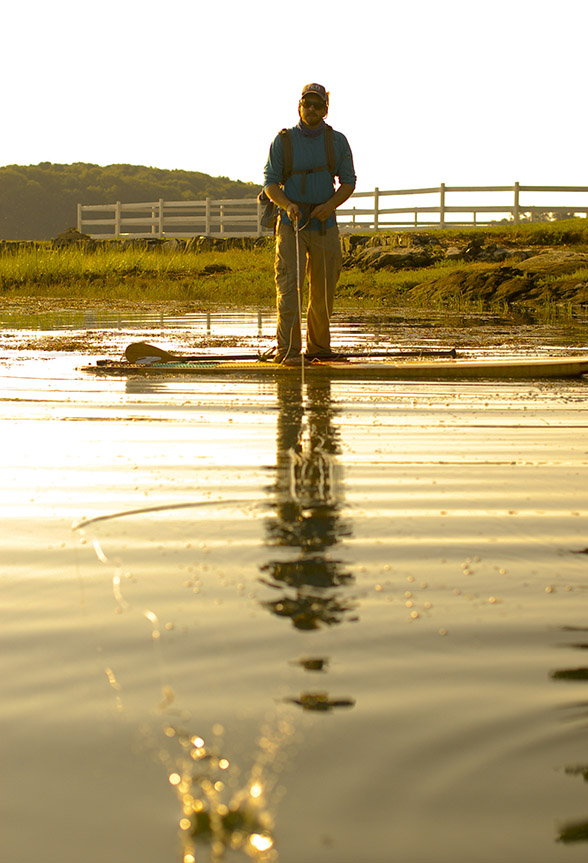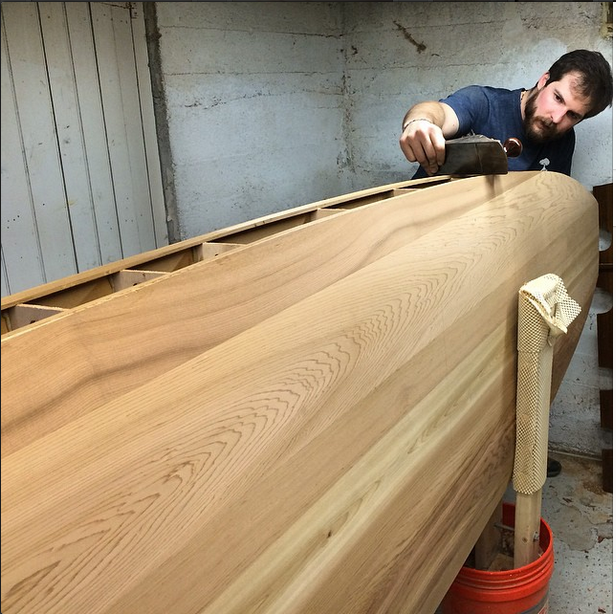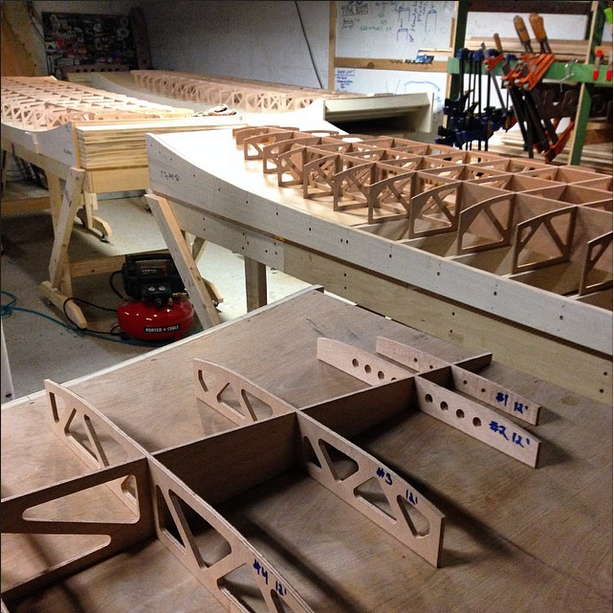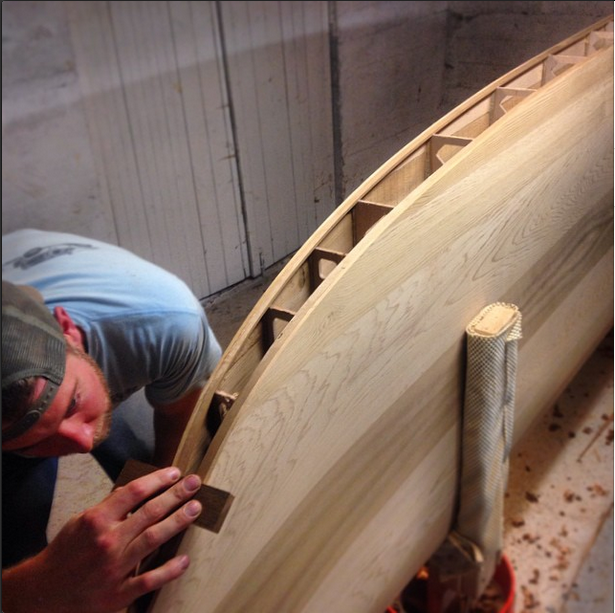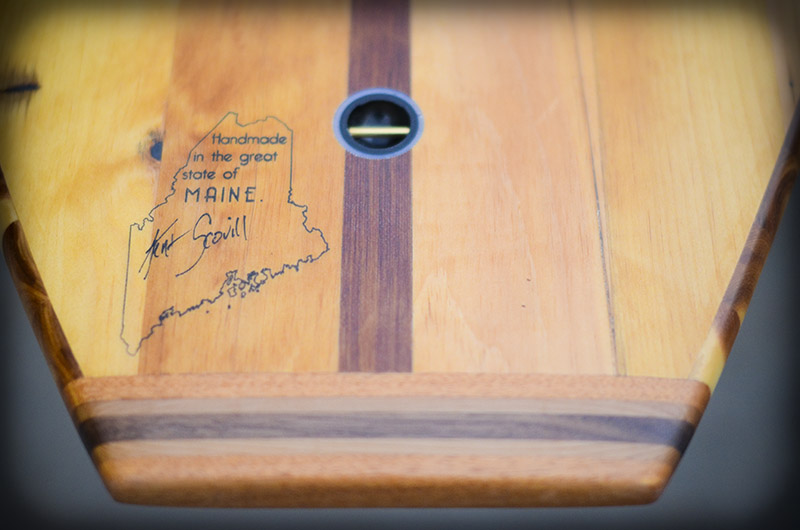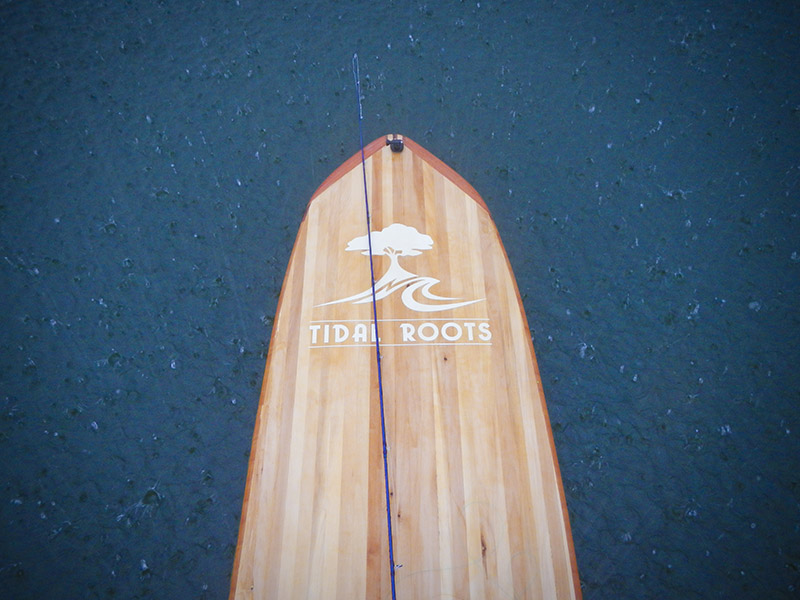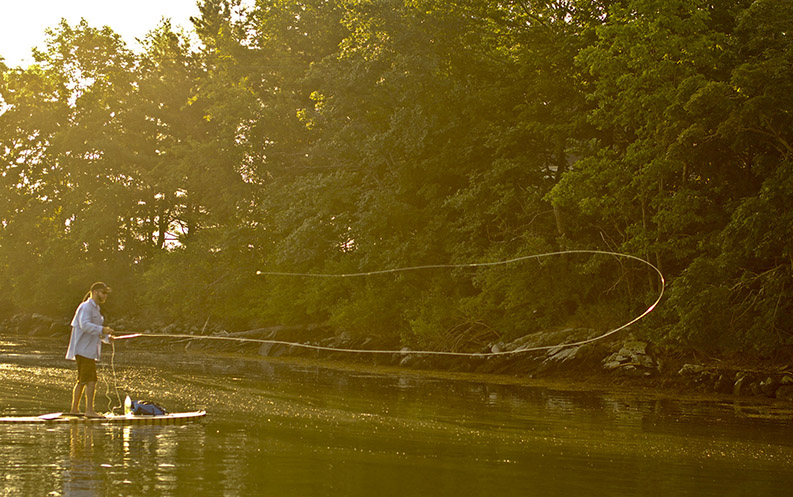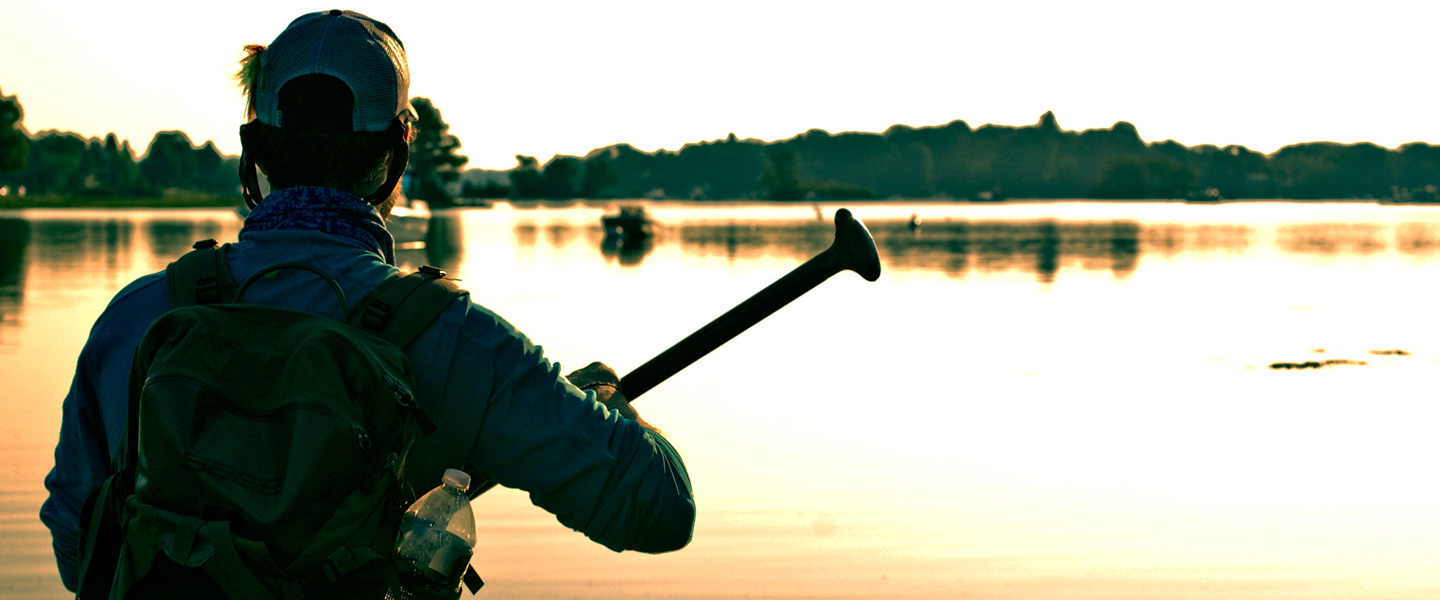 Tidal Roots is a young brand, hand making and designing stand up paddle boards in Maine. Recently, I got the chance to sit down and chat with the owners Kent Scovill and Kyle Schaefer about their process and why they do what they do. Our design contributor, Greg Cordeiro, interviews the owners, a perfect timed-Spring chat.
What got you guys into woodwork? Is it in your families?
KENT- Woodworking has been a large part of my life ever since childhood. My father was a cabinet maker, my grandfather was a cabinet maker, I grew up surrounded by it. For my third birthday my father built me a workbench and got me a bunch of child friendly tools to make things out of balsa wood and I guess I have really never stopped. I took woodworking classes all through high school and minored in studio art in college with a concentration on woodworking. I worked for a cabinet maker after college for 4 years and then started my own Fine Furniture Company. Woodworking has lead me to many great projects, customers, and wonderful opportunities, the cap stone up to this point being the collaboration that is Tidal Roots.
What turned you towards Stand Up Paddle boards?
KYLE- With stand up paddleboarding being the fastest growing outdoor sport its hard not to pay attention to the industry if you are even remotely close to the water. Prior to starting Tidal Roots, I had moved to the southern Maine coast from a wonderful ski town in Colorado… Steamboat Springs, where lifestyle was number 1. Days were filled with skiing, backpacking, fly fishing, and just enjoying the mountains. With the combination of missing that lifestyle and being excited to be back on the coast I immersed myself in life on the water. I spent most of my free time paddling, fly fishing, and exploring our local waters. A now ex-girlfriend left her stand up paddleboard at my house and I figured I would take it out for a spin, as I was looking for a better way to chase striped bass in shallow water than spooking fish with my clunky kayak. A few paddle strokes into the new pursuit, I was hooked. As fall was in the air and winter would provide ample time for a new project my second reaction was, "I have got to build my own"! My partner in crime, and now business parter, Kent Scovill and I spent hours and hours researching the industry and board building techniques. What was revealed was a ton of great boards being build overseas, out of EPS foam. Crafting our own out of foam was just not the ticket, especially with the rich sources of local Maine Cedar right in our backyard. Kent and I began to design our first 2 prototypes out of cedar and we began building in the basement of a house on Spruce Creek, Maine. Tidal Roots was founded on principals of local material sourcing and Maine manufacturing from day one. It was off to the races after that.


When developing a new design or style, what is your creative process? Is there a lot of back and forth between prototyping and testing? How would you go about creating a new concept?
KENT- Developing a new design is born from taking the totality of feedback that we receive from various customers, reps and avid paddlers and compiling this with larger trends in the paddleboard industry. Once this process is done then we meet with our design engineer Jon Deschanes and figure out how to translate these designs in to the internal spar and rib kit that is the backbone of the paddle board design and overall structure. Once the overall shape is dialed in comes the task of reducing weight without comprising overall strength and performance. At this point the appropriate jigs are created to press the board, which takes into consideration the rocker and overall top contours of the paddleboard. Then, its straight to the water to give it the ultimate test.
Your boards are aesthetically beautiful because of their natural composition and elegant shape. What type of materials do you guys use and what makes them different than other SUP's on the market?
KENT-When choosing materials we have two central requirements. First off we try to source materials that are local at best and if not then are at least produced within the US. Second, we try to use materials that are recycled, take for example the special edition paddleboards built of 200 year old pine flooring from an old New Hampshire home which features mahogany nose and tail blocks that were sourced form the scrap bins of our local woodworking shops. Much of our wood is Northern White Cedar and is cut and milled right here in the great state of Maine. When searching for decking material we keep a balanced eye out for both stability within the wood and overall figure, always keeping an idea of how the selected lumber will book match and layout for our decking.
You seem to link the skill required for an artisanal craft with a modern approach to creating a product. Given the labor required to create each and every board, what type of mix of old world skills and modern technology do you utilize? Do you think your process will change over time?
KENT-The building process is always evolving at Tidal Roots with the only constant being the fact that every board possess the heart and sole of the builder as the overall building and shaping comes down to good ol' fashion fine handwork. We utilize CNC routing to produce our spar and ribs, handheld routers to do the rough shaping of the rails but when it comes down to the final shape its my father's antique Stanley #4 and an evolved eye for fair curves that finishes the board. The building process is a fine balance between the modern, time saving appeals of technology coupled with our collective love for hand tools and handwork.


Being a start up that is focused on Made in USA products, what is your take on the 'Made in America' trend right now? Do you feel it will last and how will this affect your small business moving forward?
KYLE- The Made in USA trend right now is a direct extension of everyday consumers speaking up and voicing how they want their products built. It is amazing to see our country making responsible decisions with their dollars. I picture the trend as a steam engine that is just getting rolling. There is fuel in the engine, and each chug of the cog is helping the movement to pick up steam. There is a lot of forward momentum with Made in USA right now because it is so satisfying not only for the consumer but for the manufacturer as well. The consumers feel that they have received a "product with a soul" as we say, and the manufacturer can feel good about supporting their local community and local vendors. It's the passion of the people that will keep this moving. We feel that it will last. As big business continues to consolidate through mergers and acquisitions and trends move to cheaper and lower quality product, the door is left wide open for the smaller boutique brands to leave their mark and gain loyalty on a grass roots level. It takes time and momentum, but we like the direction our country is heading in that sense.
What is the hardest part about custom building each and every board and running your business? What are your biggest challenges?
KYLE- Right now some of our biggest challenges are really centered around educating the consumer. The SUP industry for one, is very young, in the early 2000's the sport made the jump from Hawaii to California and since that moment people around the globe have been fascinated with the sport. At Tidal Roots we find ourselves routinely educating new customers about the sport but also educating people about the new category that we are playing in… the wooden board market. Wood, by nature is strong, durable, gorgeous, and versatile. Showing consumers that wood is an extremely practical and environmentally responsible choice for their next SUP is the good word that we spread. When we step on a wooden board, it's a completely unique experience. I have a calm that comes over me, when paddling a Tidal Roots board, it's a great thing to experience the outdoors with products that supports her beauty and doesn't harm her future.
Due to the natural qualities of wood, every board that we build in unique and "custom" by nature. In addition to our full custom shop we offer 4 stock models that we have simple customizations that can make our clients feel that their board is truly all their own creation.


What are your biggest inspirations for your work? Running an operation like yours is not easy task. What sort of things keep you guys going and really help you push yourselves further?
KENT-This is a great question, our biggest inspiration is the union of that last finish sand, that feeling of creation coupled with the mindfulness to take that time to pause and be grateful for the work we have done and product we have created. That time when we look around the shop at all the finished boards and get that blissful feeling of creating, it's that time and those feelings that inspire us to keep creating.
If you could make ANY product (outside of SUP's) what would it be and why?
KYLE- Skis and Craft Beer! Both of these industries have such incredible roots in the Made In USA movement. The products are alive as a result of the ingredients and materials that go into making each one special. Skis are given unique flexes by using poplar cores over maple and craft beers reflect the same life through the brew masters choice of hops that truly defines the personality of the creation. Plus there is nothing like a good craft beer after a day of skiing. They go together like peas and carrots.
Where do you envision your product line progressing? Will you offer other products that go along with your SUP's?
KYLE- Tidal Roots is a brand that simply connects people to the outdoors through a line of products that have a soul. Our vision is to grow our product line in a sustainable way while staying absolutely true to our core philosophies. We see handmade wooden paddles in our future, and we will continue to develop our line of American made apparel that supports the active, outdoor lifestyle. Our paddleboards are an expensive entry point into our brand so we definitely want to roll out more outdoor products in this same vein that will allow consumers to engage in the Tidal Roots way of life.
For more information on Tidal Roots go www.tidalroots.com