Peter Shire "Public Work, Lines Of Desire" @ A+D Museum, Los Angeles
A+D Museum
//
November 08, 2014 - January 31, 2015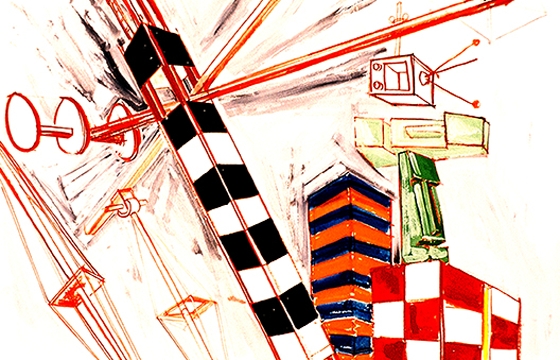 PUBLIC WORK is the first exhibition to focus exclusively on L.A. based artist Peter Shire's public and private architectural commissions. Executed over the course of three decades, the architectural works demonstrate Shire's understanding of the formal principles of twentieth-century art and architecture collided with his interrogations of popular culture and the vocabulary of visual design. Stay tuned for an article on Peter in an upcoming issue of Juxtapoz.
Plying graphic forms and structural geometry with radically saturated colors, Shire's architectural constructions are high-voltage improvisations of artistic legacy and traditional architectural platforms. The resulting works exuberantly transform space and environment.
The exhibition charts Shire's commissions from his first public entry in the 1984 Olympics (Los Angeles), to a 1990 sculptural installation commissioned by Sapporo Corporation, Hokkaido, Japan, to the most recent 2012 River Park, Ventura County public art installation. This creative journey highlights architectural models and sculptural elements, ideation sketches, finished drawings and paintings, and varied objects of inspiration that have functioned as source material and propelled shire's imagistic installations.
Spanning a career of path-breaking interventions and showcasing Shire's cross-disciplinary approach to materials and art categories, the architectural commissions exalt the blending of "fine" and "applied" art. They celebrate Shire's knowledge and production of ceramics, furniture, sculpture, drawing and painting, as all are essential attributes that potently inform Shire's architectural work and artistic vision.