Design
LAND "Poison Valley" @ Space 15 Twenty, LA
January 29, 2015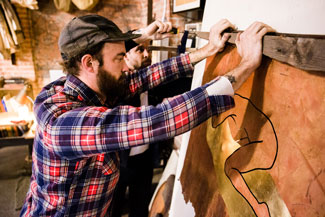 This Saturday, January 31st, Ryan Rhodes and Caleb Owen Everitt (aka LAND) will be opening "Poison Valley," a solo exhibition presented by Busy-Being at Space 15 Twenty in Los Angeles. This will the first time the pair have exhibited in Los Angeles and comes just off the heels of their recent Tokyo exhibition with Deus ex Machina. Alongside the exhibition will be a Texas Makers Market featuring goods by: Cobra Rock Boot Company / Fort Lonesome / Botanicals Folklorica / Ana Klausmann / Traveller Denim Co. / Mason McFee / Fortuna Monsoon / Marfa Brands / Miranda Bennett Studio / Folk Fibers / and PFAU
Fort Lonesome will be on site with her chain stitch machine to do LAND-specific stitching at the opening, and a special print in conjunction with exhibition will be released with Poster Child Prints on the opening night as well!
Poison Valley is a primitive pursuit, depicting humanity's spiritual manifestations expressed throughout history. The emblematic work confronts elemental questions concerning nature, animals and mankind's struggle for understanding. Visualize the first moment of human awareness, and the proceeding depictions of abstract thought. The consciousness of a beginning, end, and the mortality existing between.
Caleb Owen Everitt & Ryan Rhodes represent LAND. They are both native Texans; Everitt (born in Conroe, 1982) and Rhodes (born in Corsicana, 1979) and have exhibited art in the US and abroad. Their work employs the ancient technique of wabi-sabi and has been profiled in contemporary publications including several Gestalten books as well as Juxtapoz Magazine. Both artists reside and make art in Austin, Texas.
Busy-Being was launched in 2004 and is owned and operated by Amber Abramson, a Los Angeles native living in Austin, TX where the Busy-Being brick and mortar shop now resides. Amber has been a working curator since 2002 in addition to being the director of the former Los Angeles "four x four Gallery" and the ongoing associate director of the famed "New Image Art Gallery" in Los Angeles. She has curated exhibitions internationally and has been working closely with artists of all mediums in platforms ranging from art galleries, public murals, corporate campaigns and events, museum work, community workshops, non-profit sector, political arena, book and catalog production, as well as retail pursuits.

Contact [email protected] for inquires

LAND "Poison Valley"
Space 15 Twenty
1520 N. Cahuenga Blvd.
Los Angeles, CA

Opening reception: January 31, 2015 / 7-10pm
Exhibition and pop-up shop runs January 31 - February 21, 2015