Design
Interview: Frank Clegg of Frank Clegg Leatherworks
January 16, 2015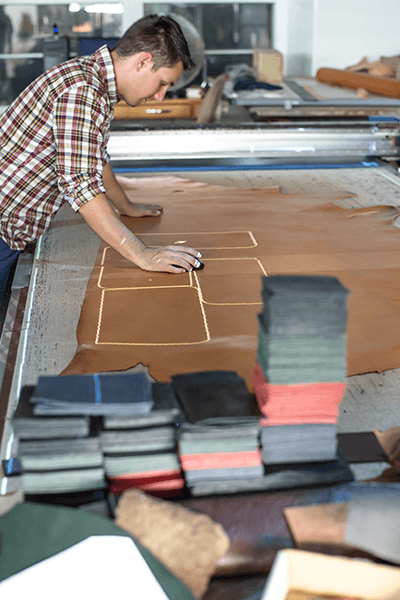 Craftsman and skilled designers have becoming a rare breed in today's consumer market. Master artisans like Frank Clegg at Frank Clegg Leatherworks set the standard for high quality and beautifully crafted products. Frank Clegg has been producing leather goods for over 40 years in Massachusetts and Juxtapoz contributor Greg Cordeiro had the privilege of asking him a few questions about his story.You have been making high quality leather goods in Massachusetts for more than 40 years.

GC: How did you get your start? Where did you learn the craft? Has it been in your family?
Frank Clegg: I started making leather goods after my girlfriend (now my wife) gave me some leather tools as a gift. I started making things right away, and before long it was bags, briefs, and even larger items. I found it quite easy to progress and really enjoyed working with leathers. I have been self-taught and far as what I do, but I always keep my ears open to learn as much as I can about anything to do with this industry. I guess if I had been given woodworking tools, I might be doing that line of work. I am not certain if making leather goods has been in my family, but my great grandfather had a tannery in England.
You have some of the best leather in the world and a keen eye for detail. Where did you learn so much about leather as a product and what differentiates yours from the rest?
The leathers we use I helped develop with my tanner. When the maker understands what is needed of the leather, he can explain it properly and the tanner can produce and make those changes happen. Over the years I have read books on tanning and the machines used, and this has been helpful when you explain the changes needed to a leather. I have also had the opportunity to go and visit a number of tanneries to watch the process and understand what each machine does and why. After many years in the business you have a respect for the leathers you use and my goal has always been to use the best materials, because any compromise in materials is one on the finished product. I feel our products can stand up to any product produced. The attention to detail, the quality of the leathers, and the passion are all there, and our customers appreciate the end result.


We often talk about the quality of leather with regards to the process of manufacture. For some folks who may not know, what makes one animal better than another? What process's and tannage's are better for you in particular and why?
When it comes to leathers, what is the best? For me I have always liked veg tanned leathers. These leathers that we use are made like they have been for over a hundred years. These leathers when they age take on a wonderful story cannot be duplicated with chrome-tanned leathers. That said, if I were to find a chrome tanned leather that I fell in love with, I would not hesitate to use it. Depending on the product that is being made, that will determine your choice of leather. Some products can be made from many different types of leather and it is up to the craftsman to decide which leather best makes the end product reflect the intended look. Just because a leather is veg tanned, doesn't mean that it is the best. The raw stock is very important, the quality of the recipe used, and the water quality are all very important. How the leathers are dried creates a different end result, and what is best for one product may not be suitable for another.
Your sons Ian and Andrew seem to be following in your footsteps. How important is it to you that your brand be carried on by your sons? What do they bring to your business that may be different as they enter the market in a new generation? What type of things can we look forward to as you work side by side to share your skill and talents with them?
For many years my parents worked in the company and it was quite rewarding to have that experience, and now I find my sons have the interest to be involved. Andrew has been involved in production, is building up his hands on knowledge of the leathers, construction and understanding of what it takes to make a better bag. He is also building up his design portfolio, which is very exciting for me to see. Ian handles website and lifestyle photography as well as web design and social media. He is also involved with both Andrew and I for deciding how and when different items are introduced. We have so many in house designs along with new concepts, and different types of collections that it is not what we can make, but which of the many items we have will we be introducing next. The boys have a vision of what they would like to see happen, this vision is similar to what I have always had, but now we have a stronger team with the three of us. The goal is try to keep focused on how to control what we do so we never compromise the quality and have a strong steady growth.


Your designs all have an iconic and classic aesthetic to them. You have a specific look and feel that is unique to the Frank Clegg product line. When developing a new product what is your process like and what do you do to remain so cohesive in your vision?
The design process for me is varied. I am always drawing different products. I sometimes will draw 50 to 100 bags in one sitting. This to some might seem like a lot, but it is the way I process design. One drawing sparks another idea, and that one another, and before I know it, I have dozens and dozens of designs. They may not even be representative of the items I currently make. I will sometimes use an idea I find interesting and end up with a dozen fashion handbags that I may never use. I might be drawing bags and shift to guitars, then, I might be drawing bikes, watches, or some industrial designs. I never draw full size, unless it is a small item, and then go right to pattern paper, and never draw on the paper, but use my knife as a pencil. Or, if I have an idea in my head, I go right to the paper and start cutting a design while having a visual of the size I will be cutting. Once the pattern is made, it usually becomes a finished product. It is at that point that when an item is finished, it is like the birth of a child and becomes part of who I am. My style is not fashion based, but it is my idea of what something should look like. It should look good today and in the future. I feel that if I use quality materials, pleasing styles and quality construction, even the untrained eye will recognize that the product makes a statement.
-Outside of the world of leather, what other driving forces help you continue to be successful in your own business? What are your biggest inspirations? Music, Food, travel, etc.?
Outside of business, I love music of all kinds, and usually get to listen throughout the day at work. I have always enjoyed family vacations, and have been fortunate to travel to a number of countries. I restore older fountain pens, and collect all types of fountain pens. I enjoy going to dinner on the weekends with my wife and sometimes the entire family. I do clay sculptures and make faces from molded leather.
-Some may call the 'American made movement' a trend right now. It seems like being American made has always come second nature to you, just because you make everything yourself and have always been here. Do you feel that it is just a trend or is it something more? How have the ebbs and flows of American manufacturing affected your business over the years?
The made in America movement I have seen at least two other times. This time there seems to be a greater attention on the importance of manufacturing in the U.S. The younger generation seems to want what their grandparents had, not their parents. They appreciate heritage type brands, which have maintained a sense of quality, of enduring style and are functionally superior. They wish to own less, but better quality. My only concern is whether this attitude will continue with the next generation and with the current generation. As this generation matures and start's families will the buying desires change because of the family influence? I have always produced in America because that is who I am. I enjoy being involved with the process because it keeps my learning skills current. To be better you have to try harder. During the seventies and eighties, I sold to a hundred leather shops and luggage stores. The late eighties and early nineties saw nearly all of these stores close because of foreign competition and the desire for people to own fashion brands. I was able to continue my own collection and took on the production for a number of high-end American brands that appreciated what we were able to do. What is keeping small manufacturers alive is the internet. This online store exposes them to the world.


-Having gone to a fairly prestigious business school and of course creating your own company, what type of recommendations to you have for any aspiring entrepreneurs or makers? Do you have one key piece of advice that has helped you through the years?
Advice I can give to those wanting to have there own business is; IF you know what your interests are, the passion is what drives a business. Success is different for many. I have never felt money is what makes you successful. If you are able to spend your life doing something that you really enjoy and are able to make a living doing this, then this is true success. We spend a third of our lives doing something to support our families, and if it is enjoyable then this carries over to the rest of our lives. Running a business is a lot of work, so if it is not something we are enjoying it can really be like WORK.
-If you have one, what is your favorite piece you have ever done?
As far as a favorite piece I have ever made, this is difficult. The designs I have produced are like my children, and do I like one child better than another? Over the years some of my children have helped support the family more than others. My English Briefcase and Captain Briefcase have been favorites by customers for 40 years, and many handbags, totes, duffle's and accessories have been unchanged for the same amount of time. Maybe my favorite piece is yet to come, we will see.
-What are some other product lines, brands that you follow that you really like? As a leather brand, what is your favorite other leather brand?
As far as other companies that I respect, there are a number. Most represent a sense of continuing to be what they always expressed themselves as being, and have always maintained a high level of quality. As far as a favorite leather brand, I do not have one. I tend to like a specific item that one leather brand might be making, or one or two items another brand might be making. Since I am not a consumer for these brands it is more a respect for their design and their execution of the pieces.
For more of Frank's work visit www.frankcleggleatherworks.com