Design
Designer Marc Rimmer on the Visual Art Behind Preoccupations' Forthcoming Album and More
March 13, 2018
In January, The Calgary-based band Preoccupations (FKA Viet Cong,) announced that they're releasing a new album titled New Material, on March 23rd. They shared the lead single "Espionage," along with cover art for the forthcoming album. The cover art got us curious about the visuals behind an intriguing band, one that weaves in dark lyrical themes over an industrial soundscape, building from and onto their post-punk roots. West Germany via Western Canada.
The visual artwork for their last album, and the upcoming one, was designed by Marc Rimmer. A longtime friend of the band and a talented designer, Rimmer's cover design was able to match their peculiar hybrid style. The cover hosts an image that portrays a space that seems sterilized-clean, with precise geometric emptiness that evokes the same kind of eery post-industrial solitude found in the music. Making cover art that fits is often tried and often failed, so when it fits this well, there's something special beneath the surface. To find out, we decided to ask Rimmer some questions and got to hear about his background with design, music, and photography.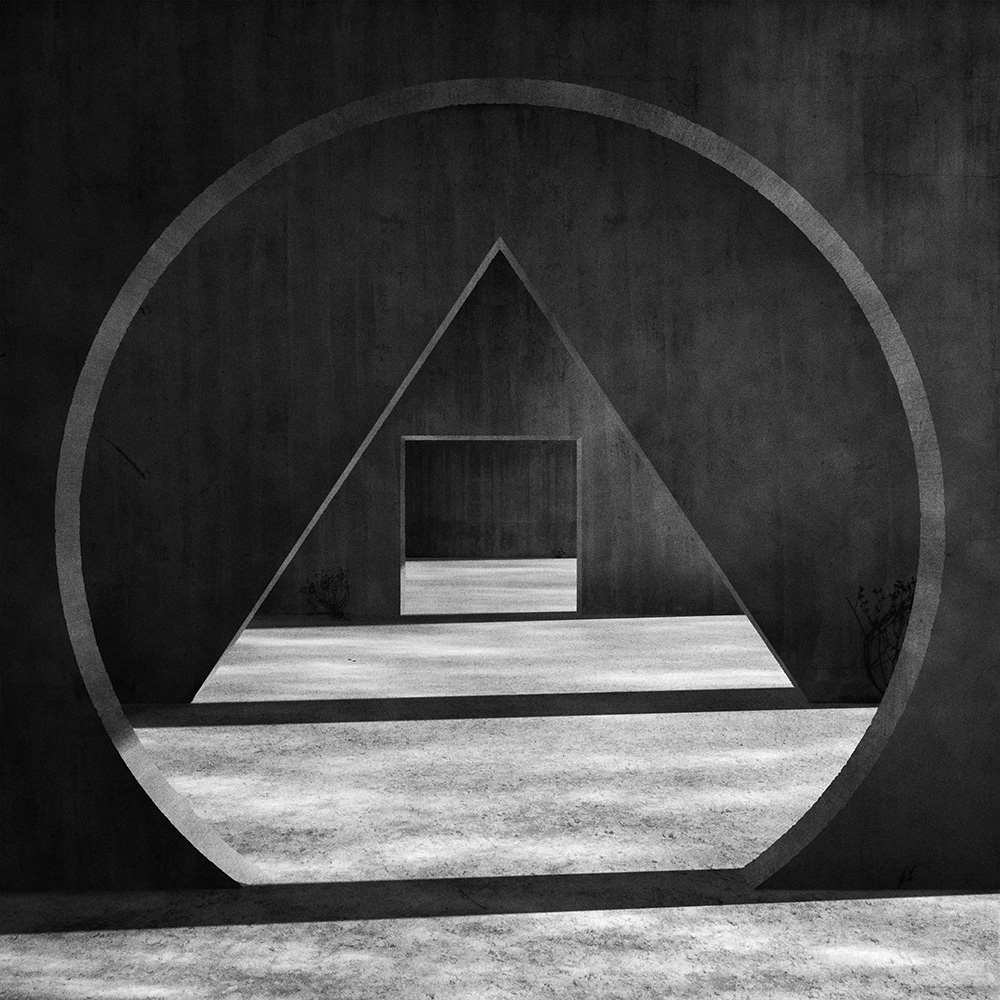 Where are you from and when did you start making art?
I'm currently back in Calgary, Canada, where I grew up and went to university. I started making art casually back in highschool. I was really into taking my favorite lyrics and overlaying them on top of my bad photography. I wasn't really aware that design was a thing, or a viable profession, until my art teacher was like, "Hey, you should look into graphic design." That was definitely a game changer for me.
When do you feel like you shifted to a focus in design? Is that where you feel like you're focused now?
I initially went to school to major in graphic design, but was completely captivated by photography in my first year, so I ended up focusing on that. Studying it and turning it into a job kind of took the magic and love out of it for me. By the time I graduated in 2008, I had already begun to pick up design jobs here and there, mainly working on music posters and album artwork. A few years after that, I was working on design projects full time and have been ever since. I love it, and it is very much where my heart is. I still often use photographic elements in my album artwork projects, so it has definitely influenced my approach to certain things.

Rimmer's cover design for Braids' 2013 album Flourish // Perish
When not making commercial and commissioned designs, what kind of work do you make? What are your pet projects?
The majority of my work is comprised of pretty classic identity & brand design, so album artwork is kind of a personal, pet project for me. I love music, so I make a point of working on projects like these when time allows for it, as it's a way of staying involved and keeping things exciting.
What was one of your biggest learning experiences in making art?
I find album packaging to be unique in the sense that it is art, but also very much a commercial design project. I approach it with a similar mentality to something like a logo. I feel the cover image should communicate to the viewer quickly and stand on it's own. It shouldn't be too complex or require a certain knowledge to understand or appreciate it. Album covers appear as a single image when viewed on a digital platform, and when they're in a record store, they're still in a package, so you don't have the luxury of the extra inserts, booklets, coloured vinyl, etc, to back things up. All of those additions should sweeten the the experience of the record, and I love them, but they shouldn't be required or relied upon for the artwork to be successful. The art should also work just as well when scaled to 2" on a screen, as it does when on a 12" vinyl jacket.

Final cover for Preoccupations' self-titled album

How did you meet the folks in Preoccupations? What's your history with the band?
I met the guys in Preoccupations through the local music scene back in highschool. Our bands used to play shows together, and we grew really close through that. They remain some of my closest friends to this day.
Their last album, and their first release under the new name, had a unique and new feel to it. The album cover absolutely contributed to that. What was the inspiration behind that design?
The idea behind the album was one of discovery and exploration of basic visual elements: line, shape, colour, composition. It definitely has nod to periods such as the Bauhaus, De Stijl, constructivism, etc. Stripping things down and exploring questions like, "What would these lines look like overlapping this blue shape?" or "What would this 'p' look like if it was cubic instead of round?" The typography directly references and builds off of Herbert Bayer's Universal typeface sketches from the Bauhaus. Through the typeface and general feel of the artwork, I wanted it to look like a draft. An exploration of an idea, rather than a finished piece. Each letter in the typography has 3-4 different glyphs exploring the different possible forms.

One of the concept designs for the 2016 self-titled album

When designing an album cover, what are some of the first things you think about? How do you translate the audio to the visual?
Album artwork can be tricky sometimes as the music itself is art, and the band/songwriter is deeply attached and personally invested in it, often with a vision in their head of what the visuals should be. You're trying to align your creative vision with their musical one; making art to accompany art. Interestingly, what they initially envision in their head is almost never fully reflected in the final artwork, so it's a striking a balance of noting their ideas, really familiarizing yourself with the music, then honing in on certain elements, themes or moods to communicate an idea through a cover image. It's often capturing the essence of their envisioned idea, but communicated in a very different visual way.
Is there an album you've listened to that, upon listening, you wish you could have made the cover for?
Ben Frost's AURORA, although I think the final solution for that artwork was perfect.