Juxtapoz
Dennis McNett's "The Conjuring of the Red River"
May 26, 2015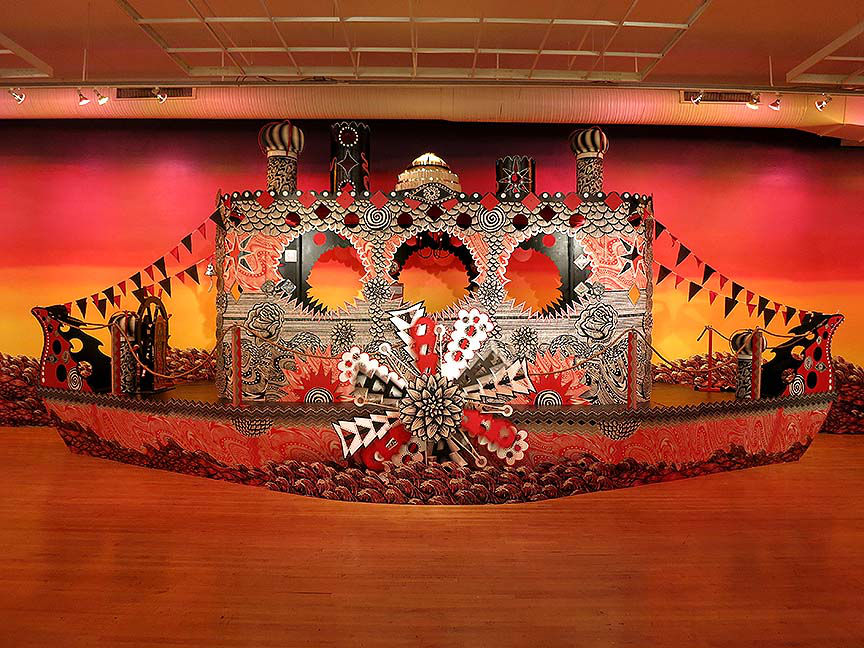 On their travels across the North American continent, the Wolfbat tribe has made it's way into the city of Shreveport. Several of the Wolfbat shamans, when entering the city, felt the residual presence of ancient gods. The greek god Pan, who was the god of rustic music, had been in the area drumming up the musical talents from blues musicians such as Leadbelly and later performers from the Louisiana Hayride. The Hindu goddess Rati had also been through Shreveport conjuring up human pleasures through Annie McCune and her notorious red light district. The ferryman, Charon had been shuttling these notable characters from the river Styx into the Red River through a dimensional rift that had opened many centuries ago where the Artspace on Texas St. now stands.
The walls of Artspace are now filled with carvings in honor of these Shreveport icons ands the gods who inspired them. The Wolfbat tribe also constructed a dimensional rift riding Riverboat that opens the Red River from a porthole in Artspace allowing the river to flow into the gallery and shower the space with the energy of these gods and icons.
Dennis McNett's (aka Wolfbat) "The Conjuring of the Red River" is on display at Shreveport Regional Art Council in Shreveport, Louisiana through August 1st, 2015. It is part of a one month residency which included workshops with local kids an a 3 month exhibition. SRAC has previously hosted artists such as Wayne White, Steve Olson and Nick Cave.