Juxtapoz
David Hockney: A Bigger Exhibition @ de Young, San Francisco
Oct 26, 2013 - Jan 20, 2014de Young Museum, San Francisco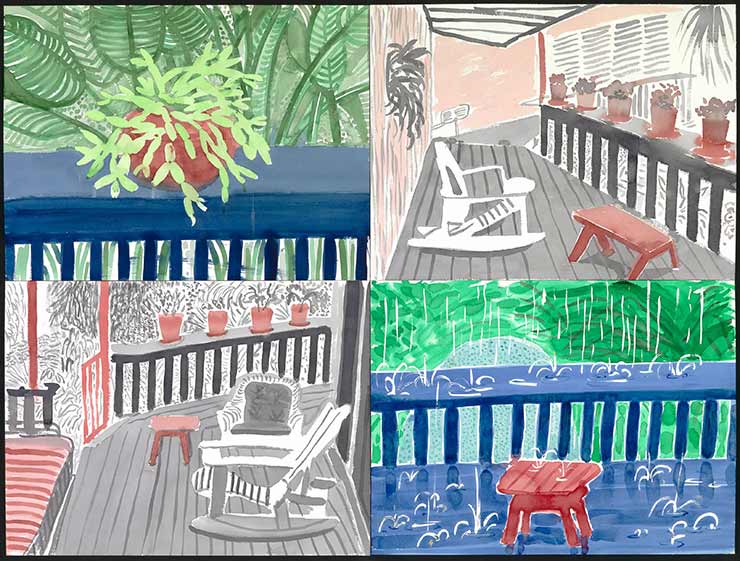 The entire experience of having David Hockney open a massive exhibition, A Bigger Exhibition, if you will, in San Francisco is that you learn just how relentless and consistent the famed British artist's work ethic really is. He is non-stop, constantly learning new tricks, creating more immersive works, challenging pre-conceived notions of landspace and portrait painting, whether through iPad, or just old-fashioned perspective paintings. Here is our article from the November 2013 print issue about A Bigger Exhibition, opening October 26, 2013 at the de Young Museum in San Francisco.




To characterize David Hockney as the Bruce Springsteen of the art world might seem lazy, but it's just so apt. Peripatetic and passionate, they both plug-in and do acoustic well. When they come through town, you can't miss the show. And, as the second most visited art event in 2012, not many did when David Hockney's A Bigger Picture exhibited at the Royal Academy of London. When the Fine Arts Museum of San Francisco's Deputy Director, Richard Benefield, asked Hockney's friend and colleague, Gregory Evans, to gauge the artist's interest in showing, it was as easy as, "I'd love to do an exhibition in San Francisco." Hockney added, "But it won't be the same as in Europe; what I'd like to do is a comprehensive survey of the last decade of work."
A Bigger Picture at the de Young Museum features the monumental pieces from the show in Europe, which include a painting 32 feet wide and 12 feet high, as well a painting made up of 32 canvases. But the bang for the buck is that Hockney has been painting what Benefield calls, "Amazingly detailed, beautifully drawn landscapes," where he went outdoors in East Yorkshire, England, from January through May for a series called The Arrival of Spring. All the while, in his studio, he has been creating portraits in every conceivable medium, including watercolor, oil on canvas, charcoal on paper, computer and iPad.
Just as he has gone back to familiar scenery and given it a fresh perspective, so too does he approach these portraits. Benefield reveals, "Sitters for his portraits tend to be friends, family and colleagues. He likes to paint people he knows well and paint or draw them over and over again. It's remarkable to see because he really captures the changes in their personality, their face, their age, all those things you tend to think about over a period of time. And I think some of the most tender emotions you can sense are in the portraits of family members. He has continued to do portraits of his brother and sister and several of those are in the exhibition."
Alas, don't look for A Bigger Splash, the huge iconic work inspired by his love for the azure skies and swimming pools of Southern California, where he still maintains a garden-garlanded Hollywood Hills home. But do check out the swimming pool picture, one of his Polaroid collages which presage the multi-camera, multi-screen digital movies he has been making. As Benefield explains, "Each photograph in the collage has its own perspective, its own sort of vanishing point in each picture, and so by assembling those Polaroids into one big picture, he was able to capture, in a way that you usually can't, time in a single photograph. He actually considers those Polaroid collages to be drawings because of the way he had to assemble the photographs like a drawing. And the same thing with the multi-camera digital movies: eighteen cameras going simultaneously, adjusted so they are slightly askew and created very similarly to the Polaroid collages, which look quite cubist. Eighteen 55" video monitors tiled together to make one moving picture, giving eighteen different perspectives in the movie at the same time."


This fascination with technology is another curiosity-driven search to discern and proffer. Hockney himself clarifies, "By putting the separate perspectives there, the eye is forced to scan. Not everything can be seen at once, and this seems to make the outside edge less important. Film directors want you to look at what they choose. Our way gives the choice back to the viewer, hence, it seems to me, a greater possibility for new narratives."
Not to say that A Bigger Picture will not have little things like the iPhone drawings. All this from an artist with one technology assistant and one painting assistant, not counting the handful of LA folks who help with archiving and image rights. Hockney, who has participated at every level of this exhibit at the de Young Museum, down to the production of the extensive catalogue, has remarked that, "I can get excitement watching rain on a puddle. And then I paint it. Now, I admit, there are not too many people who would find that exciting. But I would, and I want life thrilling and rich. And it is. I make sure it is."
For more info on David Hockney, visit hockneypictures.com
David Hockney; A Bigger Picture
Shows at San Francisco's De Young Museum
October 26, 2013 through January 20, 2014
Organized by Deputy Director Richard Benefield
deyoung.famsf.org