Juxtapoz
David Ellis "Hudson River Alley" @ Joshua Liner, NYC
Sep 12, 2013 - Oct 19, 2013Joshua Liner Gallery, New York City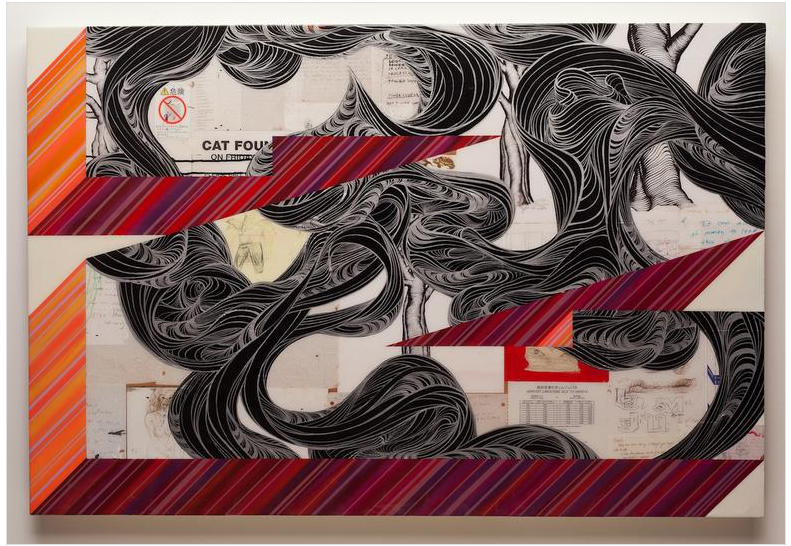 Joshua Liner Gallery is pleased to present Hudson River Alley, an exhibition of paintings and mixed-media works by the New York-based artist and former Juxtapoz cover artist, David Ellis. This is Ellis's second solo show with the gallery, and the artist will be present at the opening reception on September 12. We have a preview of some of the tobacco stain works and other paintings that will be in the exhibition.
A voracious consumer and self-styled producer of American culture, David Ellis works in a vast range of media, settings, and artistic disciplines—mural painting, sculpture, digital video, installation, to name a few. Over his career, Ellis has created video "motion paintings" edited to soundtracks of original music. His "recollection" sculpture series incorporates record album covers organized by color and theme. And the artist's "kinetic sound sculptures" use hidden motors to ingeniously transform castoff materials into performative installations of percussive sound and rhythm.
With Hudson River Alley, Ellis's new work reflects the recent relocation of his studio practice from Brooklyn to Woodstock, New York. This area's resplendent natural and historical surroundings are embodied in the artist's use of tobacco-stained paper and embrace of iconic images—black bears, silhouettes of soldiers, and the American flag. (The subjects and materials also harken to the artist's childhood, living in a log cabin among the tobacco farms of rural North Carolina.) Individual works on paper, rendered in enamel and acrylic in Ellis's colorful graphic style, will be displayed together as multiple panels in a massive wall mosaic—a unique, one- time-only presentation in this exhibition.
Ellis's return to a rural setting has inspired a renewed emphasis on the roots of his artistic practice, painting. The compelling and intricate image of the black bear recurs, most notably in Bear 1, a large painted work created on a reclaimed wooden street sign. Hudson River Alley will include two kinetic sound sculptures, All That Glitters (a kinetic chandelier) and Busted Plume (a kinetic trash can), the latter originally exhibited in Viva la Revolución: Dialogue with the Urban Landscape (2010) at Museum of Contemporary Art San Diego. The exhibition will also feature two new sculptural works in the artist's recollection series and additional resin- on-panel paintings.
Ellis rounds out his reflection on traditional Americana with three wall-mounted works inspired by "The Star Spangled Banner"—O Say Can You See, By the Dawn's Early Light, and What So Proudly We Hailed—in which the artist recasts the national anthem's opening lyrics in fresh colors, graphic fonts, and even Arabic script. This materially rich series was created in enamel and acrylic with tobacco- stained paper and chinese-made American flags mounted on Alumacore.