Juxtapoz
Dave White "Aquatic" @ Lawrence Alkin Gallery, London
Nov 14, 2013 - Dec 07, 2013Lawrence Alkin Gallery, London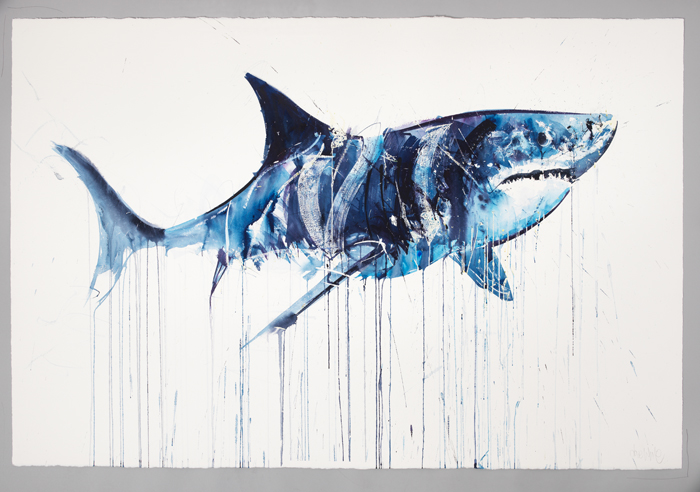 The newly launched Lawrence Alkin Gallery is proud to announce 'Aquatic' - the latest collection of work to be released by acclaimed artist Dave White. Opening on November 14, Aquatic develops upon White's 'Natural Selection' series, presenting artworks inspired by endangered species.Further to his international exhibition programme including MTV (Goss-Michael Foundation, Dallas), New Museum (New York) – and hot on the heels of his inclusion in Shortlist Magazine's 'Brit List' – this is a rare opportunity to view White's new original work before his solo debut in Los Angeles next year.
Aquatic features new works based on vulnerable species that inhabit our waters. Great White sharks presented in their dynamic scale, with White's expressive style of painting, make their presence felt. Similarly octopuses are presented as beautiful enchanting creatures, flowing in full glory. White's use of 24 carat gold leaf on the editions works to add to the preciousness of the imagery before us.
White challenges his viewer to re-engage with the awe of the natural world. He does not choose to present dead animals or stifled artwork, but rather portrays living creatures in all their beauty and animated presence.
White commented: 'We live in an i-generation culture, obsessed with technology, gadgets and social media; we're all guilty of this. I just want to capture moments of movement, dynamism and fragility, and encourage people to reassess what is truly important in our existence.
The collection features a variety of original watercolours on paper and limited edition prints, including hand finished with 24 carat gold and platinum leaf.